Black is a seductive, enigmatic and extremely elegant shade that has many applications in the world of fashion and interior design. Within this second field, we find black in all kinds of projects and room décors, however, it is in the kitchen where its use is most striking.

Features of Black Kitchens
Black kitchens stand out for their notably distinguished look. The fact that black has thus far been an unconventional choice for kitchen designs makes its visual impact even greater. Black kitchens stand out for their notably distinguished look. The fact that black has thus far been an unconventional choice for kitchen designs makes its visual impact even greater.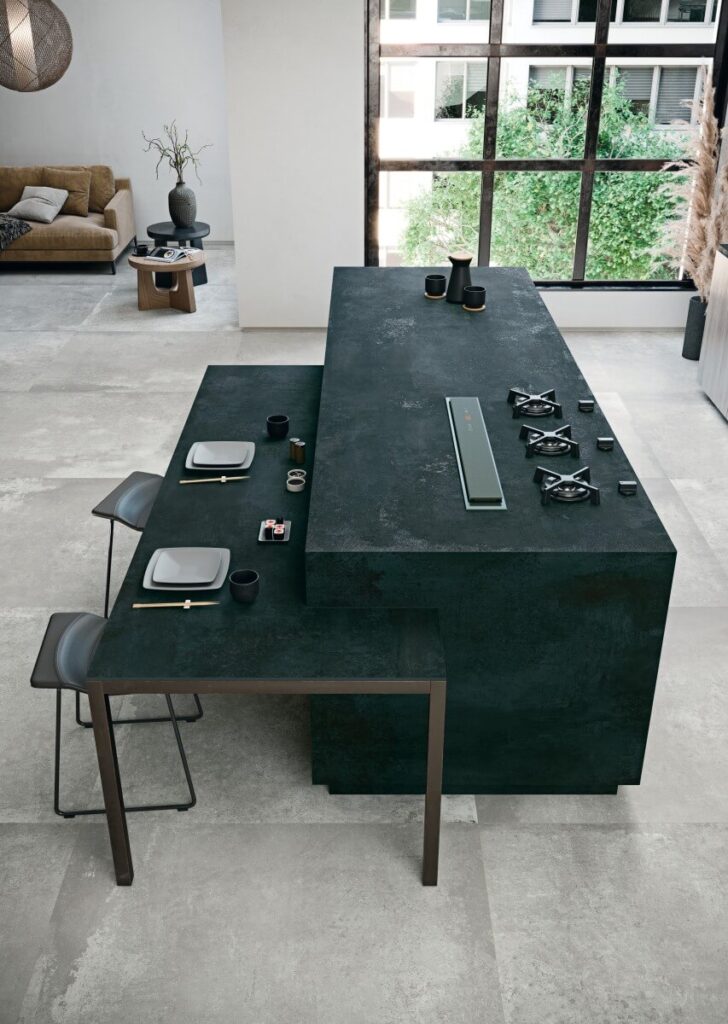 Kitchens that opt for this trend also faithfully adhere to the minimalist style; with very few elements or adornments, you can achieve spectacular, impressive results. Although black may initially appear a daring decision, it can in fact yield very satisfactory results, producing sophisticated kitchens brimming with elegance
Black kitchens are notable for their sense of refinement and drama. This is a trend that is making a big impact in interior design, providing us with striking, captivating results.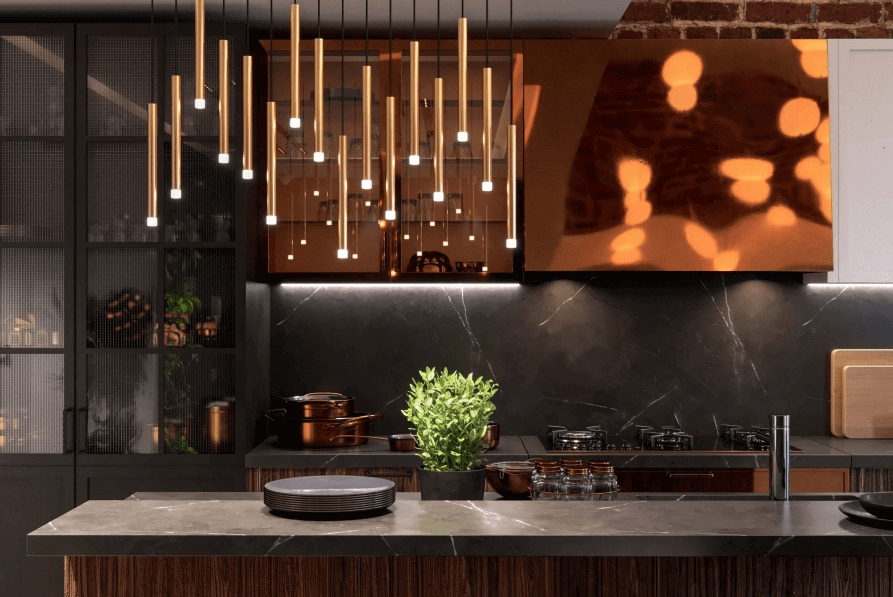 Finishes for Black Kitchens
It used to be the case that dark tones were most often used in very spacious rooms or those with a lot of natural lighting; however, today's contemporary design goes for this chromatic range in all types of projects, rooms and surfaces regardless of size or the amount of natural light available. Thanks to the benefits it offers at a creative level, black adapts perfectly to a variety of spaces and designs, regardless of whether it is applied in matte finish or gloss finish, with both options adding value to the project.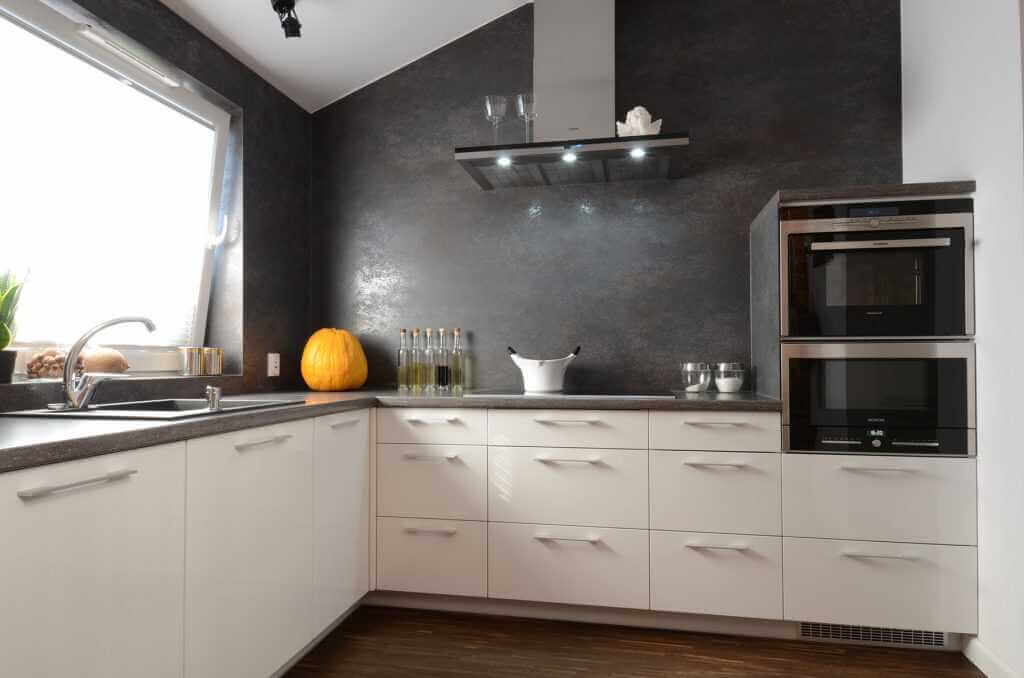 Matte Black Kitchens
The matte effect has become very popular in interior design, especially among contract professionals, because of the sense of sophistication it conveys. Together with the elegance of the colour black, the matte look gives us a very refined effect. To give some examples of how to use this finish, you could go for black metallic-look furniture in a matte finish, or a countertop that emulates black stone or marble in a matte finish.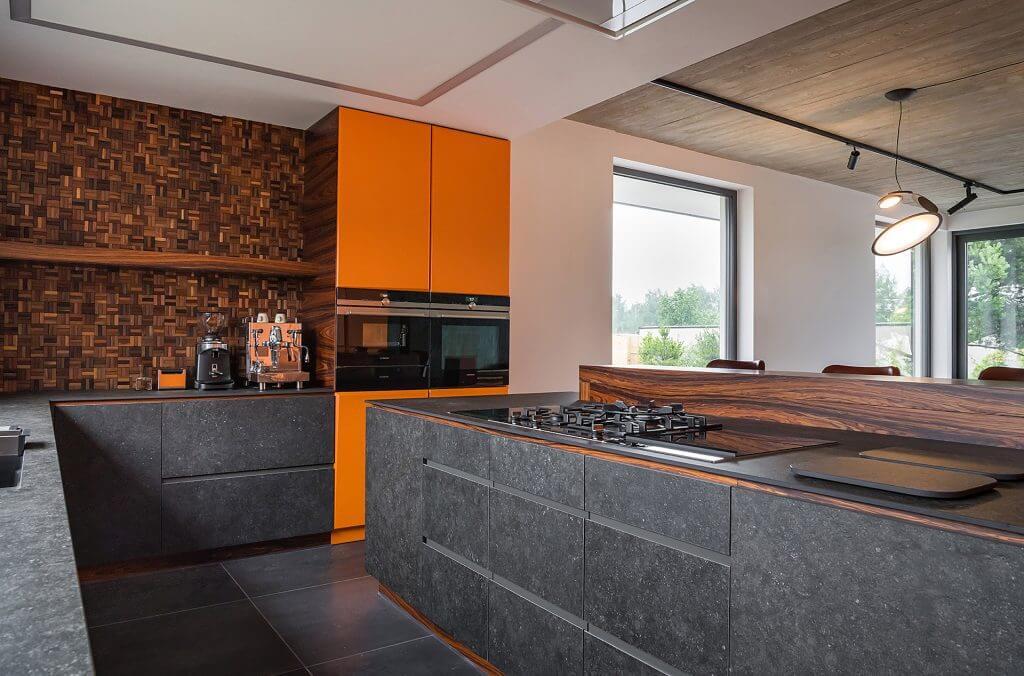 Glossy Black Kitchens
A kitchen with glossy black surfaces also provides multiple advantages since they can be very useful for enhancing the luminosity of the room. At the same time, a gloss finish usually hides dirt while still conveying a restrained, distinguished appearance.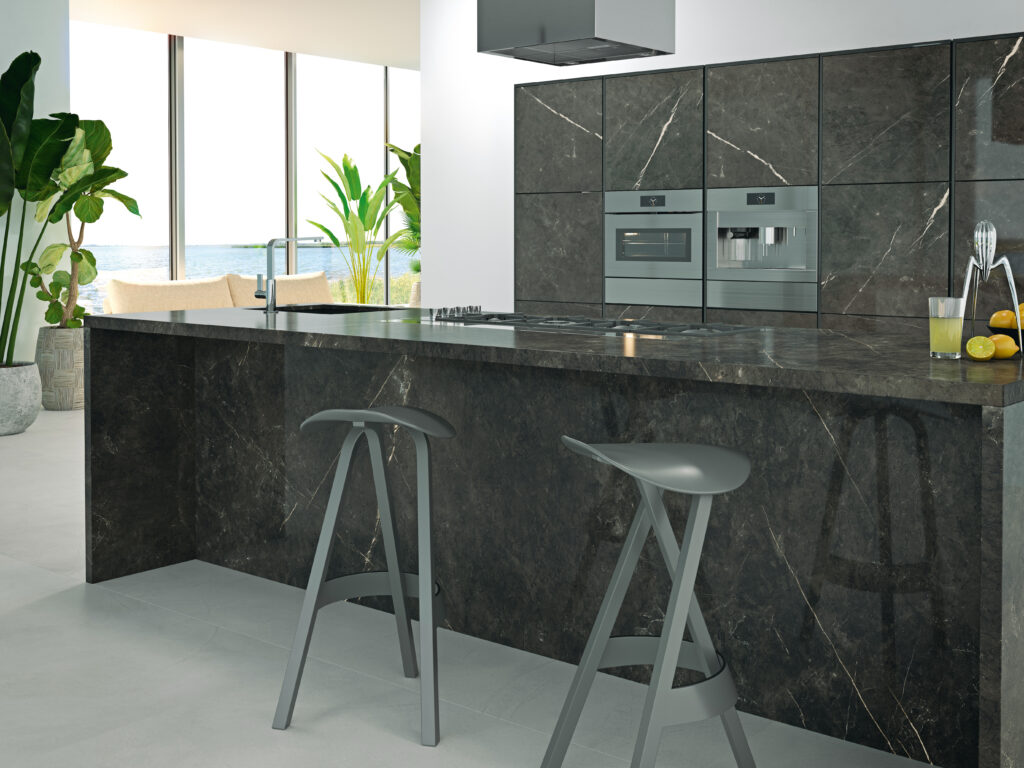 Types of Black Kitchen
How many types of black kitchen can we find? There are in fact endless types of black kitchen, varying in terms of design, size, layout or the multiple ways of applying this colour. Indeed, this shade works very well as a base, but also as a complement or an element of contrast.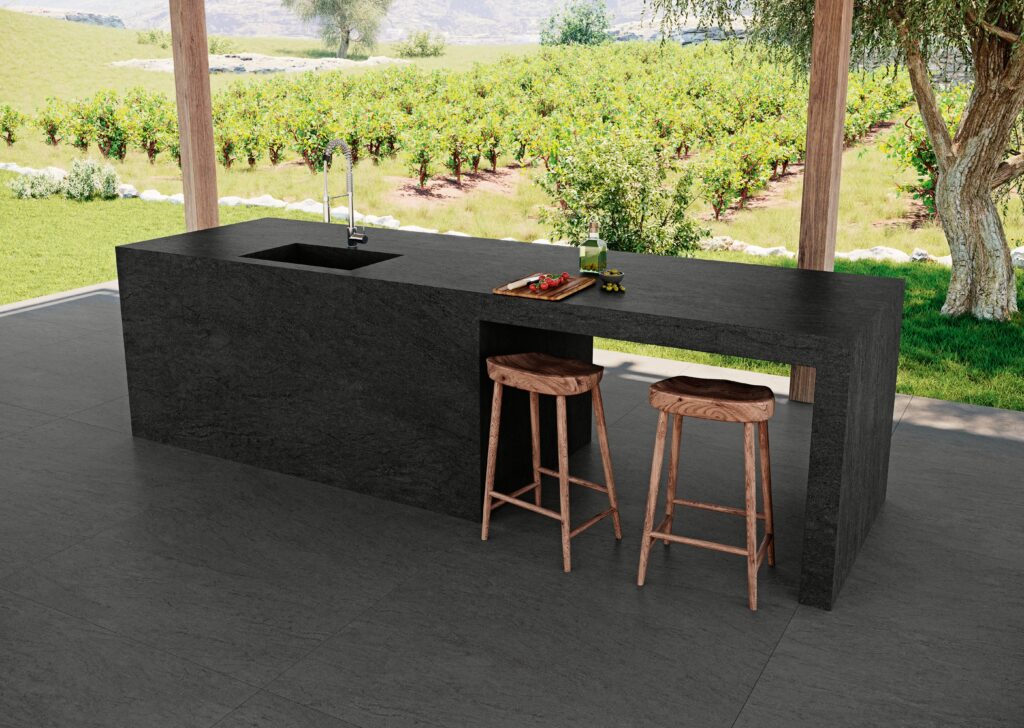 Black works in classic, modern, minimalist, industrial, or even rustic kitchens. Regardless of the decorative style that we want to achieve in this room of the house, the result certainly promises to be very personal and stylish. The trick is finding the balance—knowing how to properly combine all the different elements of the room and adding the right touch of colour.
If you want to use black in your kitchen but without going over the top, the ideal solution is to limit this shade to a specific element such as the kitchen island. By doing so, you can make this area stand out even more in the overall design.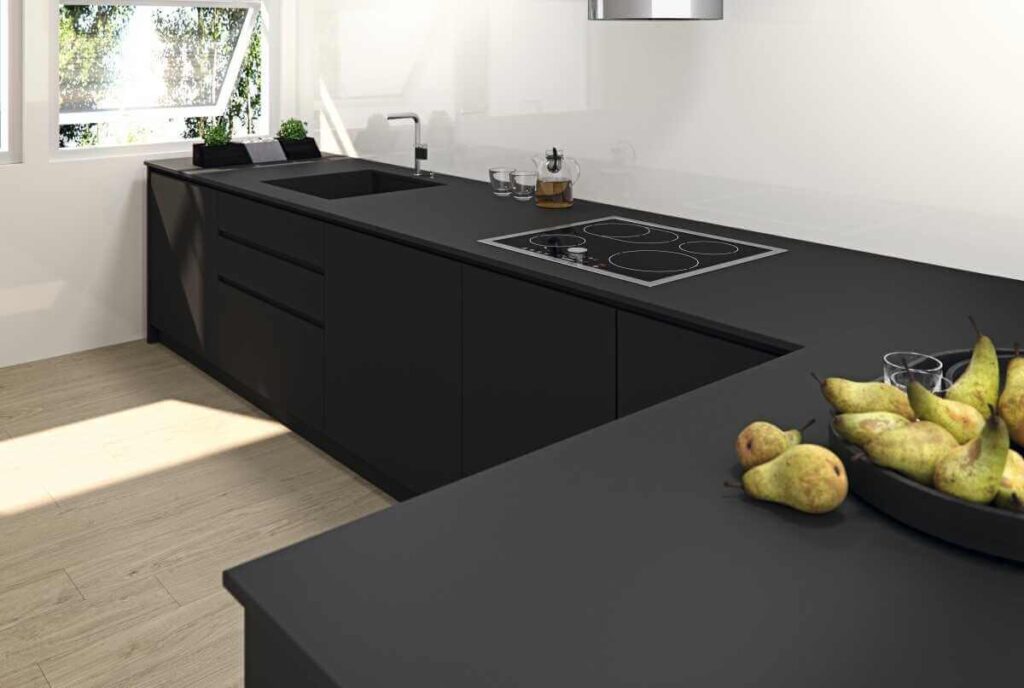 Black Kitchens with an Islan
Incorporating an island into the kitchen has been one of the most popular renovations of recent years. Not just for the practicality of having an easily accessible work area, but also for the aesthetic value it brings to the room.
If you want a black kitchen with an island, Coverlam Top and its various different collections are the ideal choice for tiling this part of the kitchen. Some of the most notable collections are Coverlam Top Basic, Coverlam Top Nero Ardi, Coverlam Top Blue Stone, Coverlam Top Artic, Coverlam Top Paladio or Coverlam Top Basaltina.
Using Coverlam Top for the surface of your elegant black kitchen island is a safe, stylish and durable option thanks to the multiple advantages that this material offers.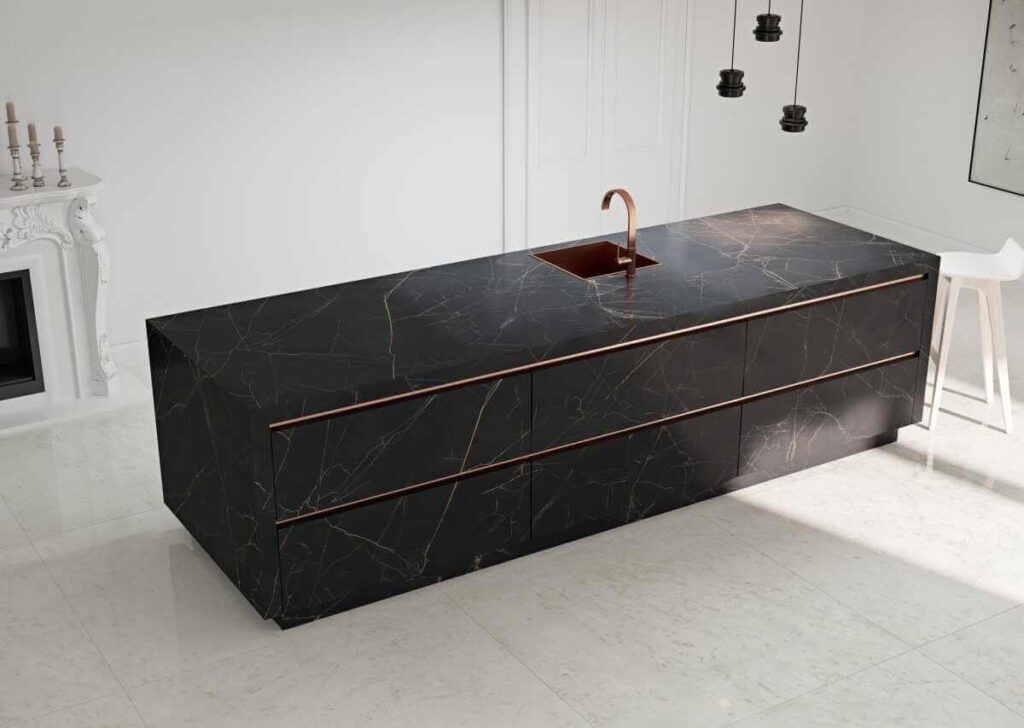 Winning Combinations in Black Kitchens
Black teams well with a number of complementary shades such as white, ranges of greens, blues, yellows... and also with natural materials such as wood or stone, creating harmonious compositions. Any of these combinations can fit perfectly into your predominantly black kitchen, adding nuances that complement the desired style. You can even combine different materials for a more vibrant result. For example, you can tile the hardest working areas with the Coverlam Top collections and keep the furniture in a light shade to contrast. The options are numerous.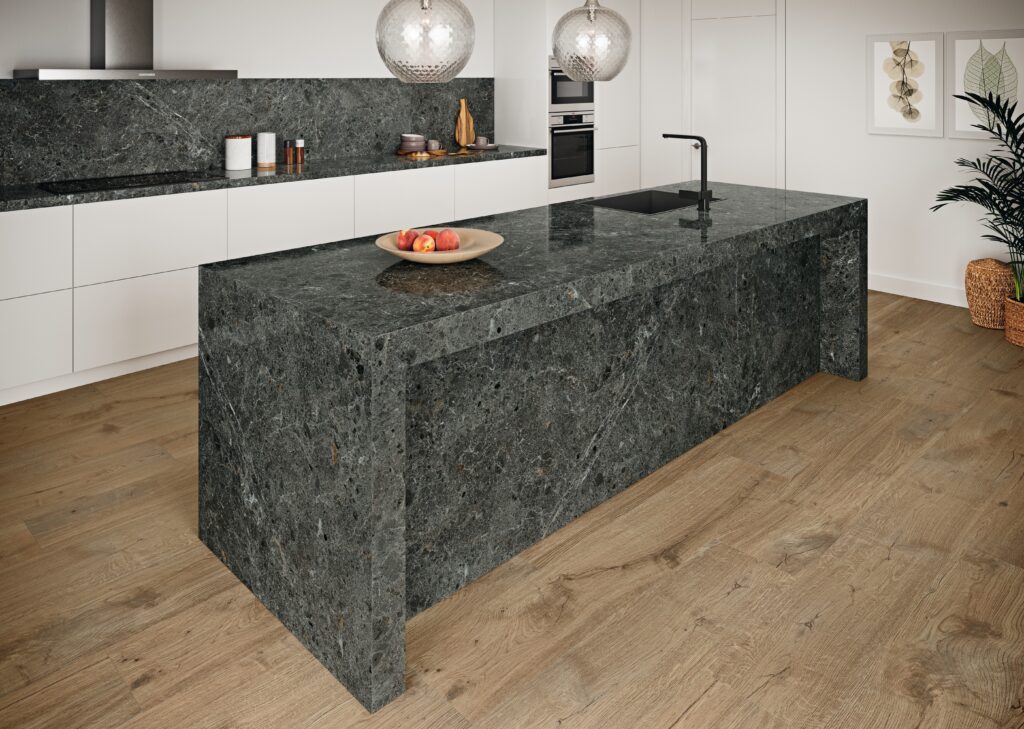 Do you dare to go for a black kitchen? Check out our extensive catalogue of solutions for your kitchen surfaces and let yourself be surprised by the results. Contact us for no-obligation information.