Discover all the reasons why you're going to want to change up your home and go for an integrated kitchen.
What are Integrated Kitchens and Why are They so Popular?
As a fundamental part of the house, the kitchen merits an extra measure of attention and care, both in the planning and design stage and in the day-to-day maintenance. That is why the concept of integrated kitchens has become one of the most popular options when it comes to undertaking a renovation of this room of the home.
But what are integrated kitchens? They are those in which all the elements of the kitchen (floors and walls, as well as cabinets, benches, countertops and even built-in appliances) are unified in the same line, creating a well-integrated, cohesive and harmonious image. On the one hand, opting for an overarching aesthetic for all the elements means less time and energy spent on decision-making. On the other hand, we achieve a wholly balanced, clean style, which enhances the aesthetic quality of the kitchen.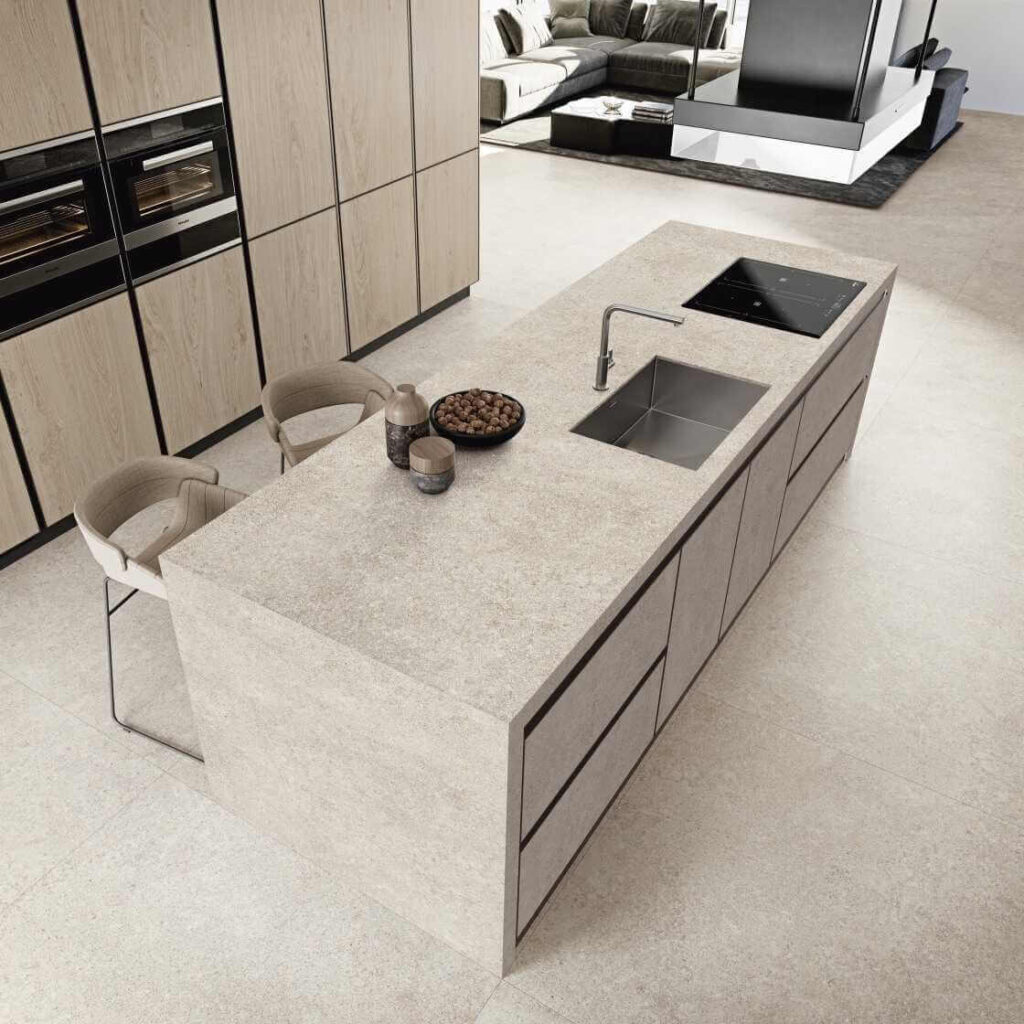 Integrated kitchens allow us to create an entirely unified design, which, in addition to heightening the sense of order in the room, generates a feeling of spaciousness and continuity.
Advantages of Integrated Kitchens
Given the importance of the kitchen as a vital part of the house, and the time we spend in it each day, good prior planning is needed, taking into account the layout, the space and the materials to be used, such that they facilitate its everyday use.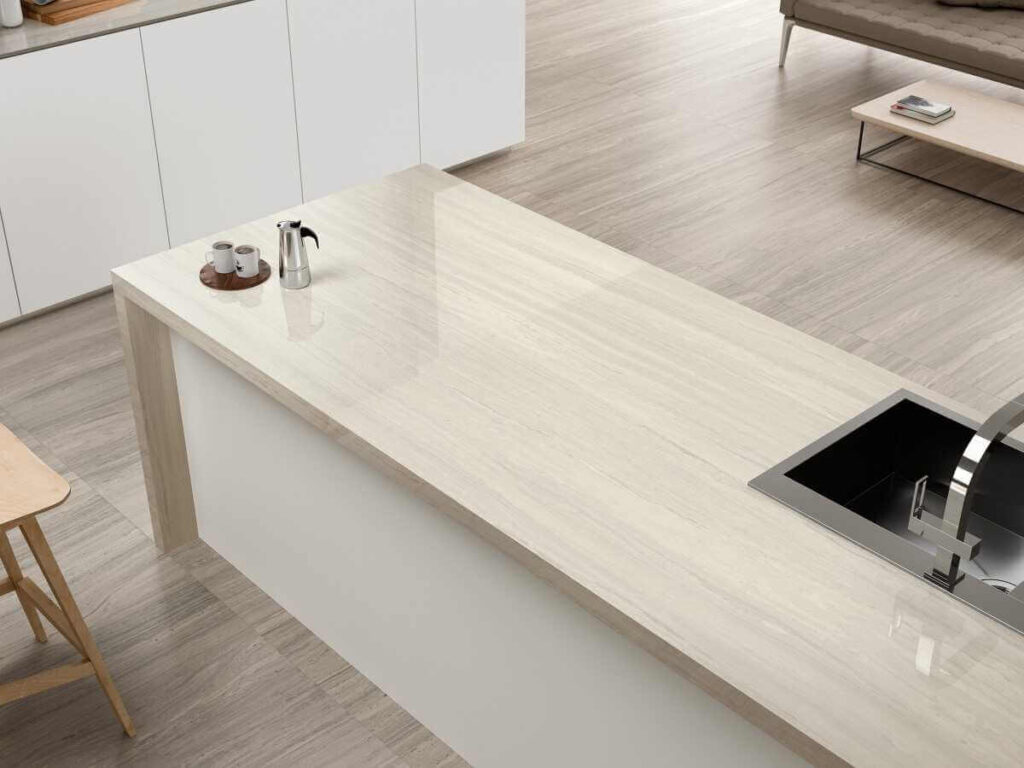 An integrated kitchen design provides, first of all, practicality: by choosing all the elements that make up this area of the house at the same time, you effectively reduce the time invested. In addition, these designs allow you to customize any element, making them a very practical way to solve storage issues and adapt to the space. On the other hand, whether you have a large area or are short on space, integrated kitchens convey a sense of spaciousness and uniformity, which in turn fosters that longed-for feeling of well-being and harmony.
Practicality and functionality come together in integrated kitchens because, as well as producing visually stylized spaces, these designs yield pragmatic layouts, where all the elements are within reach.
Everything You Need to Achieve Your Integrated Kitchen
When it comes to the construction of integrated kitchens, aesthetic cohesion is one of the main points to bear in mind. And achieving it requires specific materials and elements that are not only convenient for daily use but also provide visual value. This is where the design, quality and advantages of Coverlam and Coverlam Top come into play: they allow us to harmonize the graphics and aesthetics of the room through their use on different kitchen surfaces, with Coverlam Top applied for countertops, and Coverlam for floors, walls and cladding kitchen furniture.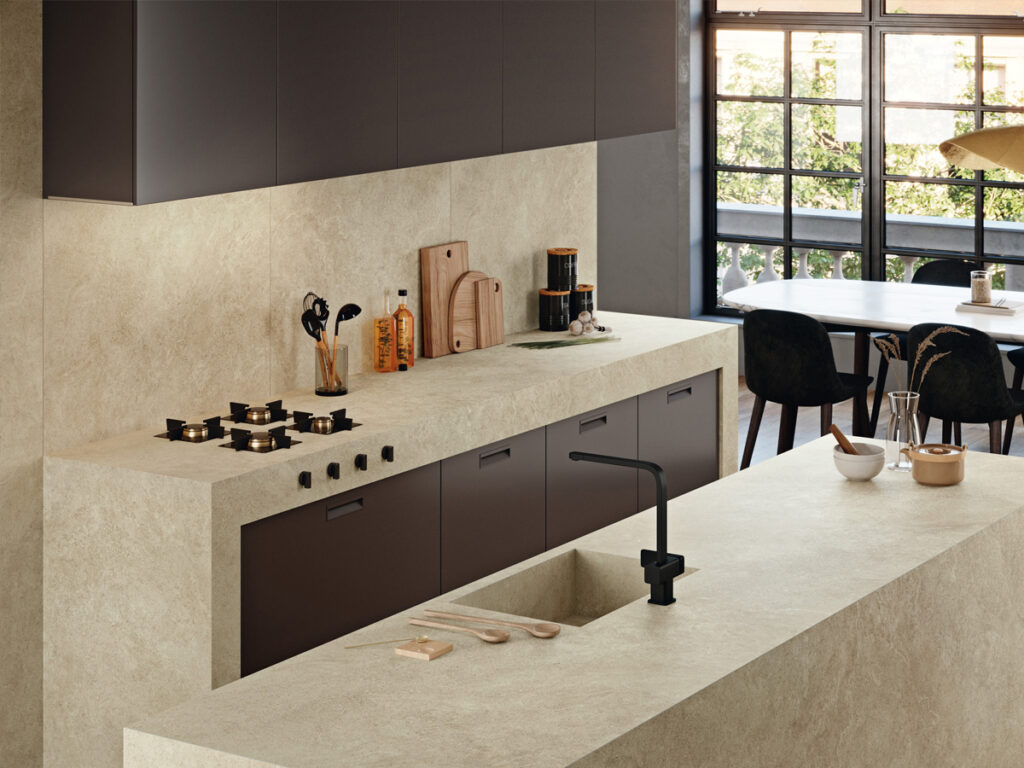 Coverlam for your Surfaces
Coverlam combines the superior technical features of resistance, durability and ease-of-cleaning, with attractive finishes and designs that align with the latest trends in interior design and home décor. Thanks to its large formats and minimum thickness (3.5mm and 5.6 mm), it can be used to tile all types of surfaces found in the kitchen, from floors and walls to backsplashes or kitchen furniture.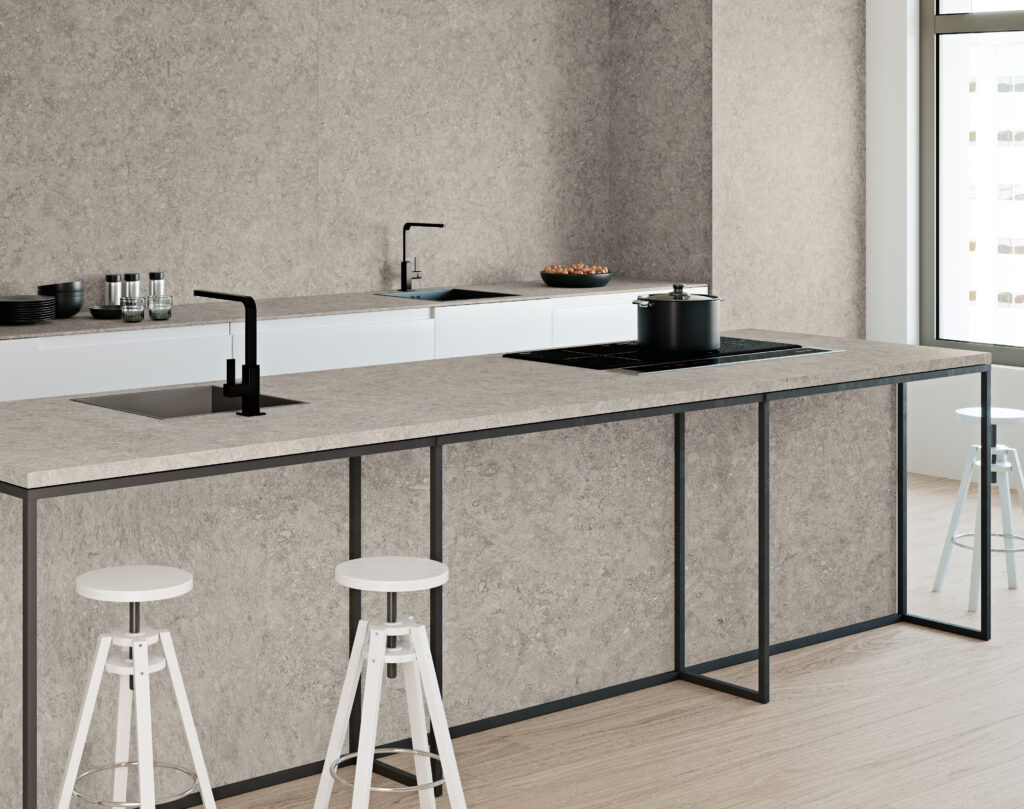 In addition to its large format and minimal thickness, some of the key noteworthy features of Coverlam are its easy maintenance and cleaning and high resistance to scratches, abrasions and changes in temperature. Moreover, the fact that it is ultrathin means it can be installed on both floors and walls without removing existing tiles or doing any demolition work, while its light weight makes it possible to tile all types of furniture, creating visual harmony with the rest of the surfaces.
Your Modern Countertop with Coverlam Top
As the main work area in the kitchen, countertops have become one of the most interesting elements at the design level, and the choice of a suitable material is key to the proper functioning and overall appearance of today's kitchens. With Coverlam Top, the countertop can be integrated with the overall image of this room of the house, allowing consistency with furniture and surfaces covered with Coverlam. In fact, it even enables the stove top and the sink to be incorporated directly into the countertop. In addition to endowing the work surface with aesthetic continuity, this extremely useful feature means that both areas benefit from the technical advantages of Coverlam Top, such as its resistance to heat and abrasion, hardness, waterproof surface and easy maintenance.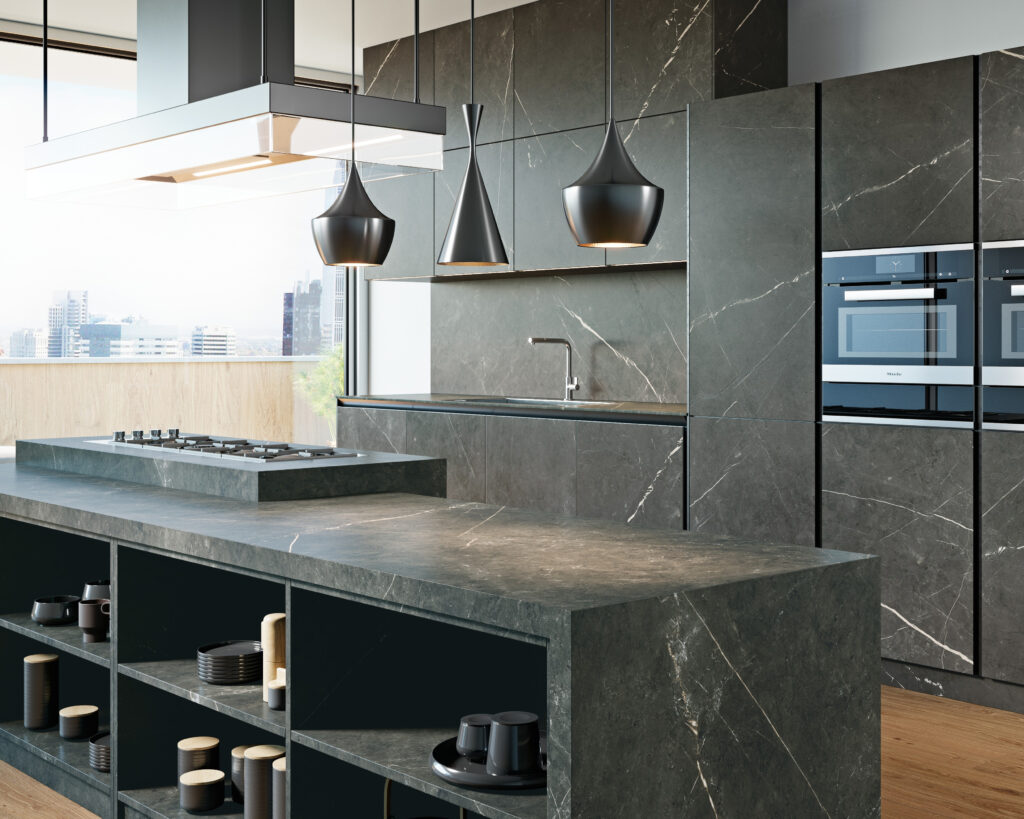 Coverlam Top will allow you to renovate your worktop in perfect harmony with the style, look and visuals of the entire kitchen, while enjoying the added value of its technical advantages.
Main Finishes for Integrated Kitchens
Far from being a minor decision, the aesthetics and finishes of the surfaces are increasingly important factors in the renovation of the kitchen and the final outcome. We highlight three of the main styles in modern integrated kitchens that that are set for success in coming seasons:
Natural Inspiration with Wood as the Central Feature
When it comes to conveying warmth, wood is the queen of design projects, and this also true when it comes to integrated kitchens. Thanks to the technical advantages offered by all our products, all kitchen surfaces can be given this natural, inviting look while at the same time benefiting from features such as resistance, durability and quality.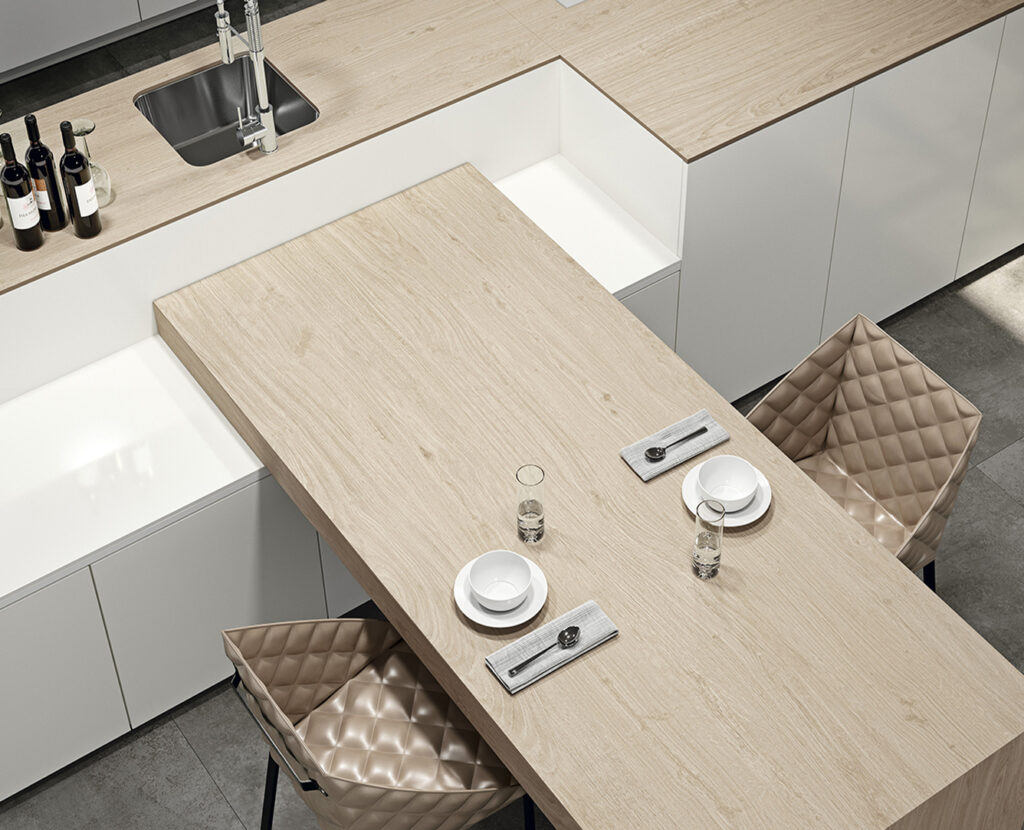 Marble Elegance in Kitchens
As far as elegance is concerned, marble undoubtedly has the magic touch. Capable of transforming a nondescript kitchen into a dazzling, charismatic space. We've come a long way from the image of those classic kitchens; these days, an integrated kitchen clad with the aesthetics of marble is synonymous with timelessness, beauty and radiance. A well-established look thanks to its timeless nature and rich graphics.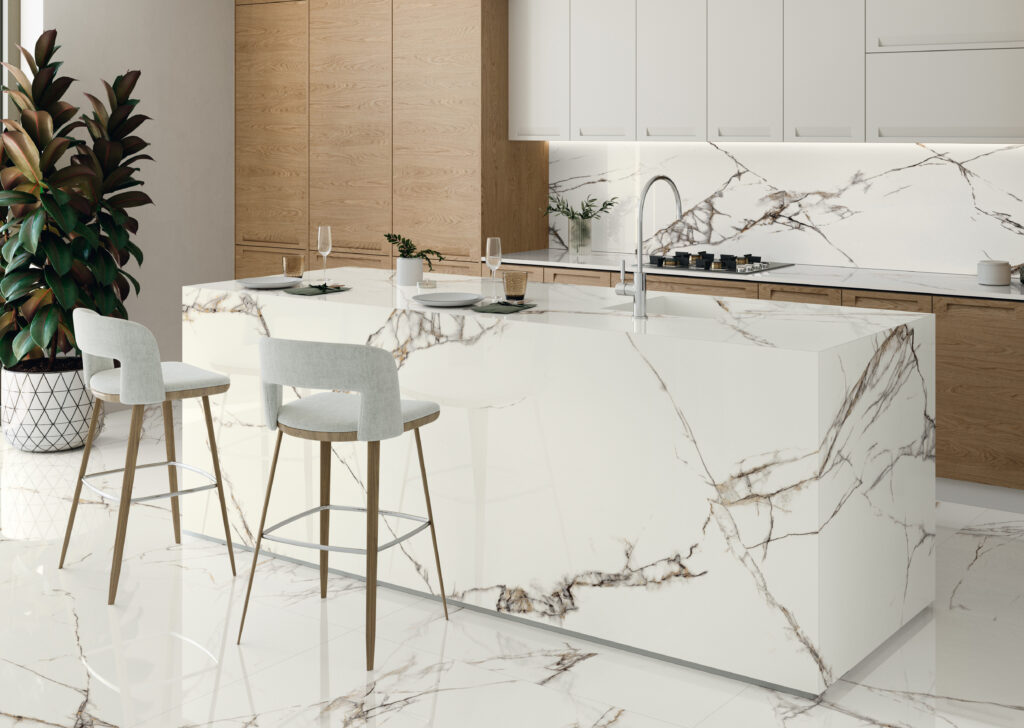 Cement-look Modern Integrated Kitchens
In recent years, elements inspired by the neutral beauty of concrete or cement have become very popular in the world of interior design due to their versatility and their strong affinity with contemporary design. This trend is also reflected in kitchen designs, where integrated kitchens with pure lines and neutral tones have been one of the stellar proposals of recent times.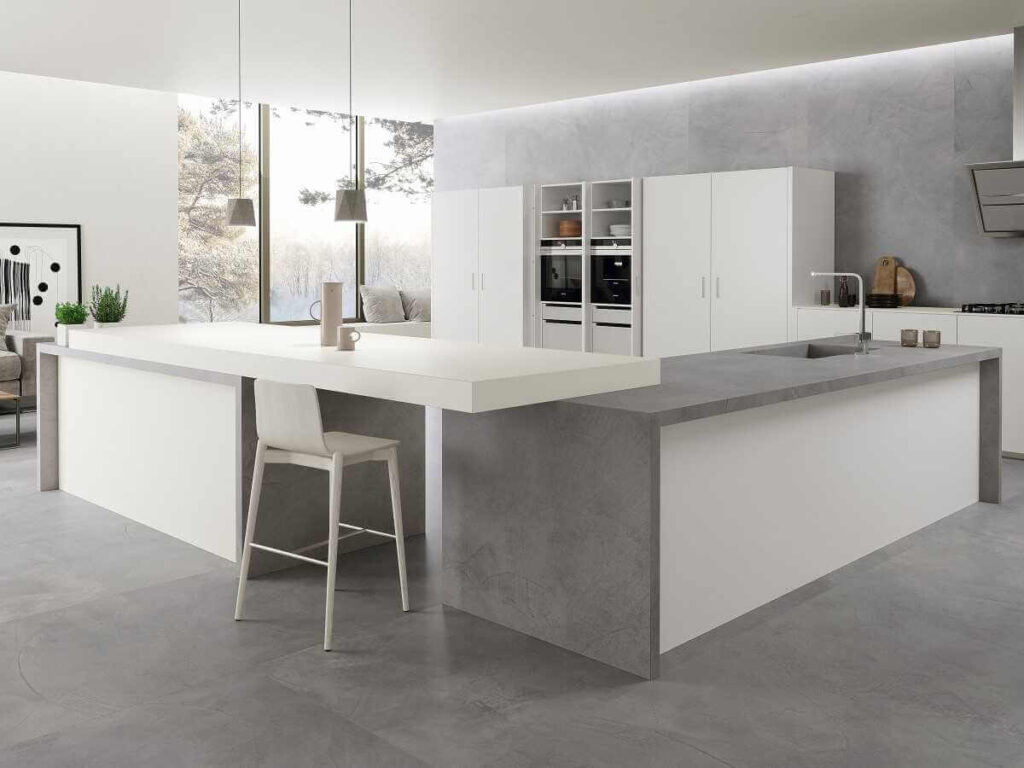 Rooms tiled in a range of greys or creams are in-demand because of their ability to endow spaces with a feeling of peace and calm. If we add to this the versatility of cement, we get indisputably attractive kitchens with an appeal that does not fade over time.
Do you want to go for an integrated kitchen in your home? Check out the entire Coverlam and Coverlam Top catalogue to get inspired and find the perfect kitchen style and design to suit you.