The choice of floor type is among the most important issues when we start designing a new project, because it is one of the elements of a room that has the biggest visual impact and carries the greatest aesthetic weight. Grespania is here to help you make this decision by showing you the main trends in indoor and outdoor flooring that are sure to be hit in 2023. Take note!
Trends in Indoor Flooring That You Should Know About
Are you looking for inspiration to renovate your home in line with the most innovative décor styles? Discover the four stand-out trends in flooring and give your next project the personality it deserves.
Simplicity as the High Point of Design
For some years now, people have been wanting to turn their homes into genuine havens of peace— a place to disconnect. And to achieve that homey, comfortable feeling as soon as they cross the threshold into their home. With this in mind, floors with discreet, minimalist features have become popular in the world of design for their power of transformation, filling rooms with serenity and calm. The beauty of simplicity at its finest!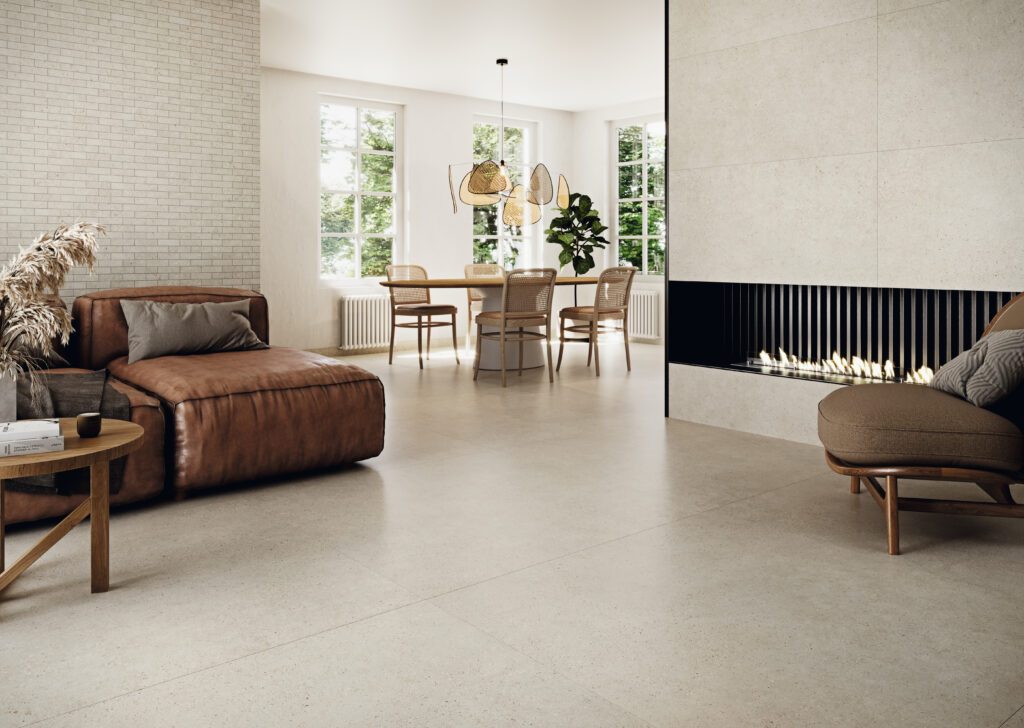 The look of cement and micro-cement in soft shades such as grey or beige are some of the main forerunners of this trend
Natural Textures are Setting a Trend in Floors 2023
Another décor style that we will see take hold this year calls for us to get closer to nature through textured surfaces with large-scale graphics and highly realistic details. This trend puts the emphasis on aesthetics such as worn stone, veined marble, or warm wood, but from a fresh, modern angle — in short, floors which can convey that connection with the environment from a sophisticated and elegant perspective, creating a style to last for life.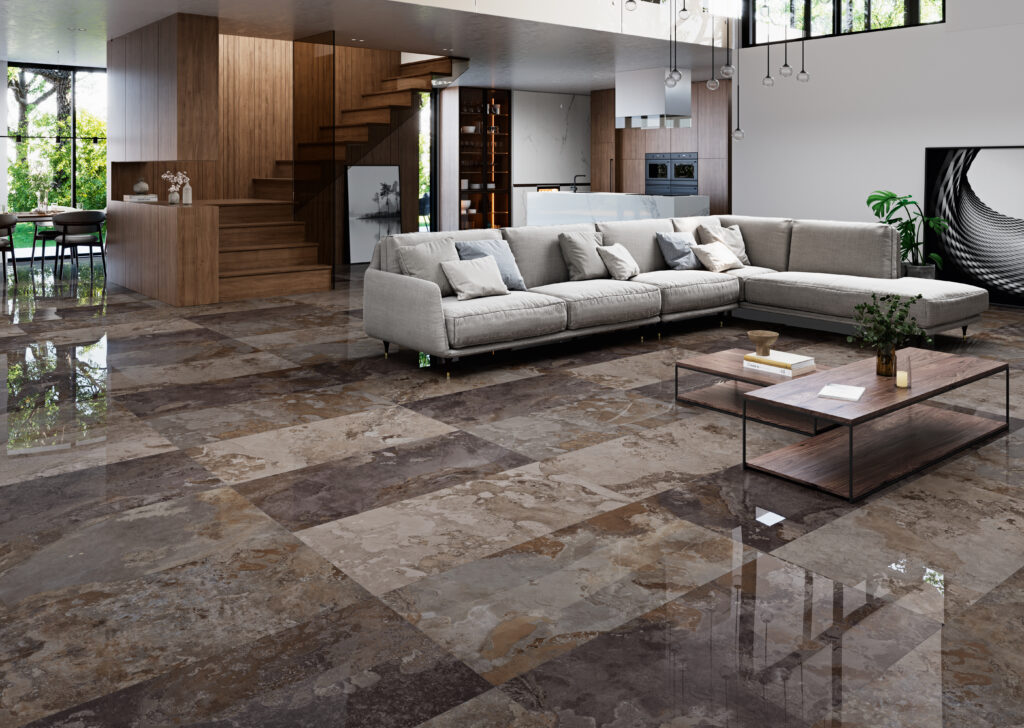 The interests of interior design and home décor professionals are moving towards a natural vision, where the surfaces are imbued with textures, realistic graphics and fine details
Big Solutions for Big Spaces
Large-format technical stone has already become a firm favourite for tiling rooms, earning a well-deserved reputation as one of the most remarkable trends in flooring. Pioneering solutions such as Coverlam available in 1200×3600mm, 1000×3000mm and 1200×2600mm, are chosen by architecture professionals for their projects because they unify and amplify spaces in a simple way, softening distinctions between rooms and creating uniform, visually clean spaces.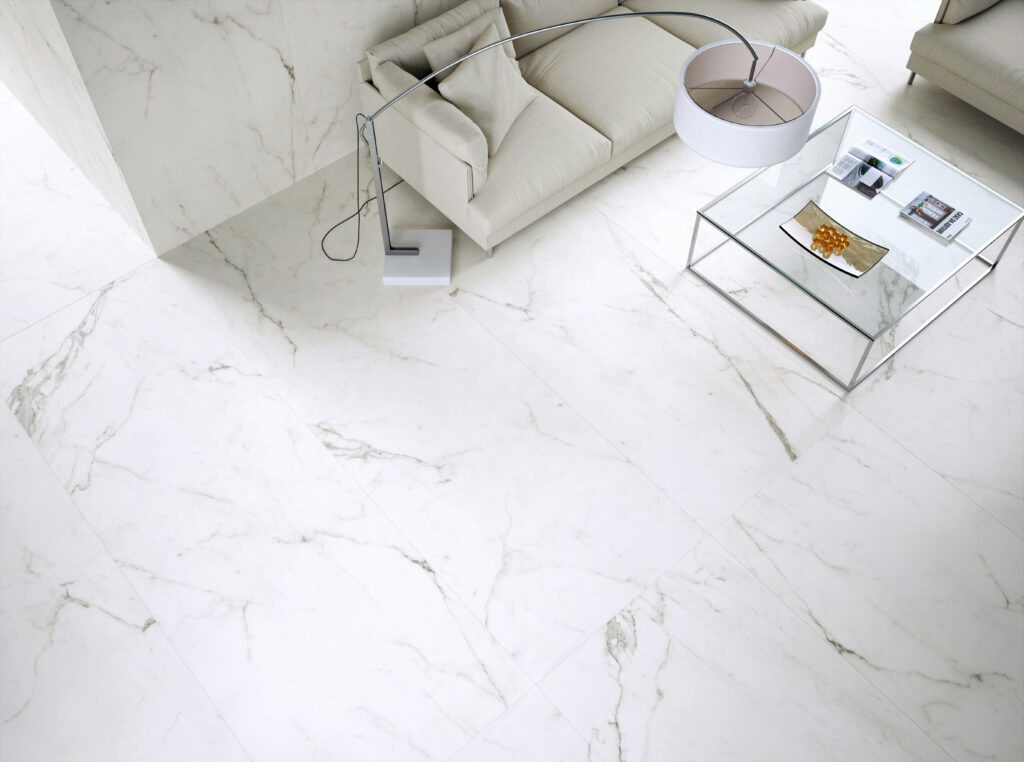 And that's not to mention their multiple technical advantages: in particular, the fact that they are highly crack- and impact-resistant; they are impermeable and withstand external conditions such as temperature extremes and sunlight; and they are easy to install and maintain due to their minimal thickness, starting at 3.5 mm. What is more, Coverlam is an environmentally friendly material, manufactured from raw materials in accordance with all of Grespania's sustainability measures.
Contemporary Hybrid Aesthetics
Among the most noteworthy trends for 2023, we are seeing a new take on the contemporary style with light industrial nuances and a more restrained approach. We are also seeing a special interest in hybrid aesthetics, with materials such as metals, veneers or cements taking centre stage, giving rise to sleek surfaces, full of vitality and personality.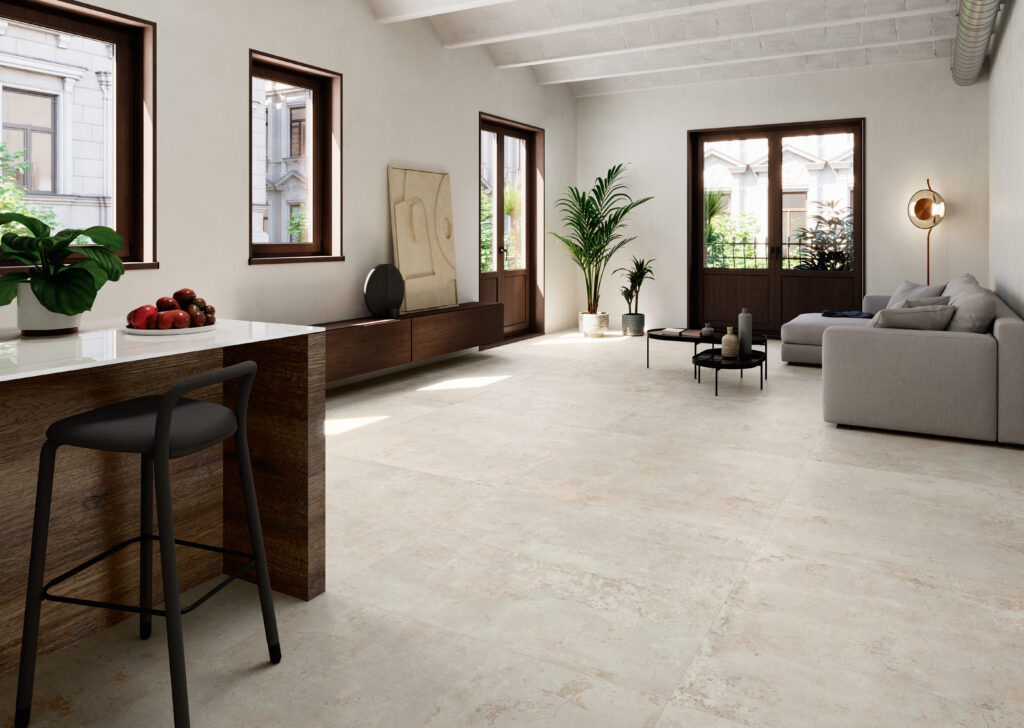 The constant search for innovation in the world of interior design generates interesting modern synergies. The new porcelain Valonia and Fresco series from Grespania emerged in response to this stylistic trend
Trends in Outdoor Flooring
When we're talking about trends in floors for 2023 we can't forget the outdoor areas, where design is becoming increasingly important, with the key aim of harmoniously combining the exterior with the rest of the house. In this respect, the 20mm-thick format has become well established as a style option for outdoor areas, especially in gardens and terraces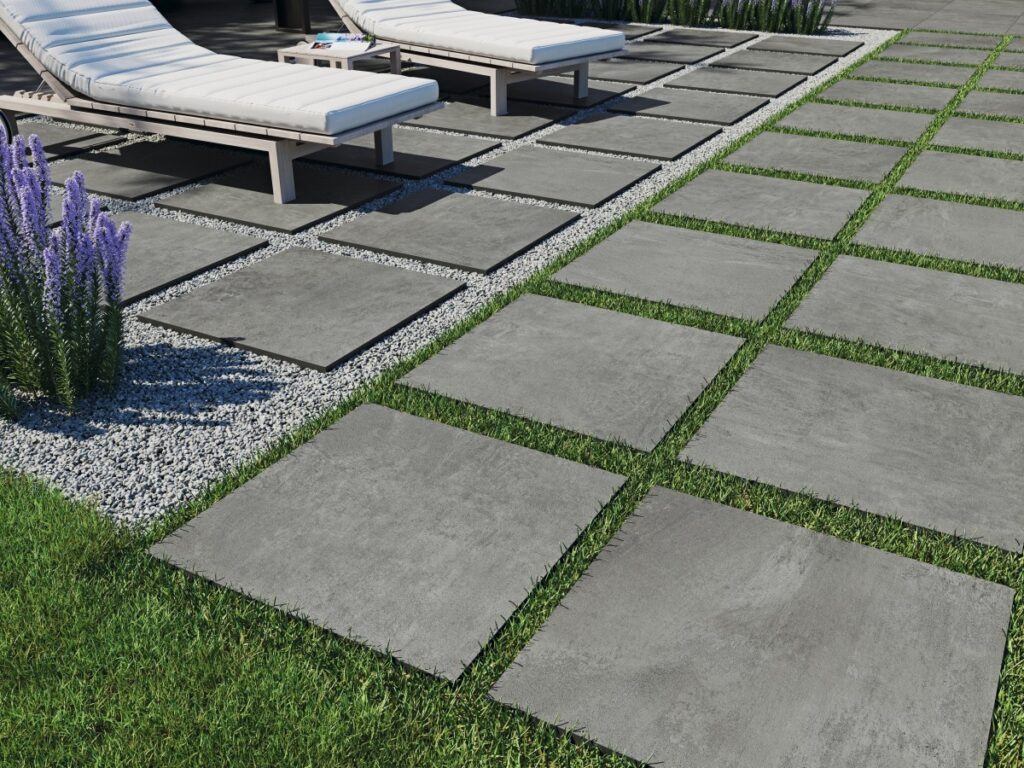 Of course, as far as outdoor areas are concerned, it is advisable to go for the safety offered by floor tiles with a non-slip finish. Regardless of the aesthetic trend that you want to apply, non-slip floors lend an added value to the design and quality of life in your home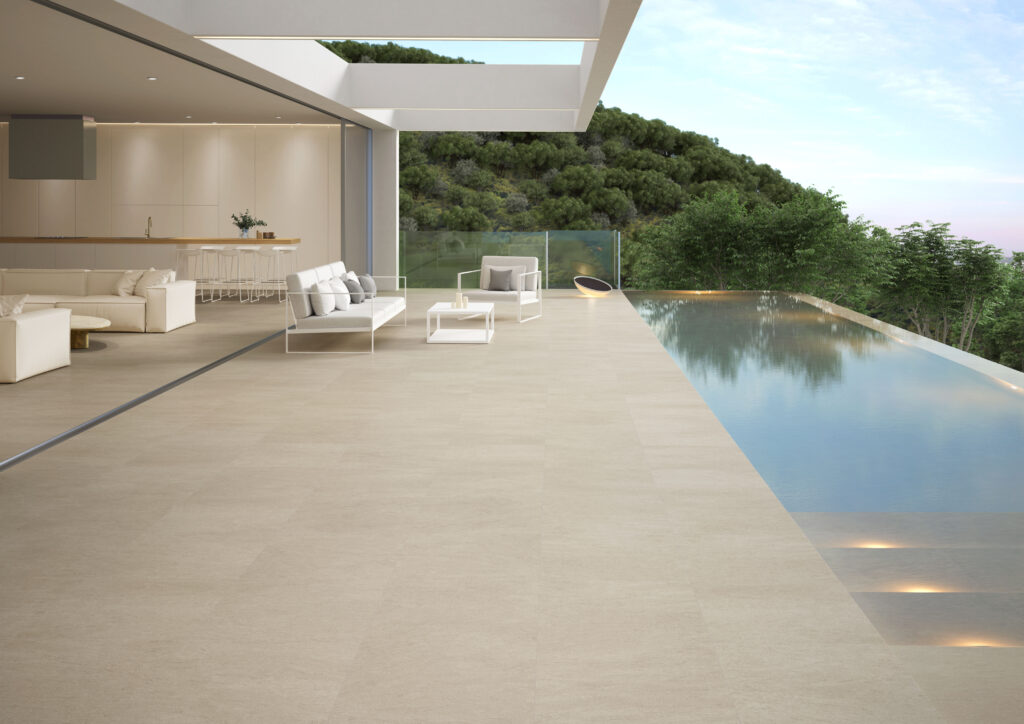 Would you like to find out about our latest product offerings for indoor and outdoor floors? Visit our catalogue and renovate your home in style thanks to the most innovative ceramic trends