The choice of tiles for outdoor areas is a crucial decision when designing and decorating your terrace. It's not just about creating a visually attractive space, but also ensuring the safety of those who use it. That's why non-slip outdoor tiles are a popular and highly recommended option. Let Grespania introduce you to the essential features of outdoor ceramic tiles, as well as the advantages of choosing non-slip porcelain flooring for your outdoor areas.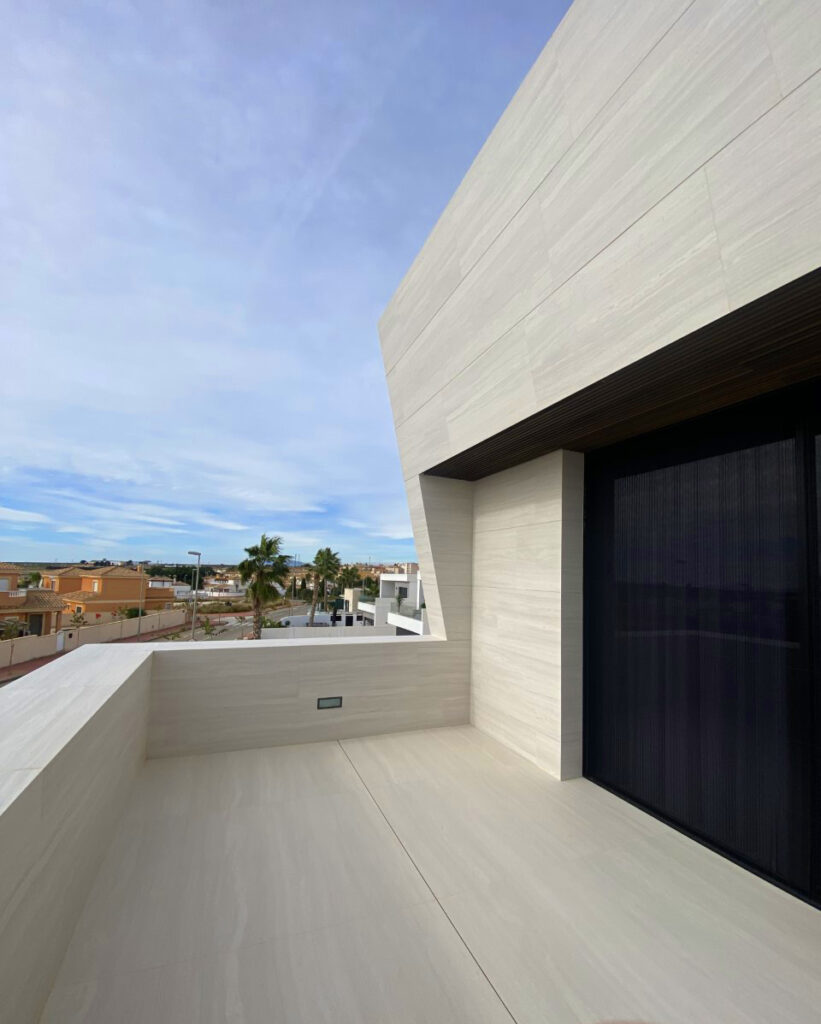 Essential Features of Ceramic Tiles for Outdoor Areas
When it comes to outdoor tiles, it is essential to take into account certain fundamental features that set them apart from ordinary flooring: On the one hand, this material is specifically designed to withstand inclement weather, temperature changes and the daily wear and tear that being outdoors entails. What is more, they must provide a safe, non-slip surface, especially in areas where there is a risk of splashes and surface water, such as terraces and swimming pool surrounds. That's why one of the most important aspects to consider when choosing outdoor tiles is their degree of slip resistance.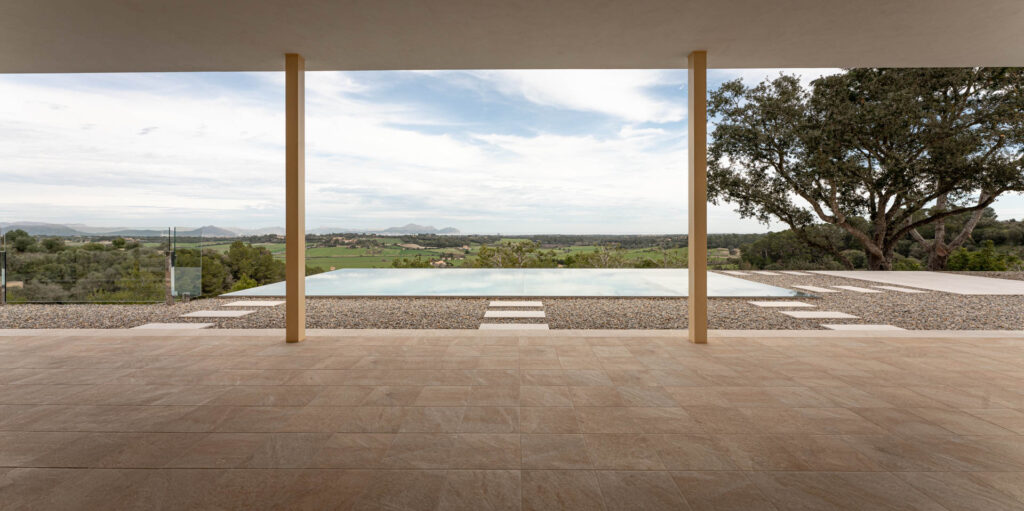 Tiles with a non-slip finish are characterized by the special texture on their surface that creates a higher coefficient of friction. This means that even when they are wet, non-slip tiles offer an optimal grip, so that you can walk confidently on them without worrying about possible accidents.
Classification of Non-Slip Outdoor Tiles
Non-slip outdoor tiles are classified into different categories according to their coefficient of friction or degree of slip resistance. Knowing these classifications will help you choose the most appropriate option for your terrace, depending on its location and the degree of exposure to moisture and water.
On the international stage, there are currently various different evaluation and classification systems for non-slip tiles, the most widespread standard is the German certification DIN 51130:2014.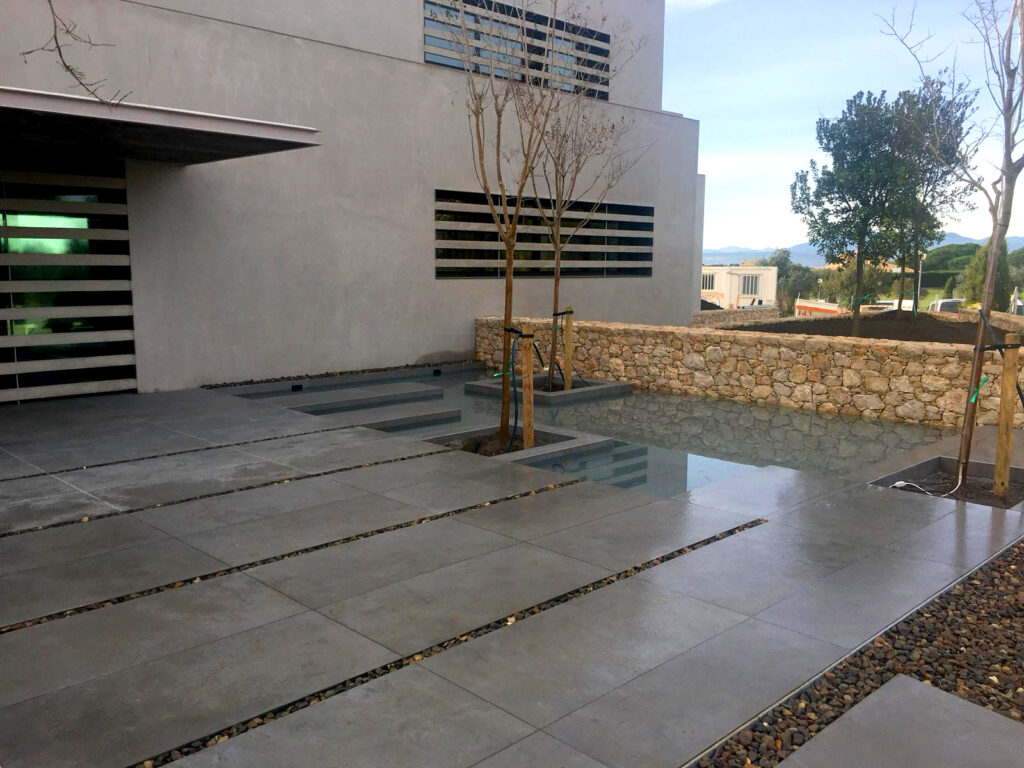 Grespania has numerous collections available in both natural and polished finishes, as well as non-slip finishes. This makes it possible to create continuity between the aesthetics of indoor and outdoor spaces, achieving the In&Out effect that is highly sought after in modern design.
Últimas Tendencias en Baldosas para Exterior y Terrazas
Having established the technical qualities needed to pave an outdoor area and be able to enjoy it as safely as possible, we can move on to the popular style trends for terraces and gardens.
One of the stand-out trends in outdoor tiles is to go for a natural look. The beauty of nature has become an inexhaustible source of inspiration, with the graphic richness of wood taking centre stage. Our natural-inspired outdoor tiles capture that essence and allow you to enjoy the warmth and elegance of wood without worrying about maintenance and weather resistance.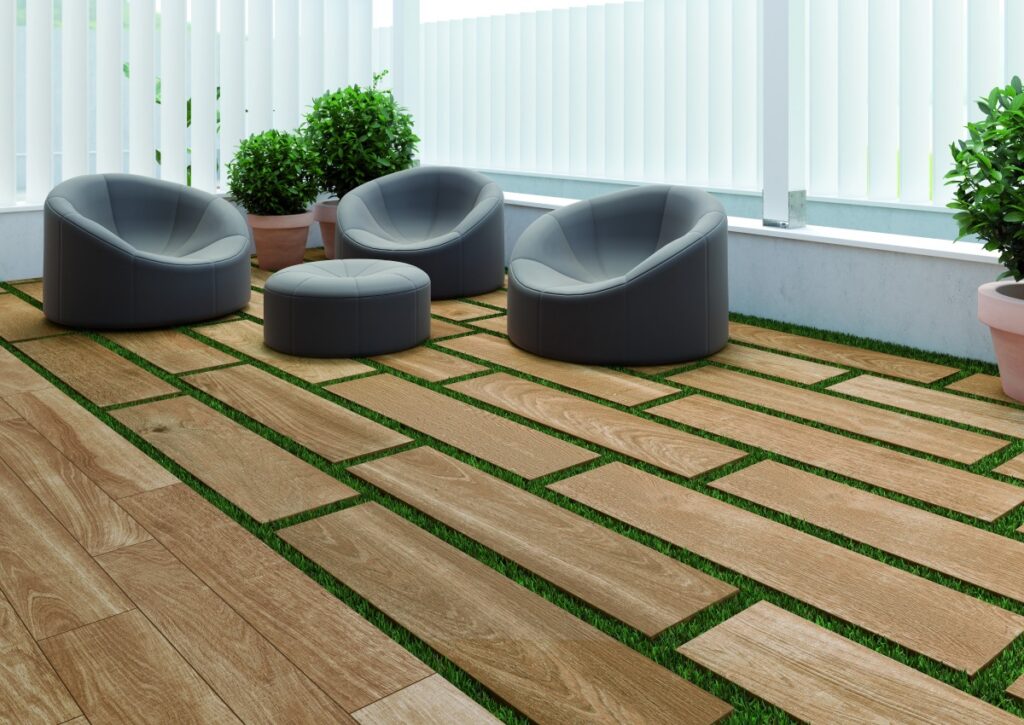 Another rising trend is tiles inspired by natural stone. Grespania has developed a line of outdoor tiles that perfectly recreate different types of stone, including marble, granite, and slate. These tiles lend a sense of luxury and sophistication, turning your terrace into an oasis of serenity and refinement.
We here at Grespania understand that your terrace is one of the most special areas of your home and, as such, deserves full attention paid to design and quality. That's why we offer you a wide variety of porcelain floor tile collections that perfectly suit your needs and tastes.
Grespania series such as Selva, Patagonia or Jungla perfectly recreate the beauty of natural wood, but with the durability and versatility of porcelain stoneware. Basaltina, Indiana and Mítica are inspired by the gravitas of stone to create spectacular outdoor surfaces.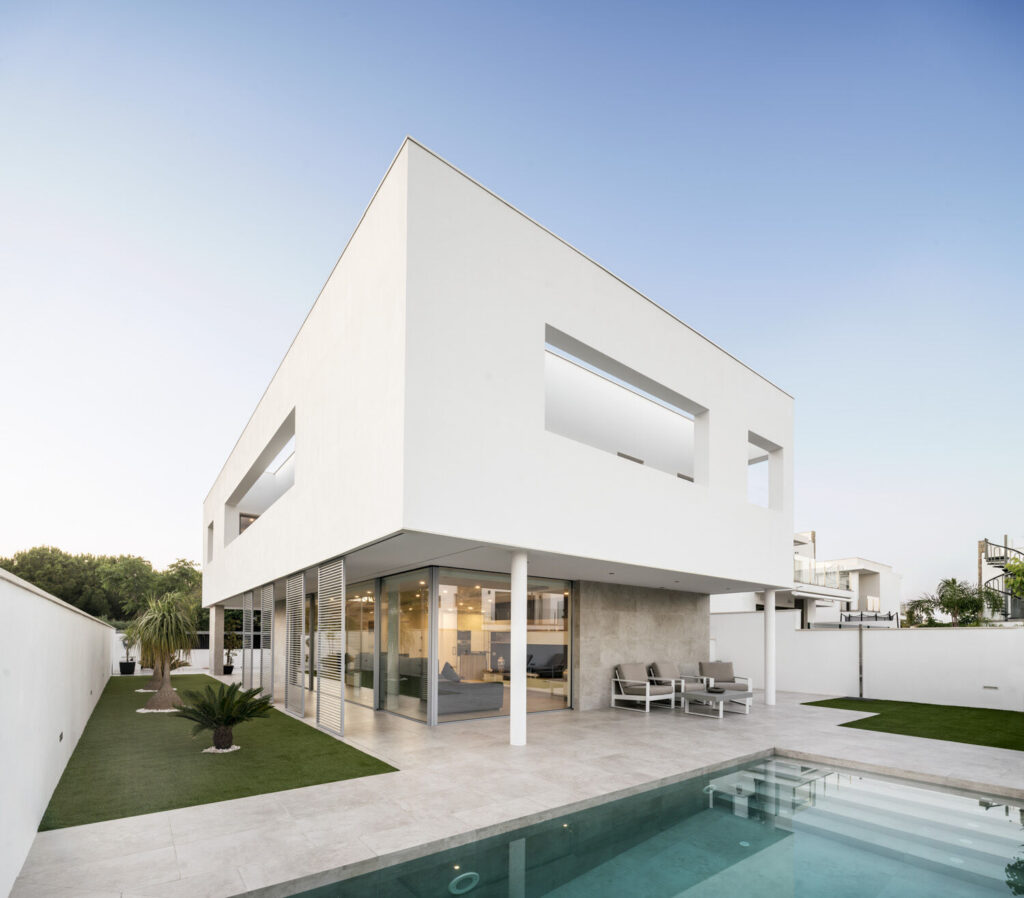 In addition, thanks to new technological advances, some non-slip ceramic surfaces are notable for being smoother to the touch. This is a highly valued feature when it comes to private use, as it makes cleaning easier while still ensuring the style and safety of outdoor spaces.
Bonus: Advantages of the 20MM Format for your Terrace
In addition to their non-slip features, outdoor tiles can offer other advantages. An example of this is the 20 mm-thick format.
Grespania's porcelain stoneware with a thickness of 20 mm offers greater resistance and durability, as well as high breaking strength. This option is especially suitable for terraces and high-traffic areas, as it can withstand heavy loads and daily wear and tear without issue. What is more, its extra thickness means it can be easily installed on different types of surfaces, such as grass, gravel or even sand.
Another advantage of the 20 mm-thick format is that it can be installed as a raised flooring system, creating a raised terrace. This is especially useful if you want to hide cables, pipes or just to facilitate the drainage of water from the terrace.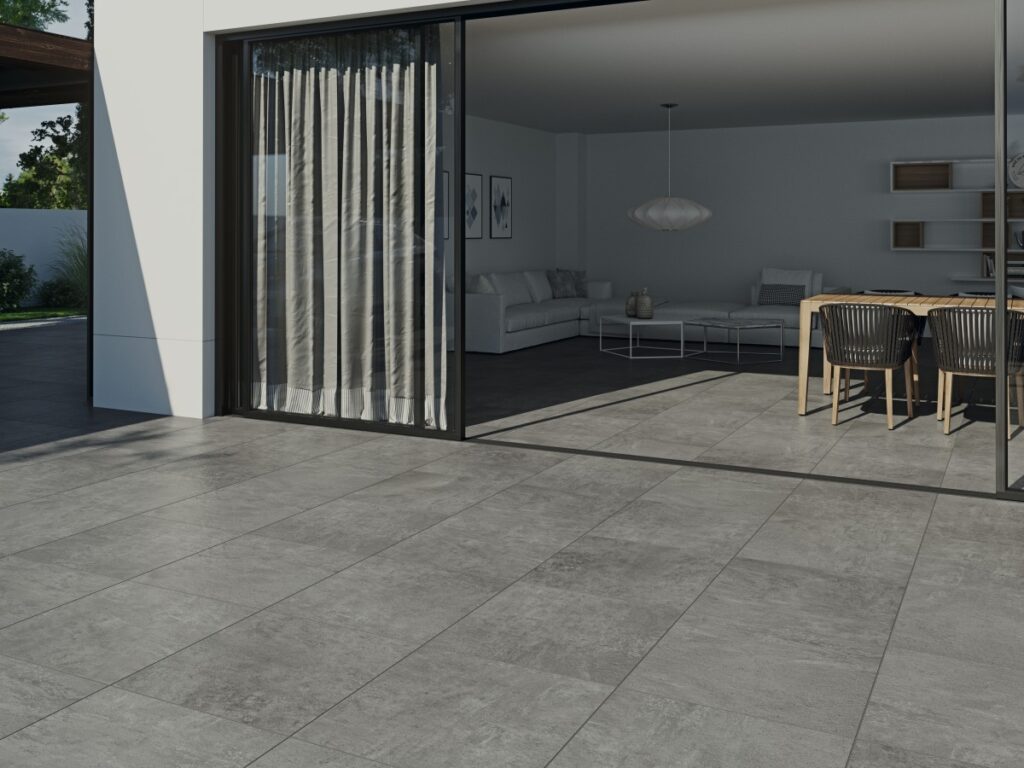 To sum up, when choosing outdoor tiles, safety and design should be the main criteria. Non-slip outdoor tiles offer an ideal solution for creating a space that is both safe and attractive.