Choosing the type of flooring for your house is one of the most important decisions to make when doing a renovation. We here at Grespania can help you decide what type of flooring you should choose to meet your needs
The Best Flooring for a House
Defining the keys to choosing the best flooring in your house is not easy, as it will depend on both your needs and those of the house itself. However, we can provide some tips that will help you when it comes to making the decision. To that end, we can approach it in two ways: what kind of flooring is best according to the technical features of the material, or which is best according to the desired aesthetics for your home.
The Best Flooring According to Technical Needs
In terms of pragmatics, when deciding what type of flooring to put in your home, some of the most highly-valued features are the durability, strength, ease-of-maintenance and ease-of-cleaning of the chosen material.
Porcelain flooring is one of the best all-round materials currently on the market due to the multiple advantages it offers for room designs. During its manufacturing process, it is subjected to high temperatures that endow it with great strength and hardness, so that it can remain undamaged by knocks and scrapes. If you already have or are planning to install radiant floor heating, porcelain is an excellent option since it conducts heat but at the same time is perfectly resistant to temperature changes. It is also an excellent choice if you want to connect the indoor rooms with your terrace or garden, as it is also suitable for outdoor areas. In addition, since it is impermeable and non-porous, it is an easy-to-clean material that does not absorb dirt or stains, and is not damaged by chemical agents. This significantly reduces the day-to-day maintenance needed, unlike other porous materials that can be easily damaged.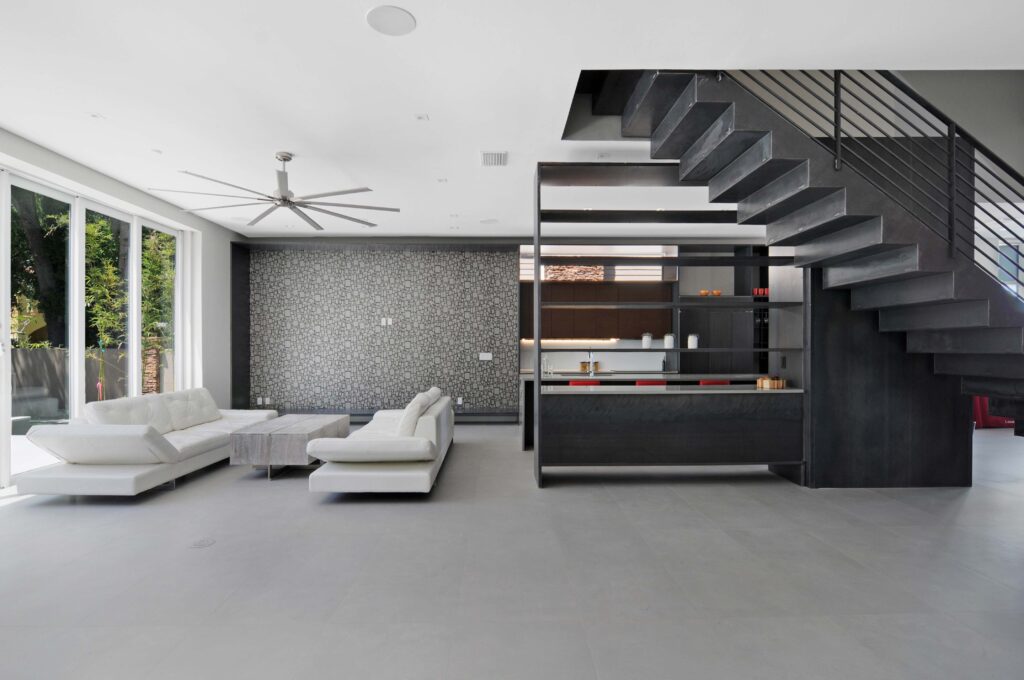 If that weren't enough, Grespania is also a pioneer in bringing H&CTiles product.to market. This application for our ceramic products helps reduce environmental pollution and endows the ceramic material with self-cleaning, antibacterial and odour-eliminating properties.
The Best Flooring for the Bathroom and Kitchen
There are two areas in the home which inevitably require greater attention when choosing the right materials for them. We are of course referring to the kitchen and the bathroom, which, given their daily use have some additional requirements compared to other rooms. Because the bathroom is an area where there is likely to be water on the floor, it is a good idea to use a flooring with a non-slip finish that guarantees your safety and prevents unnecessary accidents. Grespania has an extensive catalogue of porcelain tiles with non-slip finishes in multiple styles to suit all kinds of décor trends while also providing the protection needed in this area of the house.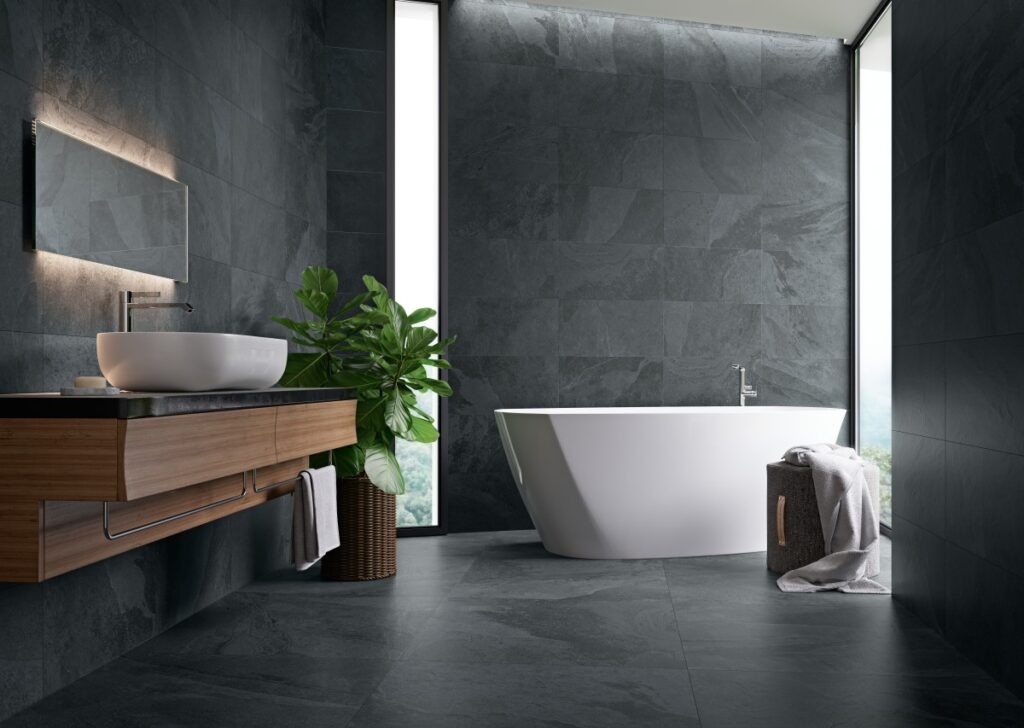 Porcelain flooring is an excellent option for the bathroom due to its non-slip surface, which makes the area safer and lets you walk around barefoot without unwanted slips.
The Best Flooring for a House According to the Aesthetics
In terms of aesthetics, if you want to know what flooring to use in your home, the range of possibilities expands to offer a wide variety: Natural-looking floors that bring the neutral beauty of stone indoors; wood-look tiles full of warmth; sophisticated cements that pair with the most modern décor trends, and even beautiful, personality-filled marble. In this regard, the great advantage of ceramic is that it can emulate all kinds of textures, colours, finishes and appearances without giving anything up in terms of the technical characteristics of the material.
Thanks to Grespania's strong commitment to innovation, its porcelain tile can adapt to all kinds of aesthetics and looks, offering highly realistic designs that are rich in detail. This makes it a very versatile, all-round material, which combines technical quality with meticulous design.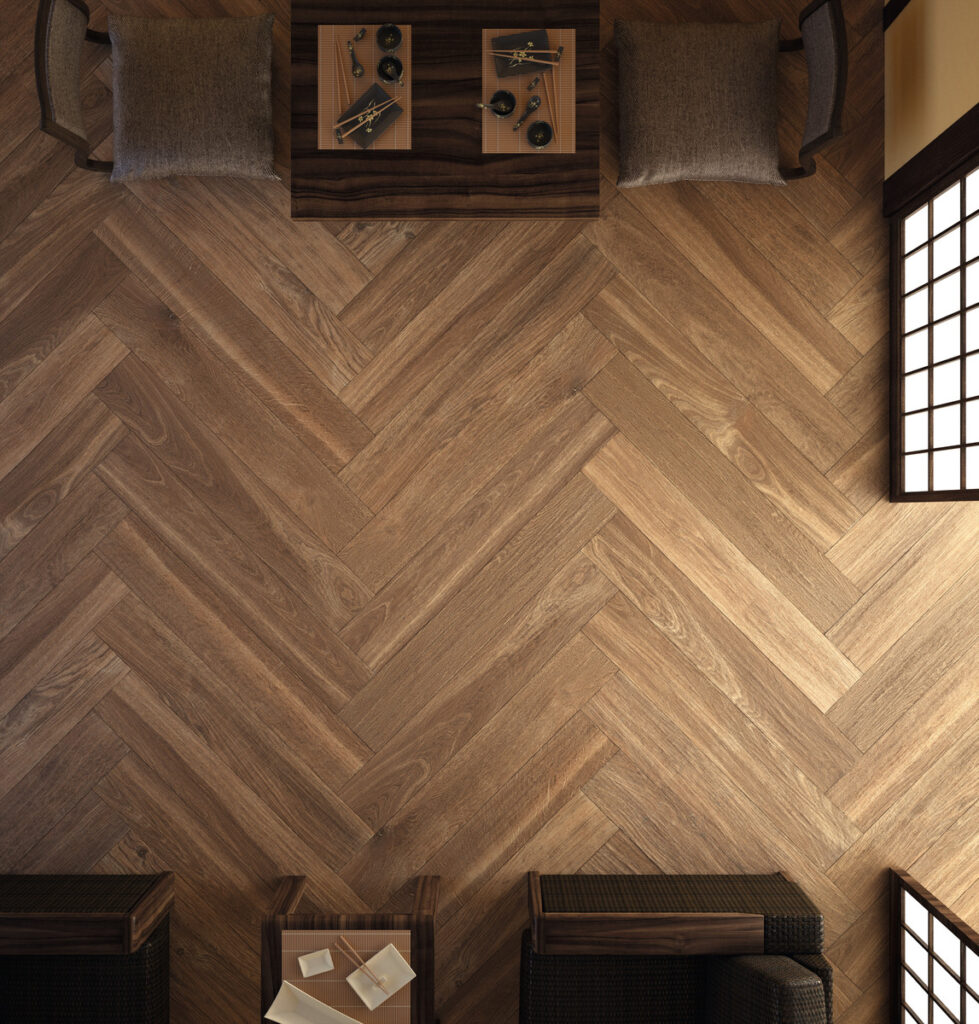 On the other hand, regardless of one's individual taste, there are always tricks and details to take into account. For example, there are shades, finishes and looks that enhance the feeling of the cleanliness of surfaces. Opting for a completely smooth or white floor will require more day-to-day maintenance than a graphically rich stone or wood-look floor.
Bonus: A Single Floor to Unify Rooms
One interior design trend that has become popular in recent years consists of unifying different rooms of the house through the use of the same flooring. This generates visual harmony in addition to enhancing the feeling of spaciousness in the house, a very beneficial effect when it comes to small homes. On the other hand, the notion of uniformity is closely aligned with the minimalist trend prevailing in modern interior design, where the priority is on clean, uncluttered spaces and surfaces take centre stage.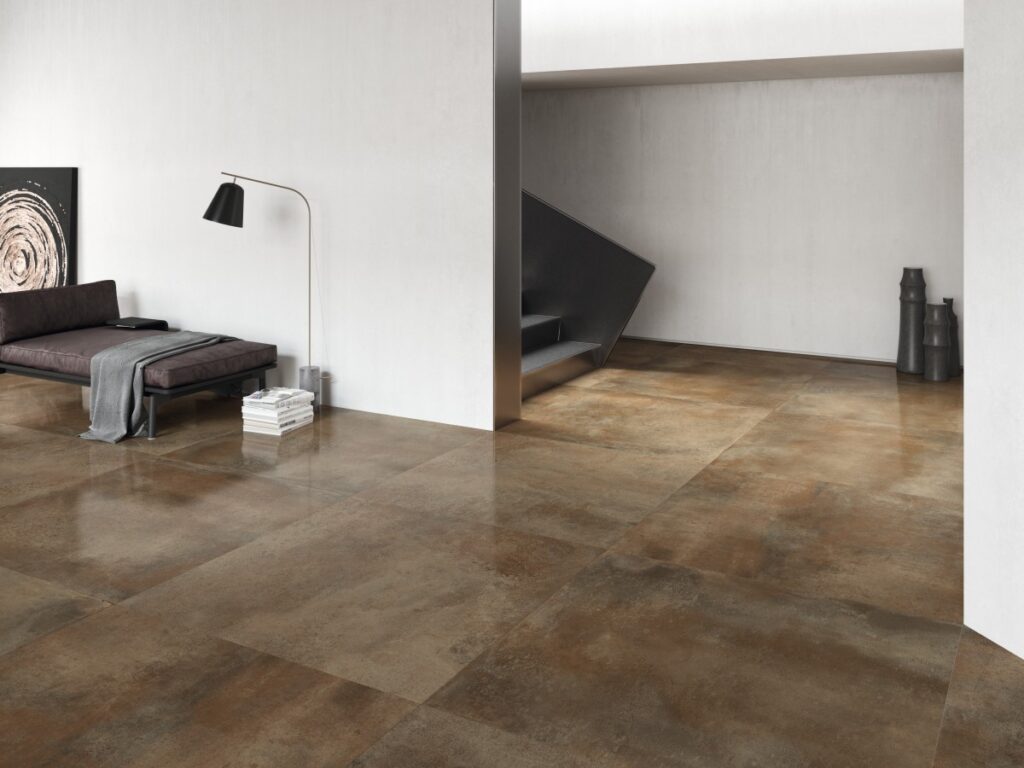 Discover the multitude of possibilities available in Grespania's extensive catalogue to choose the most appropriate flooring for your home according to your tastes