We know that defining what your kitchen will look like is not an easy task. There are endless decisions to make that will shape the final outcome. That's why we here at Grespania want to help by presenting three suggestions for modern kitchens that are currently popular in the world of interior design. All three looks can be accomplished with Coverlam Top, one of the materials most often used by architects and interior designers.
Modern Kitchen Design
The design and planning of your kitchen strongly depends on the structure of the available space, your daily needs, and of course your personal taste. These three factors must be combined to achieve the best possible result. However, if you also want an entirely bespoke finished look in line with current trends, we can add some aesthetic suggestions into the equation to guarantee a superior result. The three most notable current trends cited by experts as a way to achieve a modern kitchen are the natural touch, a unified continuous design, and the use of contemporary materials. Let's explore each one: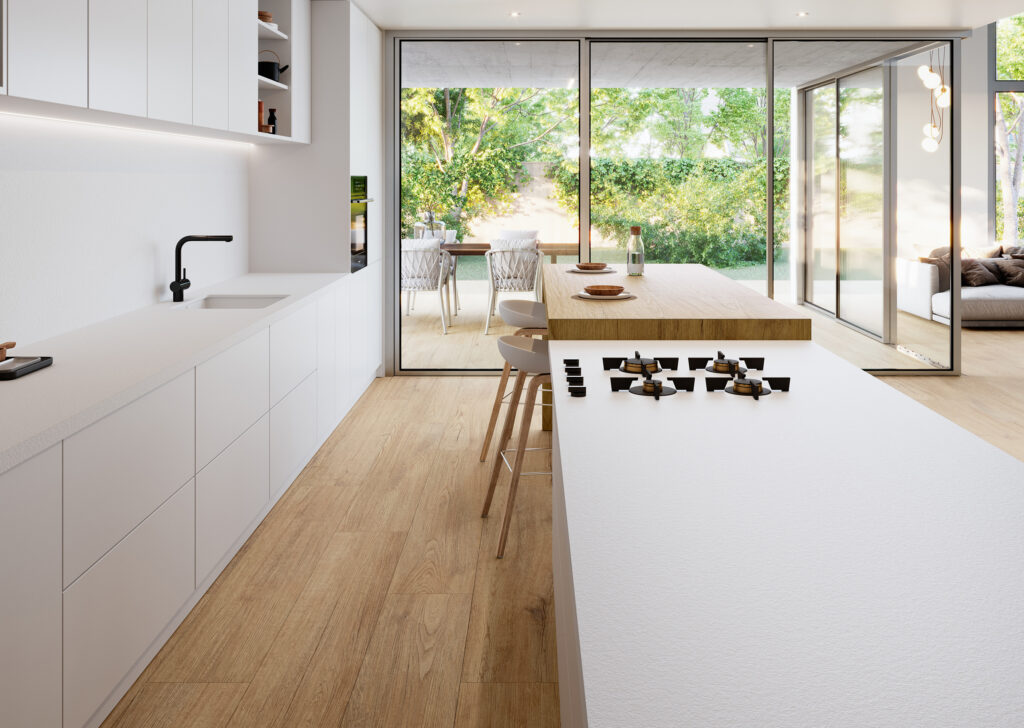 Natural Modern Kitchens
People seeking to create a cosy, relaxed atmosphere in their home want the same values to be perfectly reflected in the design of their kitchen. As such, playing with the warmth and natural feel of the elements is one of the most popular interior design trends. As you would expect, fine materials play an important role, with wood being the central aesthetic in this design proposal.
However, of all the rooms in the house, the kitchen has some of the most exacting requirements in terms of cleanliness, hygiene, resistance and durability—that's why you need to find reliable materials that guarantee your kitchen stays in good condition for as long as possible.
The Irati and Jungla collections by Coverlam Top are an excellent option if you want to achieve a warm, natural look in the kitchen, with all the technical benefits that this material provides: not only its high strength and durability compared to natural wood, but also its low porosity, which makes it resistant to stains and guarantees clean, hygienic, bacteria-free surfaces.
We should also point out that Coverlam Top is 100% recyclable because it is manufactured from natural raw materials. In addition, it contains a high percentage of recycled material and its manufacturing process is designed to further minimize waste, meaning its environmental impact is minimal. The perfect material for those who want to contribute to more sustainable, natural construction while following this trend.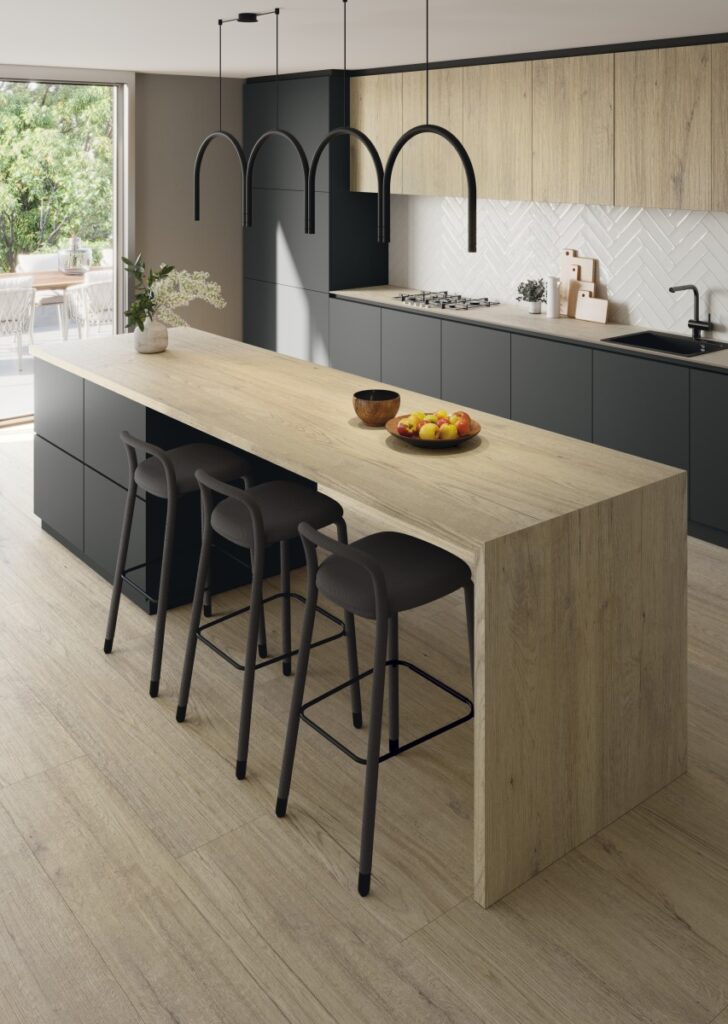 Kitchens with Infinite Surfaces
Since this space is continually in use, it's very important when designing a kitchen to ensure that you feel comfortable in it and can do all your kitchen chores as simply and effectively as possible. That's why another trend in modern kitchen design is aimed at providing large work areas and unifying the surfaces to make the room feel more expansive and spacious. This can be achieved by using versatile large-format materials, which allow you to incorporate the sink into the countertop, to cover kitchen cabinets and appliances with the same material, and ultimately, to integrate as many elements as possible into the unified design.
Choosing large-format tiles for the kitchen countertop or bench gives you a clean, organized space where you can concentrate on cooking and enjoy a functional work area.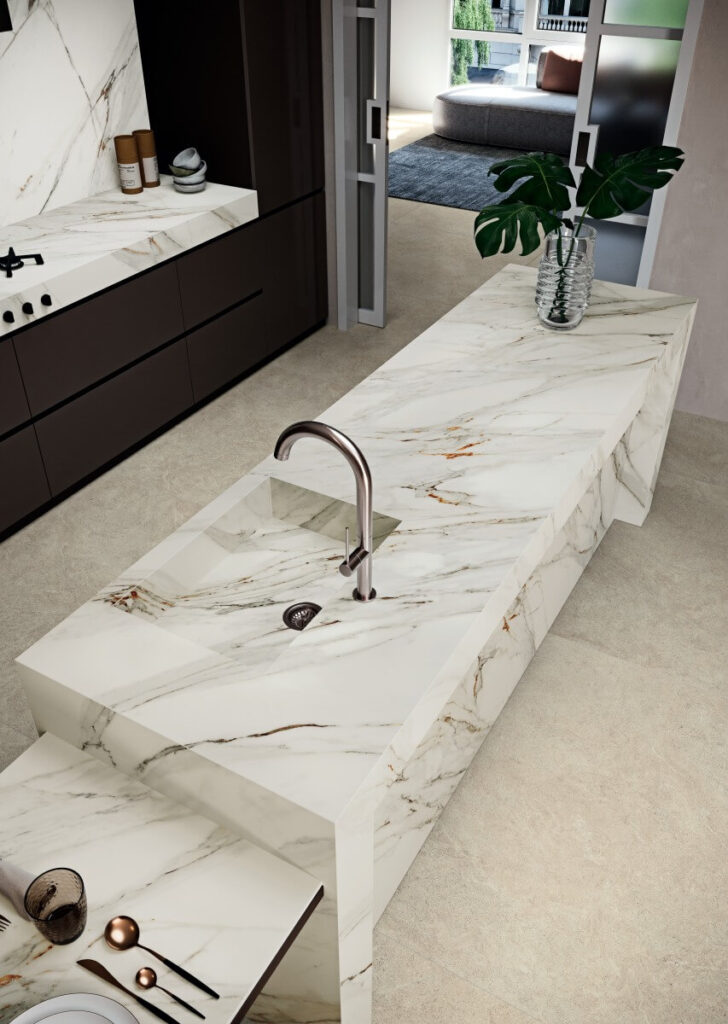 An extremely versatile material, 20mm-, 12mm- and 10mm-thick Coverlam Top provides a very durable, resistant solution for countertops, while ultrathin Coverlam (3.5mm and 5.6mm) is ideal for tiling kitchen cabinets, walls and floors, helping you create a completely cohesive, unified effect in the design.
Industrial-look Modern Kitchens
When defining modern design, one particular style we can't overlook—featuring materials such as steel, metal and cement—is the industrial style. Modern kitchens generally combine the contemporary aesthetics of construction materials with an elegant, vibrant approach. To achieve this balance in your home, you can take a minimalist approach by combining an industrial-style countertop with a more neutral flooring such as cement, with matching furniture. This will give your modern kitchen a harmonious yet eye-catching look
These days, the industrial style has evolved towards a more elegant, contemporary approach, while its versatility and strength has made it a success in modern kitchen design. You can apply this decorative style to your countertops thanks to the excellent technical characteristics of Coverlam Top, meaning you can rely on its durability and resistance.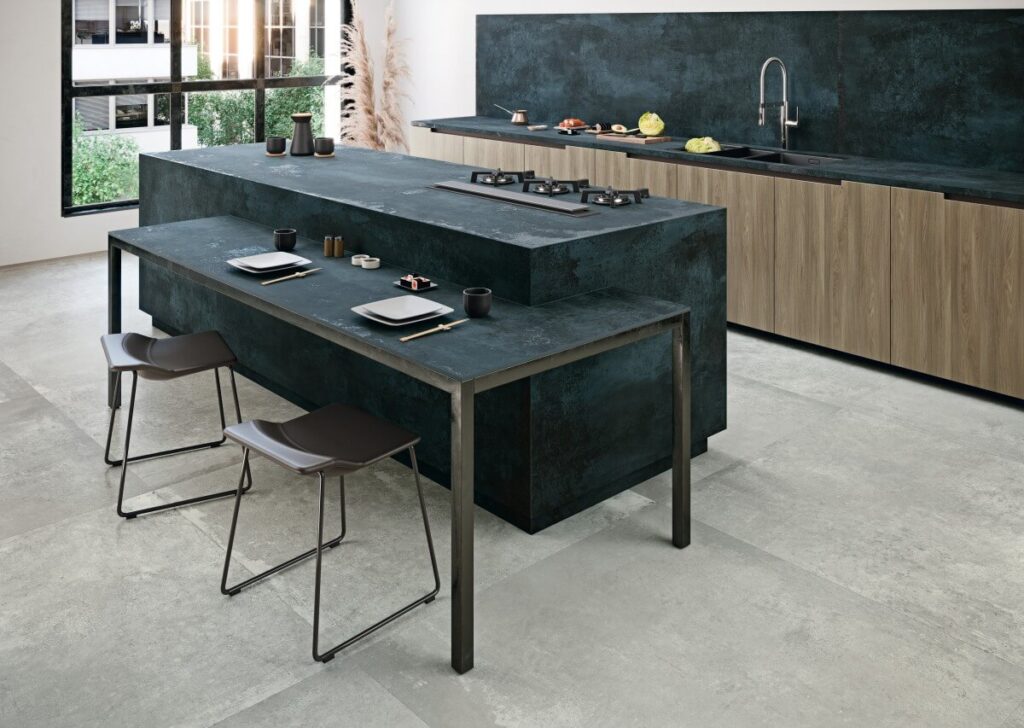 Bonus: 20MM Thick Format for Countertops
Among the many Coverlam Top options on offer there is the 20MM thick format: far more resistant and durable, it is ideal for both countertops and indoor and outdoor kitchen furniture.
Now, thanks to Full Body technology, the design flows from the inside of the piece to the outside, ensuring continuity between the surface and the edge, thereby giving a totally natural result. This also allows you to customize the finish and round the edges of the countertops to give the project a sleeker look.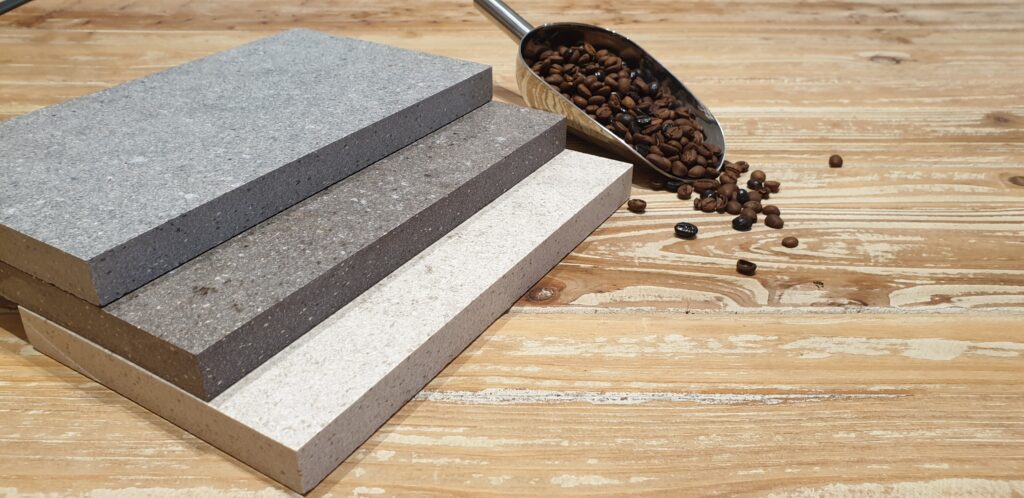 Check out the Coverlam Top catalogue on our website and find the design, format and style of countertop that best suits your tastes and the needs of your kitchen.