We kick off this new year with the freshest, most avant-garde décor suggestions for the bathroom. In this post, we tell you what bathrooms will look like in 2023, according to interior design experts. Take note!
The Four Leading Trends in Bathrooms for 2023
For some time now bathrooms have been becoming more important in the world of interior design. Whereas once they were merely functional spaces, they are turning into rooms with a life of their own, a place to relax and feel good. That's why ever greater attention is being paid to the design and aesthetics of this room, resulting in a growing demand for quality materials.
Surfaces with textures and volume, curved furniture and geometric lines, a metallic gleam, or colourful decorative elements full of personality. These are some of the style suggestions for designer bathrooms that are tipped for success in 2023, and that you too can incorporate into your home.
We present the four décor trends for designer bathrooms that are set to take this year by storm at both an aesthetic and a functional level. Naturalness, warmth and comfort are some of the most sought-after attributes if you want to turn your bathroom into a temple of relaxation, but it doesn't stop there! Discover all four trends here: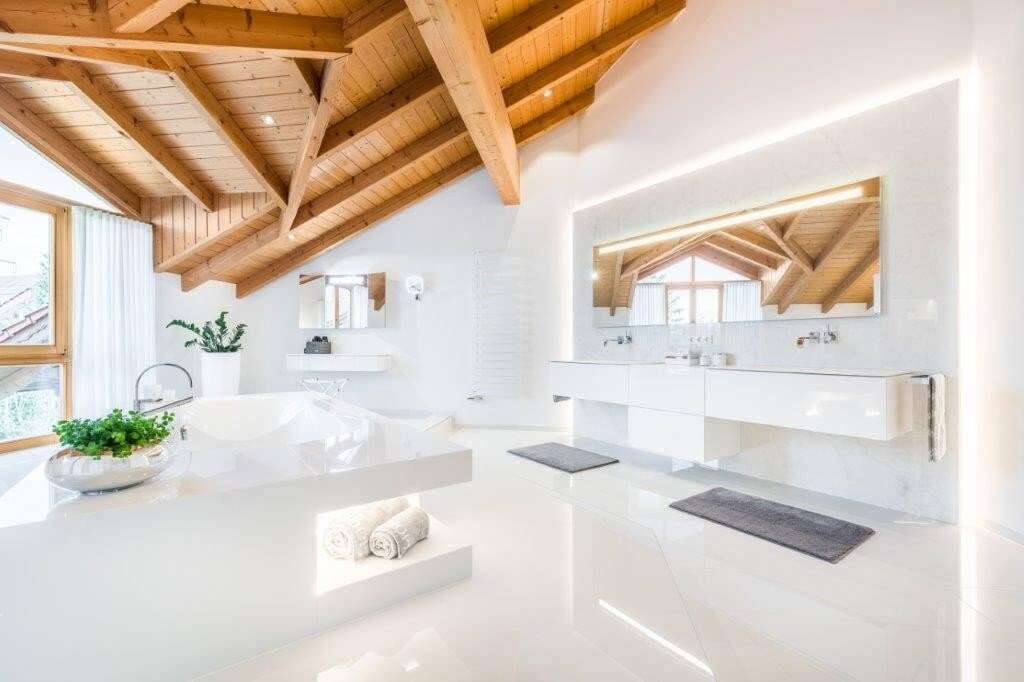 Industrial Warmth
There's a new take on metallic surfaces and the industrial look this season, with a warmer, softer feel, typical of today's interior design trends. The spectacular nature and aesthetic versatility of the metallic sheen is brought up-to-date through the colour range of ivories, creams and beiges, opening up new decorative possibilities for the original industrial style.
This update enables new pairings with wood-look elements and minimalist furniture, which combine in perfect harmony with rust shades and metal sconces.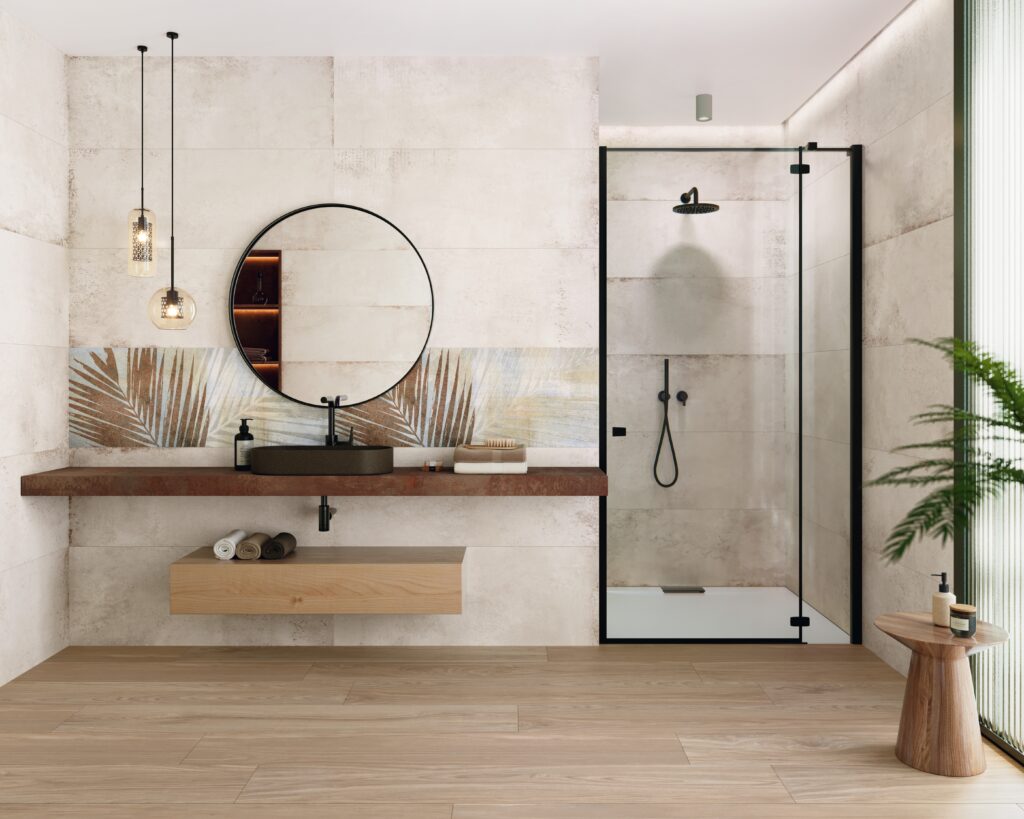 The concept series Distrito by Grespania is a great enabler of this trend, making it possible to infuse this industrial warmth into all types of surfaces thanks to the multiple versions available, from porcelain flooring, to large format Coverlam and also Coverlam Top for counter tops, as well as an excellent new option for wall tiles.
The Scandinavian Natural Look: Japandi Style
The penchant in interior design for natural-looking rooms is still going strong thanks to the Japandi style, which masterfully blends Scandinavian minimalist design with a zen touch. The wood-look aesthetic is a key player in this style. Its greatest attribute is its inherent ability to fill rooms with a natural, warm feel, but it has more to offer. The new season turns the focus on stylized wood slats featuring loose flowing lines. This is where design fuses sophistication and nature to transform a regular bathroom into an place of utter relaxation.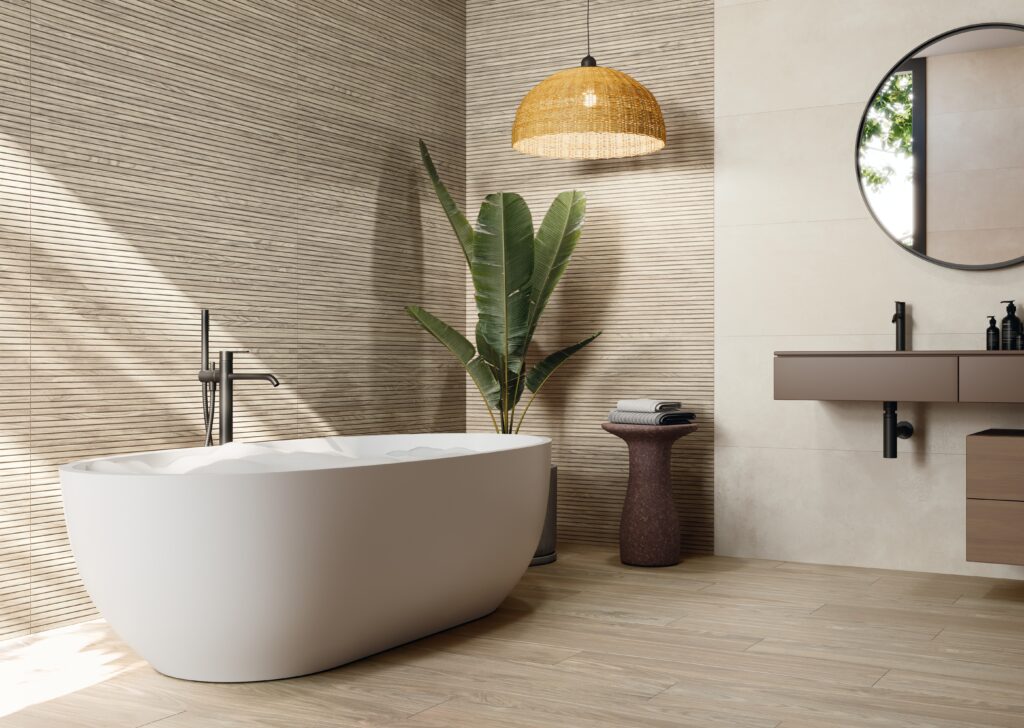 New products in the Grespania and Coverlam catalogues, such as the Malmo and Liana series, form part of this decorative style offering endless possibilities and unlimited combinations, with a uniquely attractive interpretation of wood.
On the other hand, stone and marble are making a strong come-back in designer bathrooms, conveying a potent zen harmony. Clean, unornamented rooms in neutral tones and understated furniture are key, all designed so that the surfaces are the focus of attention.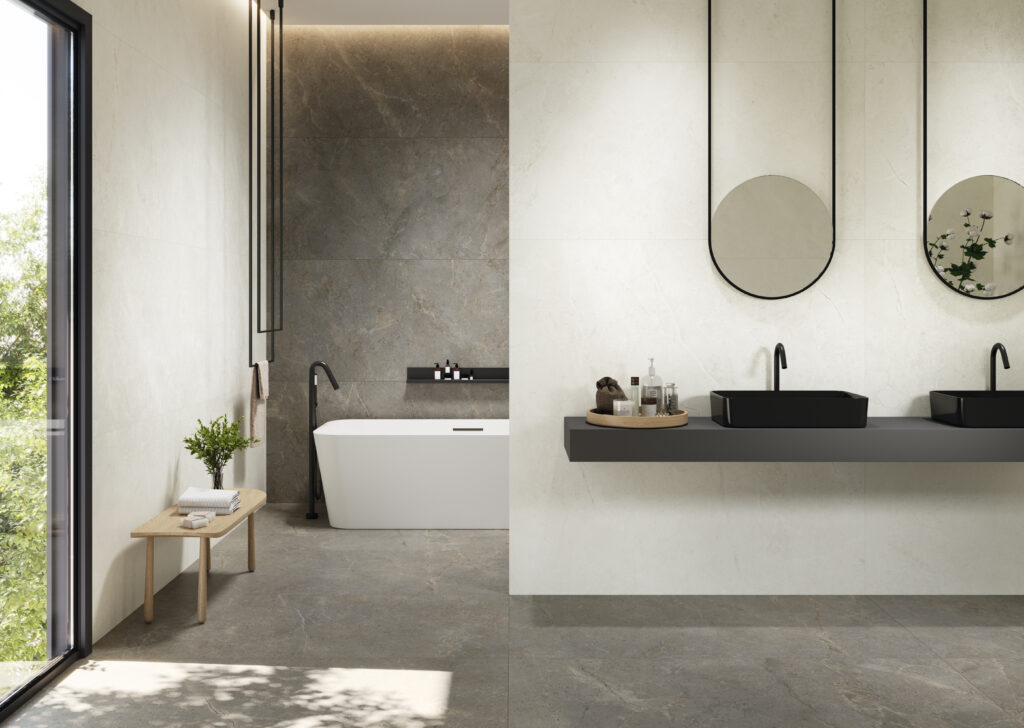 The New Rustic
With a clear nod to handcrafted materials, the current rustic style displays an innate allegiance to materials that showcase the value of handiwork, with small imperfections taking centre stage. The aesthetics of clay or exposed brickwork are combined with stone, wood and smooth cement to create organic, balanced, timeless compositions. Without losing anything in the way of warmth and cosiness, this new take puts the emphasis on clean surfaces and opts not to overload rooms with numerous decorative elements. This is all complemented with warm lighting, preferably natural, showcasing the connection between interiors and their surrounding environment.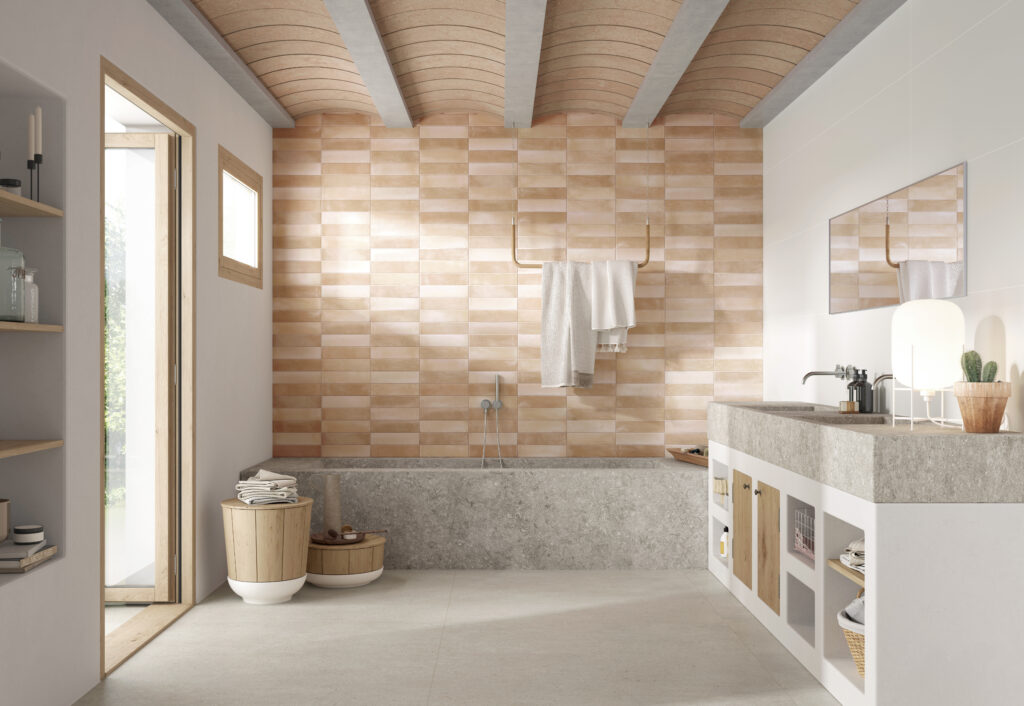 The new rustic style allows us to play with surfaces, combining textures, finishes and soft tones to create comfortable, welcoming atmospheres. The Fango collection by Grespania explores this trend from a supremely organic, artisanal perspective.
Wallpaper Trend
Finally, the latest big décor trend for designer bathrooms 2023 revolves around colour. Although white bathrooms are still showing potential, colour is making inroads in the form of details, decoration, prints and daring designs that lend a cheerful, distinctive note to this room of the house.
Decorators suggest opting for balance, breaking up the monotony of soft tones with a colourful element that really pops but without being garish. Furniture and decorative details are a useful way of achieving this effect. We can also choose to highlight an entire wall through striking prints or distinctive reliefs.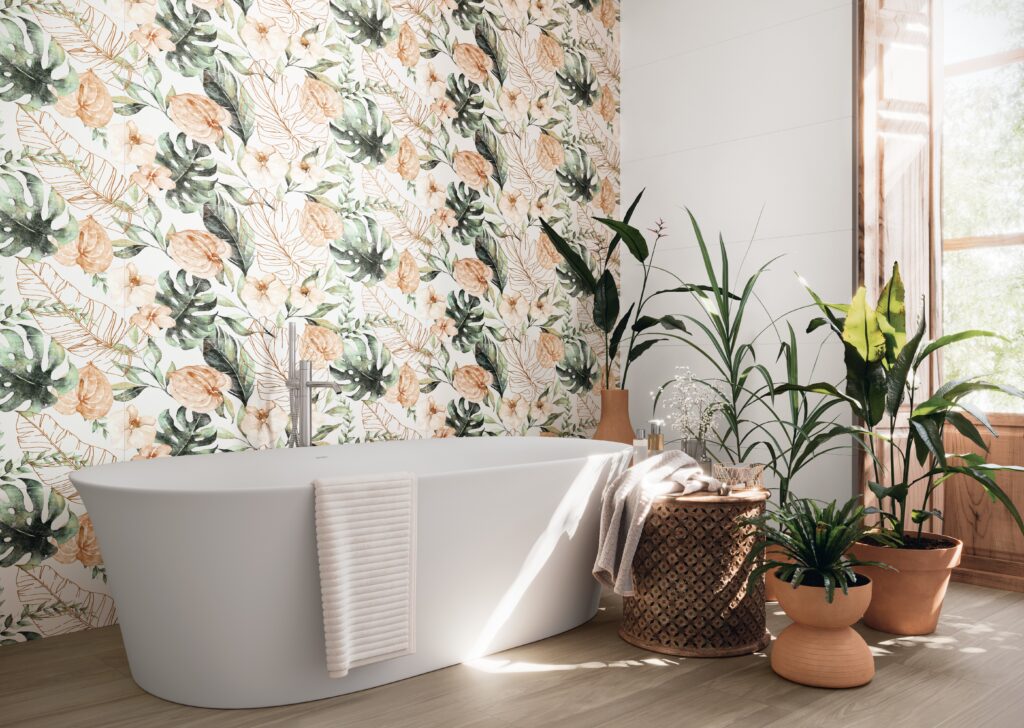 Pastel shades also play an important part in this trend and have become popular among design professionals. Whites, nude or sky tones make up this palette, lending a more serene touch of colour that supports emotional well-being.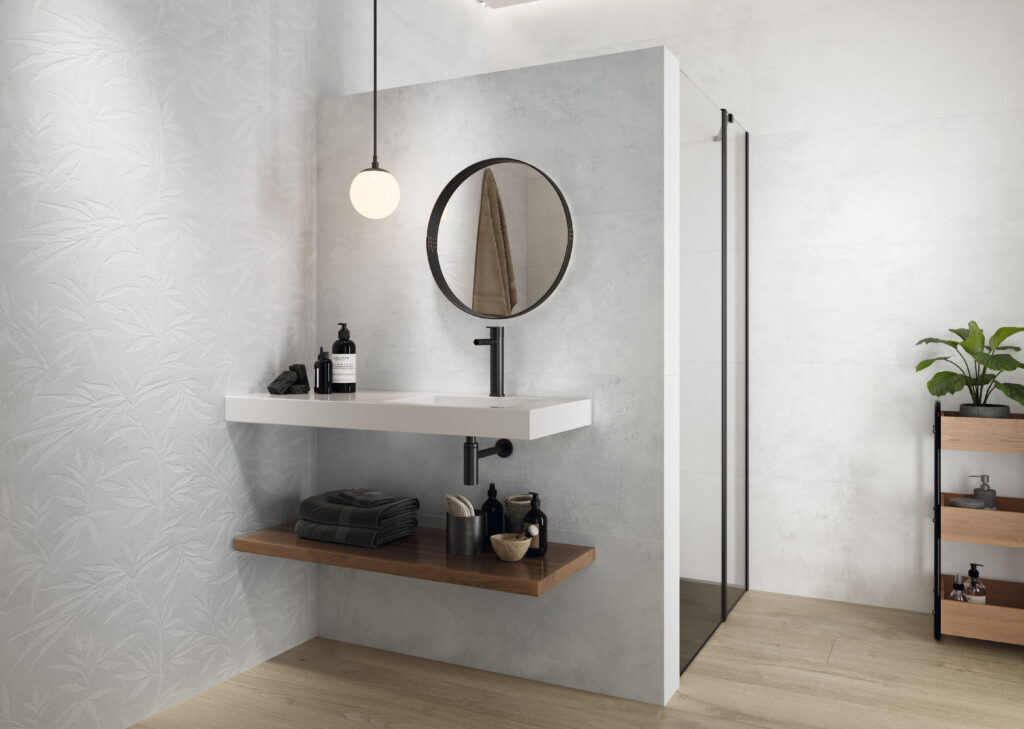 Bonus: Ceramic as the Stand-out Material in Designer Bathrooms
Not all bathrooms are created equal and when it comes to configuring your bathroom, not all materials are 100% optimal. Within the extensive range of construction products on offer these days, a room like the bathroom requires resistant, durable products that enable easy daily maintenance, that remain unchanged over time and unaffected by damp, and above all, that guarantee hygiene and prevent the proliferation of bacteria. With the exception of porcelain floor tiles and ceramic wall tiles, few materials meet these very specific conditions.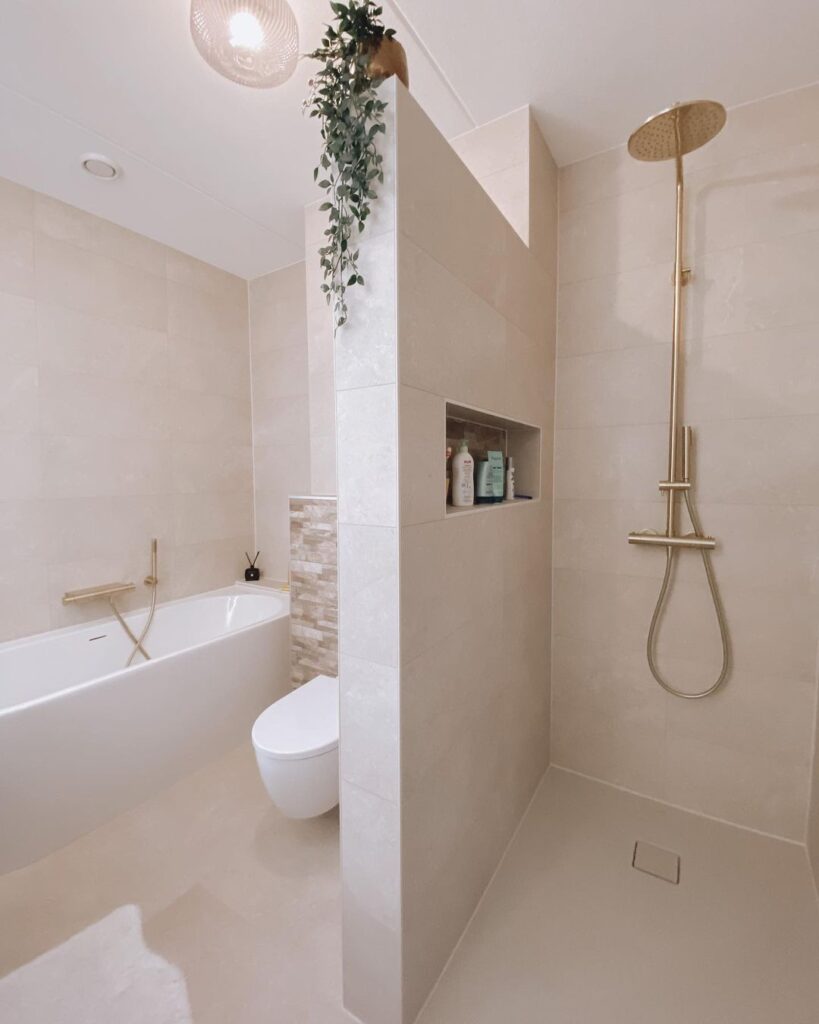 Grespania's ceramic material is of the highest quality thanks to the exacting standards and strict monitoring to which it is subjected. As a result, its technical performance is excellent, ideal for a room as demanding as the bathroom.
You'll fall in love with your bathroom all over again by applying these décor trends to the design of your home. Our product offerings for tiling surfaces will make transforming your home a simple task. Discover them on our website.