From marble, natural stone or wood to porcelain stoneware, there is a wide range of design materials for terraces and outdoor floors. Take note of these tips to help you choose the best outdoor material and spend carefree hours in this valuable space in the home.
The home confinement imposed in response to the health crisis has meant that homeowners have had to make comprehensive design changes to their homes to adapt them to the new needs in terms of livability.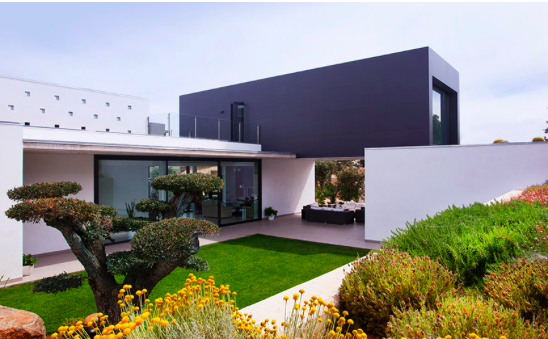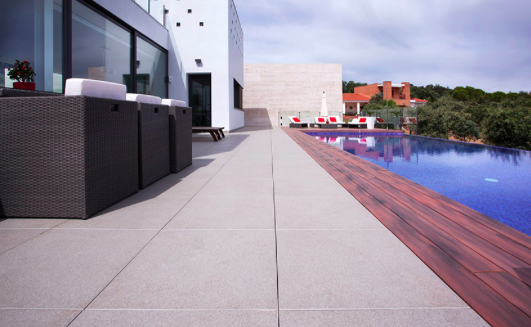 Go for open spaces with large windows that let the light flow and continuous surfaces that link rooms cohesively together to give a feeling of greater freedom. These days, terraces and multifunctional rooms adapted for activities that used to be done outdoors play a key role in our homes. These changes are some of the most important to have occurred in the new post-Covid approach to room designs, having a real influence on users' well-being.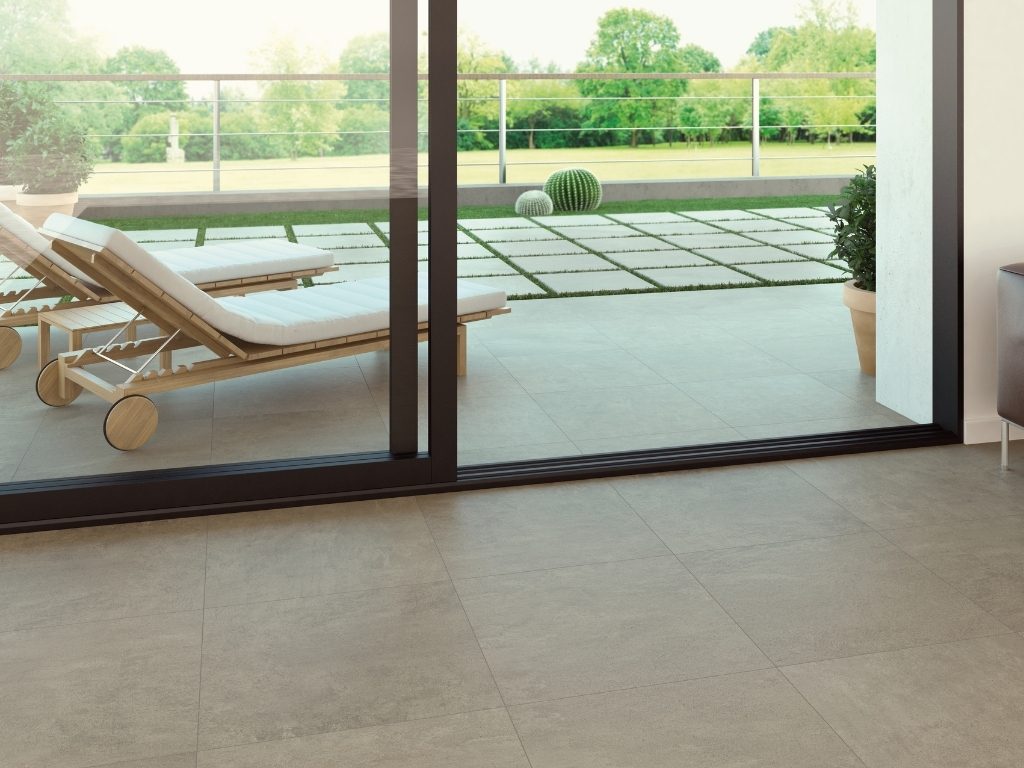 We have reassessed our terraces in light of the new circumstances, and they are now considered a luxury space in the homes that have them. This interest in outdoor spaces is reflected in the study published by the real estate portal Fotocasa , Fotocasa which shows a 40% increase in users looking for a home with a balcony, terrace or garden since lockdown.
But what is the best construction material to use to achieve a highly resistant, easy-to-clean terrace floor that ensures continuity of design?
We here at Grespania want to give you some ideas for how to renovate your terrace, and recommendations for the best collections to make these spaces the strong point of your home.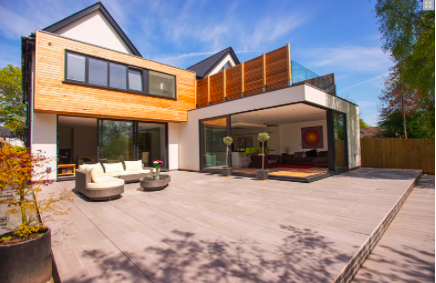 Ceramic floors for terraces: What are the advantages?
Despite the wide variety of materials to choose from for the flooring of your terrace, ceramic floor tiles are undoubtedly a favourite of architects, interior designers and home owners when it comes to designing spaces of natural beauty that recreate the textures of wood, stone, or cement, but with the technical properties of ceramic: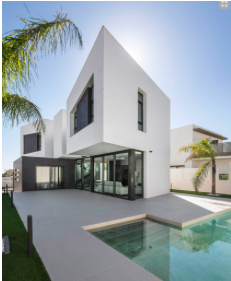 Highly resistant to the sudden temperature changes and adverse weather conditions that might affect an outdoor terrace—rain, hail, snow— the low porosity of ceramic floor tiles (less than 0.3%) make them an ideal alternative to natural materials. Their impermeable surface means the floor will not be damaged with the passing of time, remaining perfectly damp-resistant and unmarked by limescale or salt residues.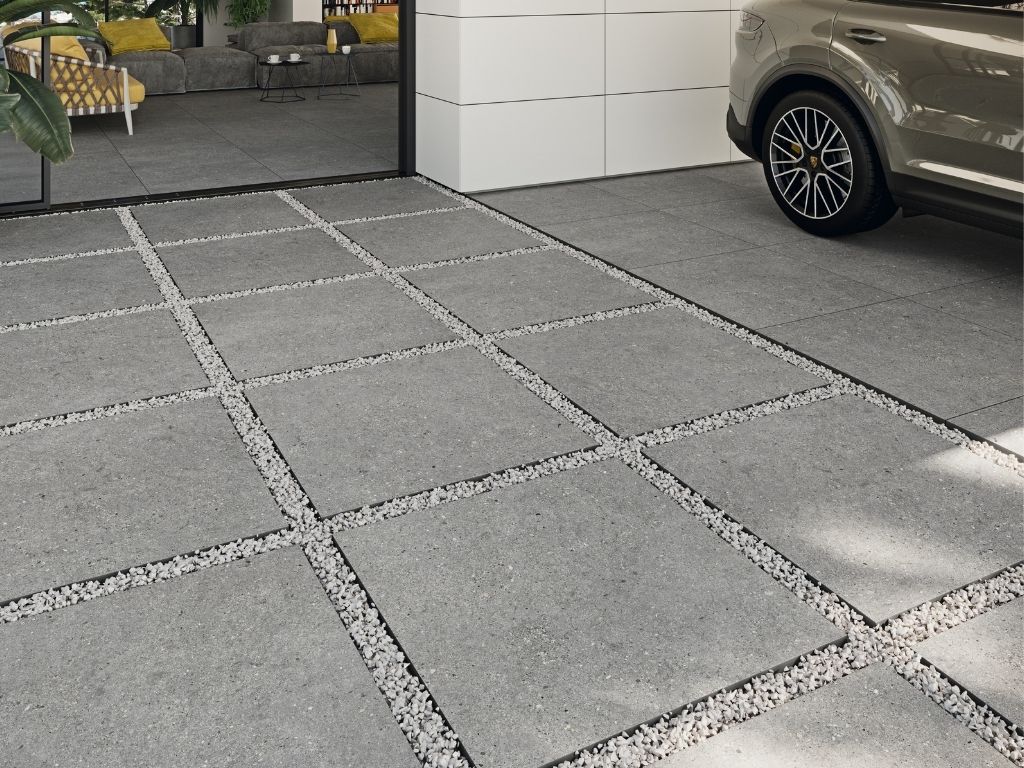 Very easy to clean and maintain. No special products or special care are required; for example, if you are thinking of installing natural wood, you would have to periodically use protectors, varnishes and oils to make sure the colour doesn't fade — something with wood-look ceramic you don't have to do.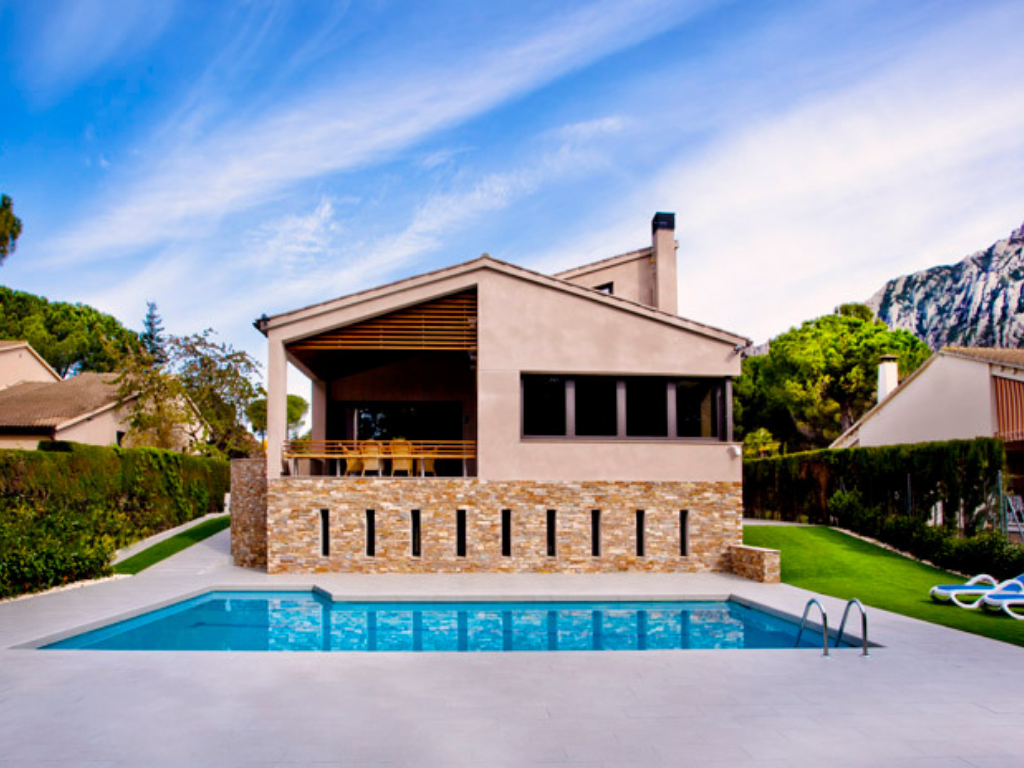 Variety of formats, designs and finishes. One of the major advantages of having ceramic flooring outdoors is the wide range of designs, formats and finishes that will allow you to fully customize these spaces.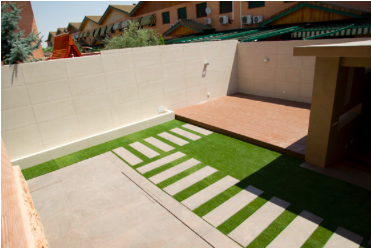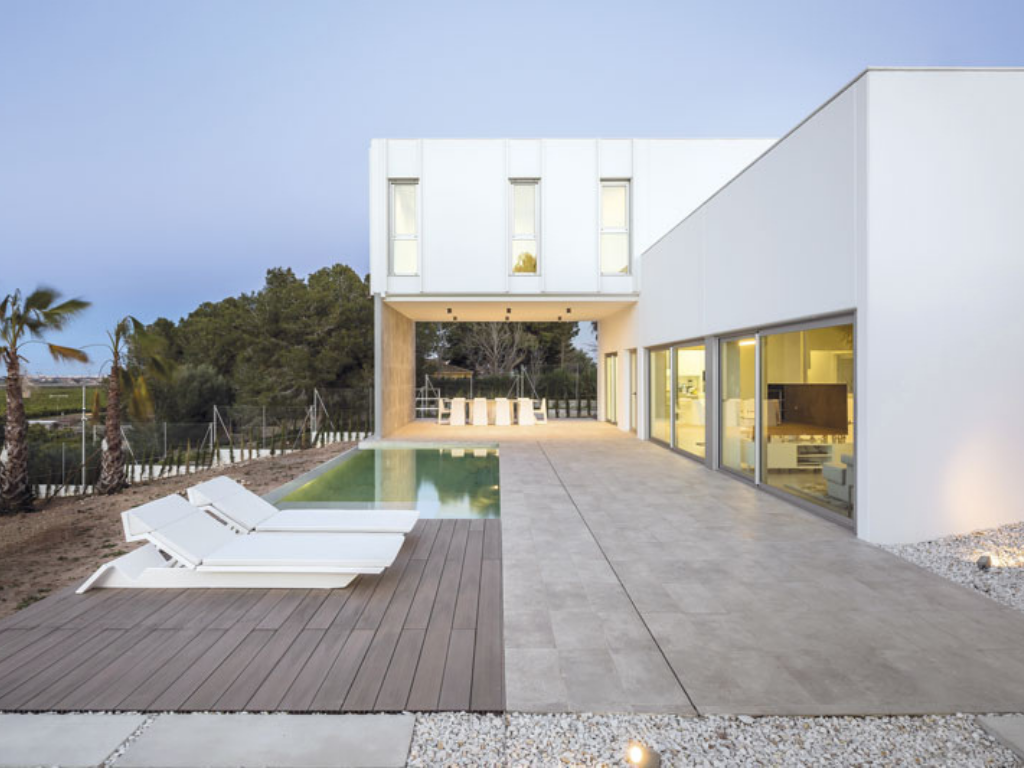 Anti-slip properties that have been expressly designed to prevent falls and accidents in outdoor areas. This material improves the safety of areas such as solariums and swimming pool surrounds, critical points that are constantly being splashed with water.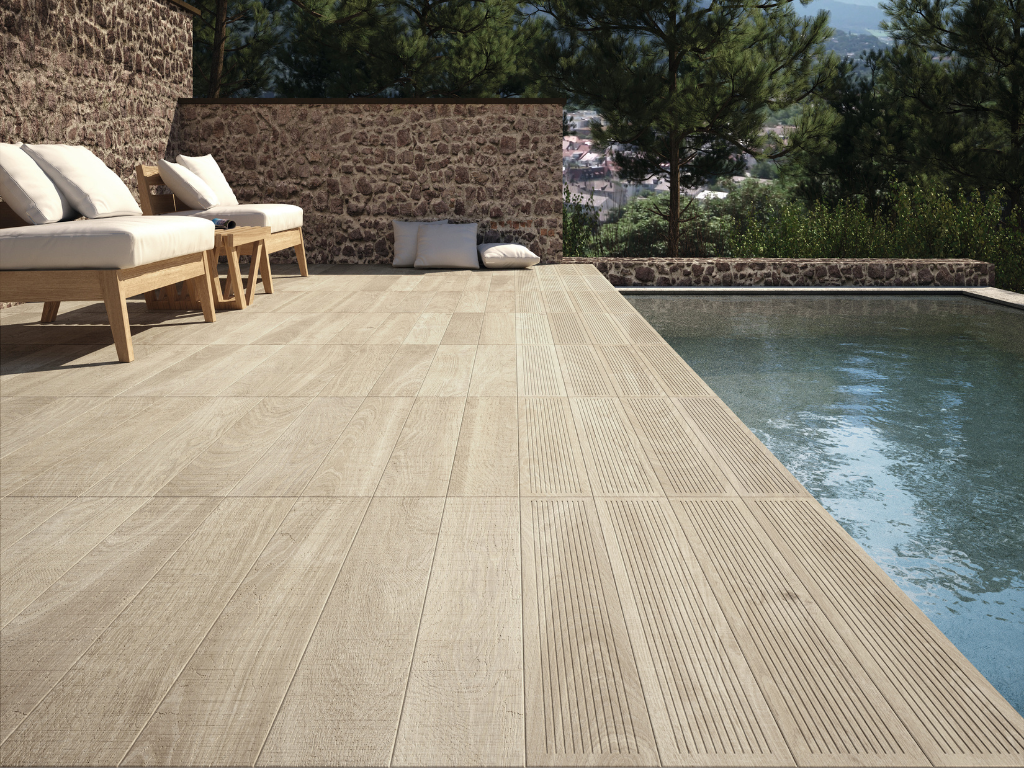 20mm porcelain tile: the new thickness designed for outdoor use
Designed to provide a versatile, durable and resistant solution, the 20mm format realistically recreates the look of natural materials, while its double thickness endows it with greater strength against the breaks and cracks that tend to occur in exposed outdoor areas. Furthermore, the use of this format to construct raised floors enhances the integrated design of terraces, allowing you to hide electrical installations, pipes and cables under the floor, creating a space free of visible technical elements and helping with water drainage.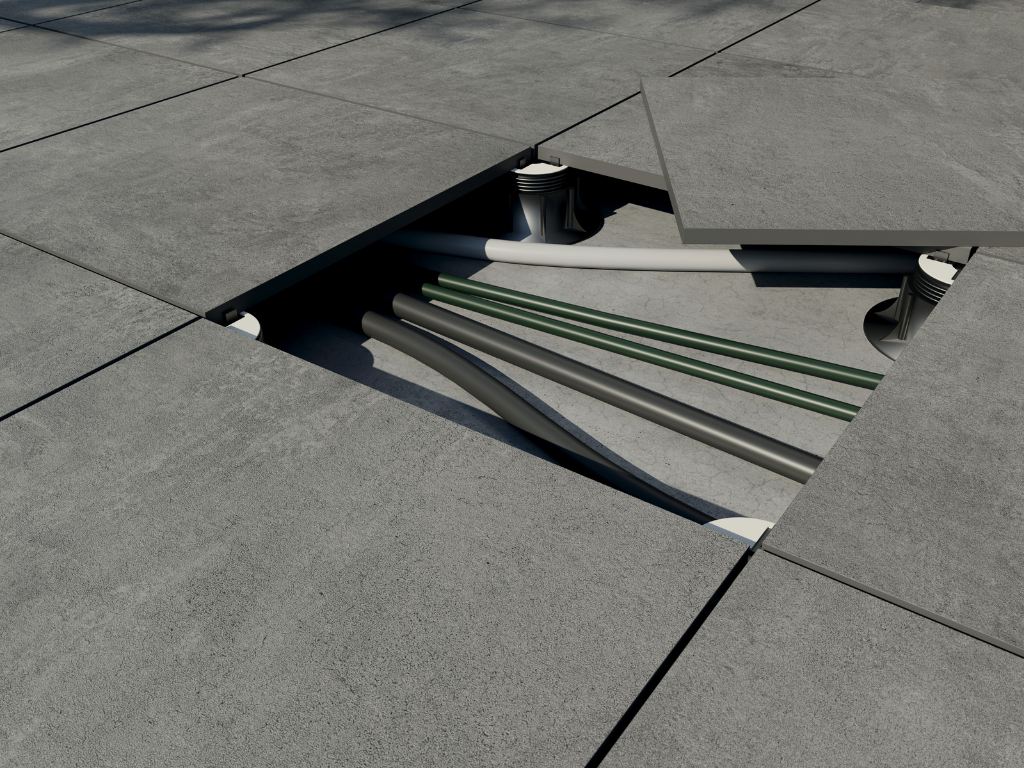 Another advantage is that installation is quick and easy and does not require adhesives, allowing it to be placed directly on grass, gravel or sand, opening up the possibility of designing original, aesthetically-pleasing paths in terraces, beach establishments, parks and gardens.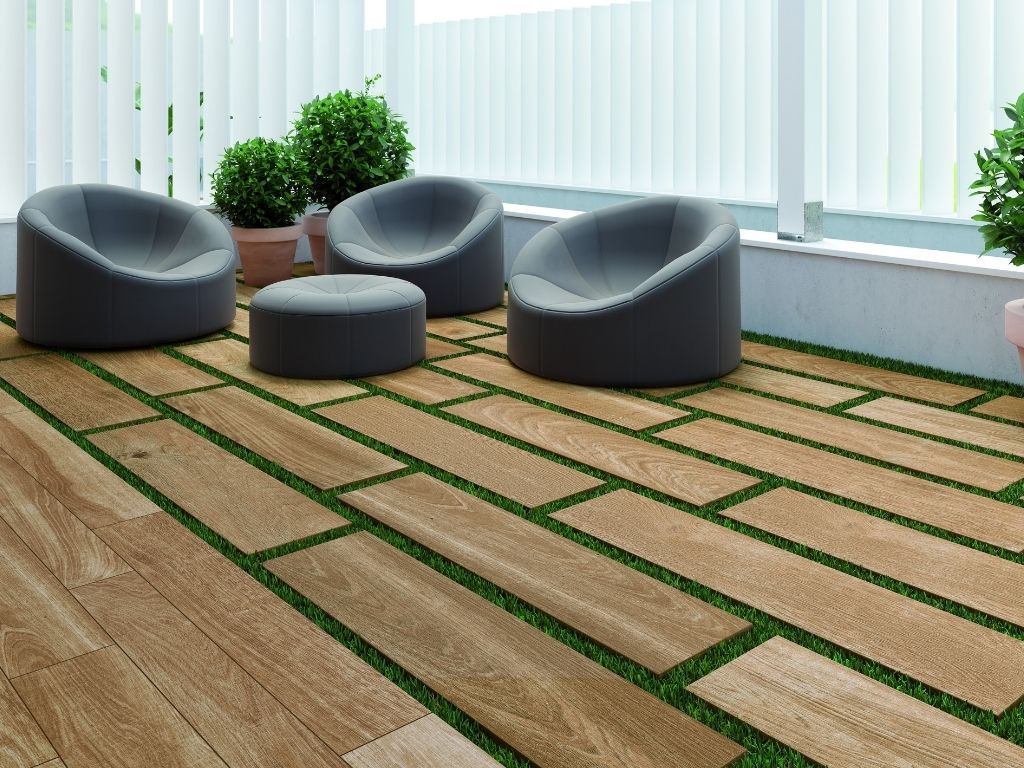 Design and continuity for inside swimming pools
To create an infinite effect, the most modern pools go for a pool surround tiled with non-slip porcelain and inside (the walls and floor of the pool) tiled with large-format Coverlam slabs to ensure visual continuity, reduce joints and prevent the mould that often grows in joints. We've come a long way from traditional tile: the new solutions for swimming pools make it possible to achieve an intriguing design for infinity pools and customize the colour of the pool interior thanks to the wide variety of finishes available in the various collections.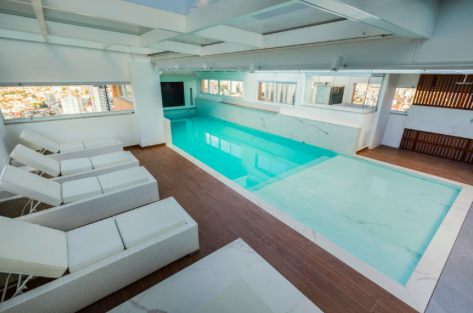 Decorative tip: Coordinate the sun deck and steps of the pool with the terrace by using a single floor tile collection, thereby adding a sense of spaciousness and length to this 'chill out' area.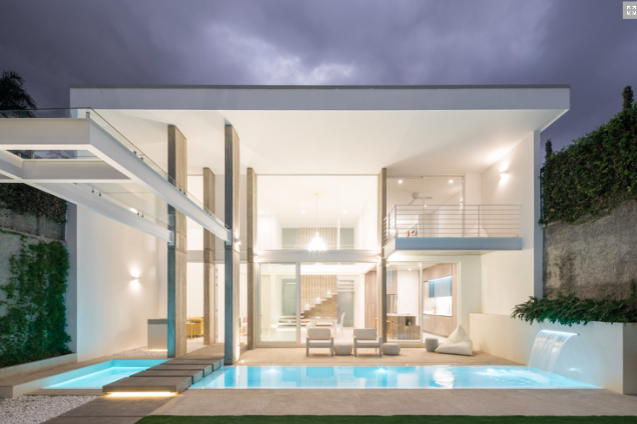 Visit the catálogo Grespania to find the perfect collection for your terrace floor