These days, the kitchen is one of the key spaces in a house, a nerve centre: it's not only where we cook but also a meeting point where we can share moments with family and friends. As it is such an intimate and well-used space, when thinking about renovating, it's vital that we take the time to analyse aspects such as layout, lighting, materials and the style that we want to convey, to make sure it turns out as we hoped.
Materials and design are the most important axes around which all our renovation project decisions will revolve
The aim of each and every one of these decisions is to achieve a functional and practical space, where the design ensures that this room of the house has a personality all of its own.
How To Light A Kitchen: The Importance Of Layout.
Natural light is a resource that we have to make the most of; it will also influence decisions such as the colour of the cabinets or the arrangement of the different spaces and elements that will make up the new kitchen. The work areas, such as the countertops, should receive as much light as possible, combining a functional, practical layout with the different sources of light.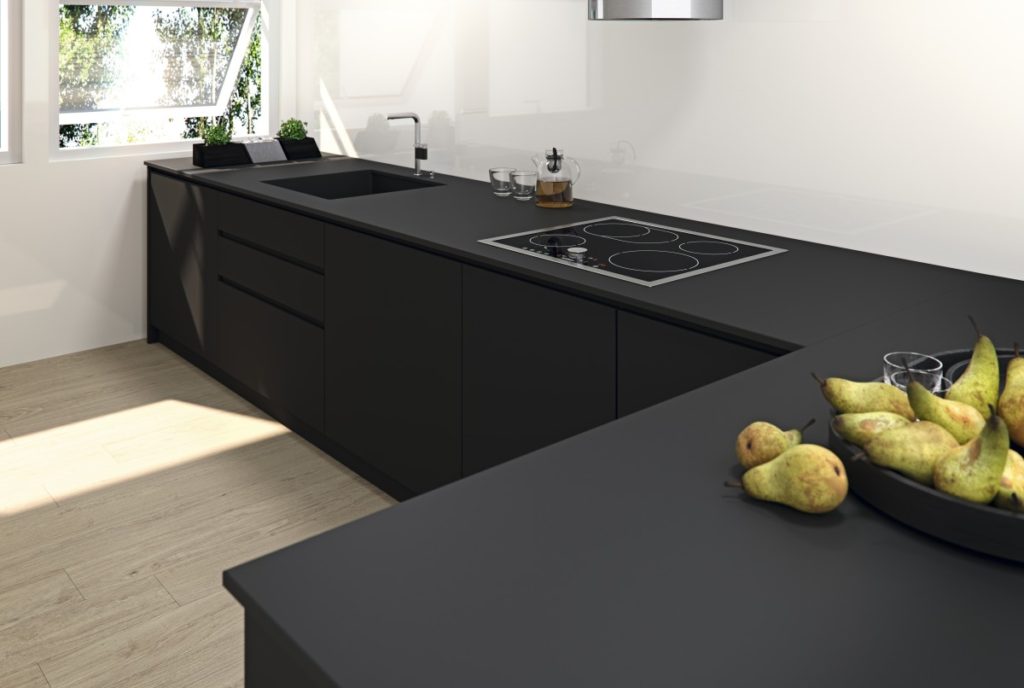 Bearing this first point in mind, the layout of the space should clearly be based on a prior analysis of all the natural light sources available in your kitchen. The light may be coming from only a regular window, or you may have large picture windows or patio doors, a factor that will open up a wider range of possibilities when deciding how to lay out a kitchen.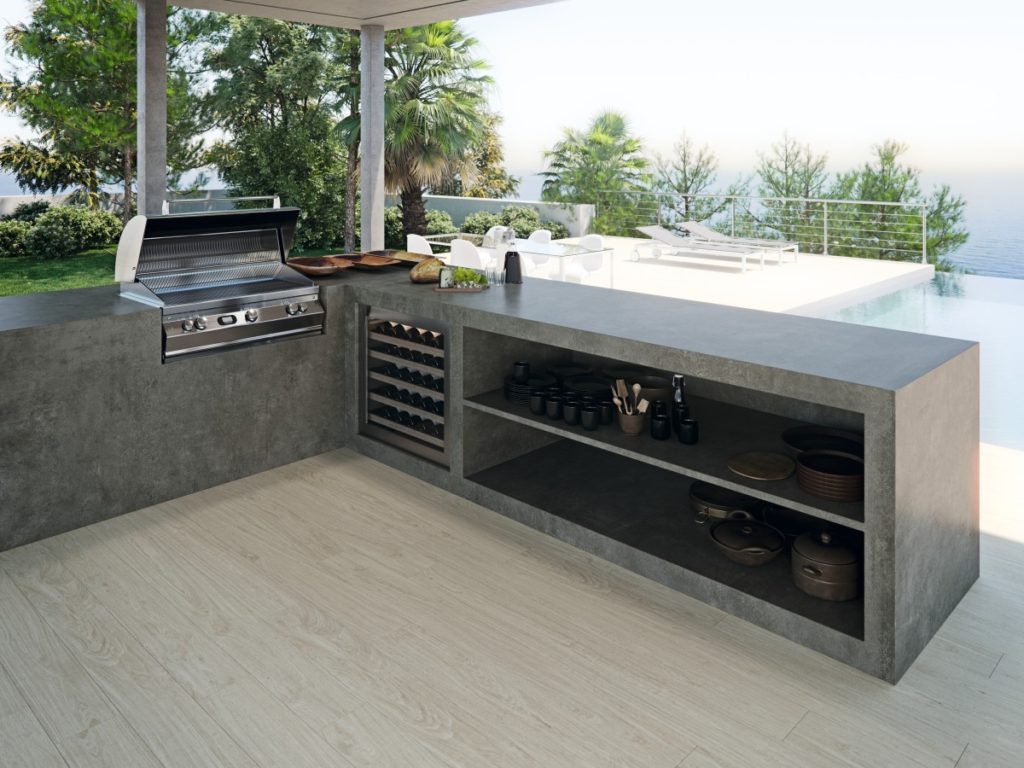 Choice Of Materials In The Kitchen Renovation.
The extensive variety of tiling options available these days can be bewildering, making the choice of materials a real headache. In order to simplify this process and ensure you make the right decision, we recommend taking into account three fundamental criteria: quality, resistance and design.
Regardless of your lifestyle and the use you are going to make of the kitchen, choosing a material that provides durability and resistance is of paramount importance. In this regard, ceramic, and more specifically porcelain, are nowadays among the most highly-valued tiles when seeking these types of features.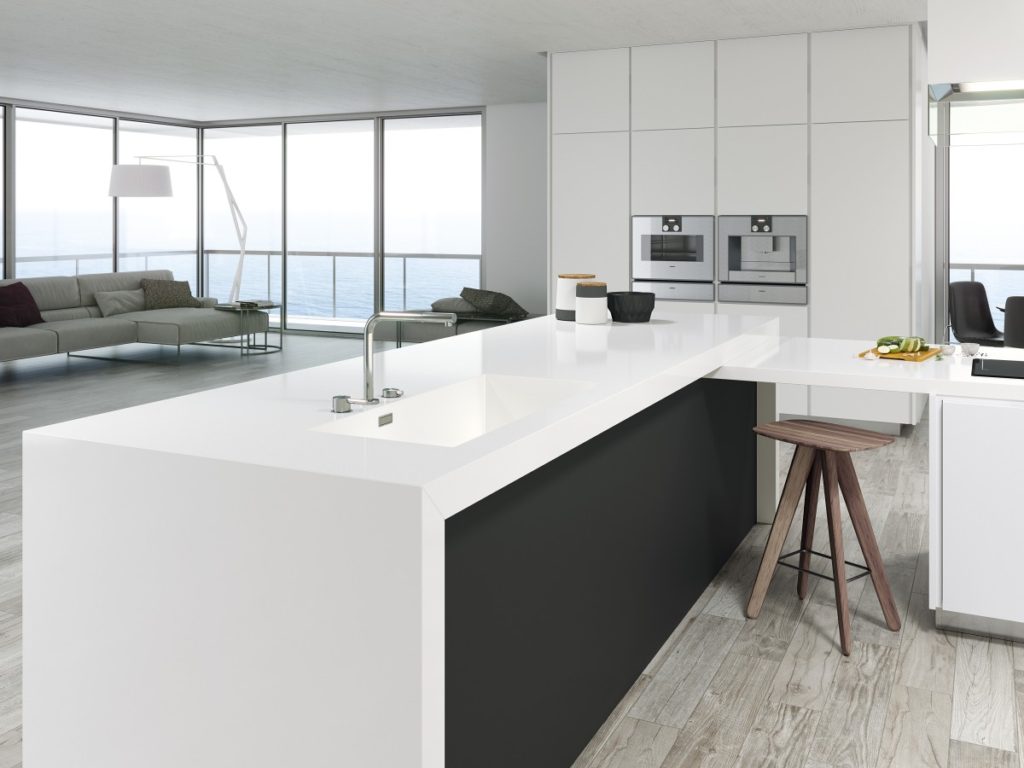 The hardness of the Coverlam Top collections means that they resist the scratches and wear from everyday use, thus maintaining their original aesthetic qualities for longer.
Hygiene and safety are two key factors in choosing one material over another, especially for surfaces that come into contact with food. The features provided by Grespania's H&CTilesgo one step beyond a conventional finish, endowing porcelain with antibacterial properties. You can place your trust in de kitchen countertops de Coverlam Top, que cuenta con el certificado NSF que garantiza su idoneidad para el contacto con alimentos.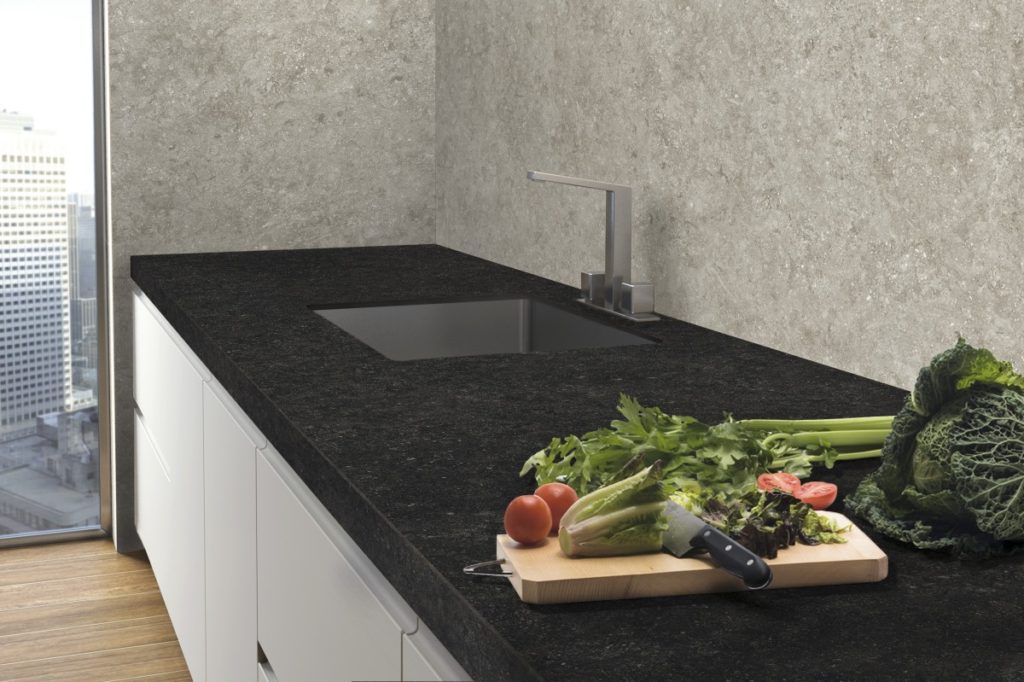 In addition to the quality and specific properties of the material, you should consider the aesthetic finish, the design and the character that you want to see reflected in a space as personal as the kitchen. Gone are the days of settling for and resigning yourself to live with the tiles and materials chosen by the builder or the project developer. The tiles in our homes are now, more than ever, design objects; as such, they should convey our hallmark style.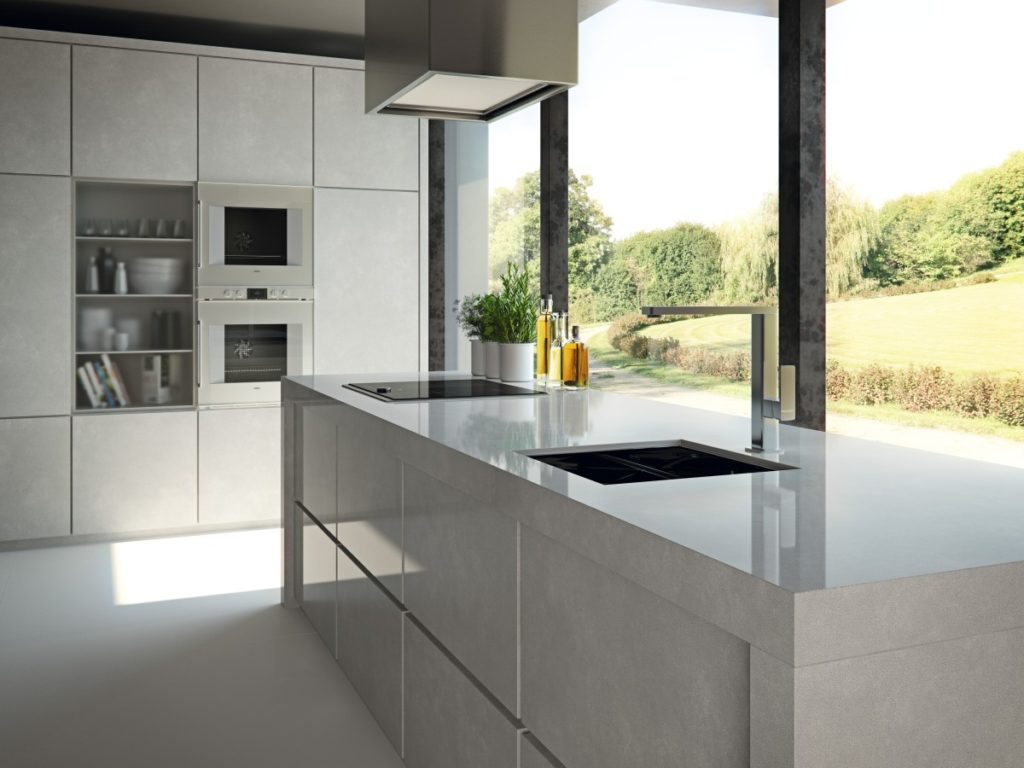 Minimalist kitchens in black and white, with pure lines; cosy kitchens, where wood lends warmth and contrasts with other surfaces; elegant kitchens featuring designs drawing inspiration from fine materials. In the Coverlam Top catalogue, you will find inspiration and original kitchen ideas such as industrial style kitchens with cement-effect countertops, using collections such as Coverlam Concrete or purer, more minimalist styles with uniform high-gloss countertops, such as that offered by Coverlam Monochrome Basic. You will also find the most cutting-edge styles such as the classically beautiful marble effect of Coverlam Calacata or the incredibly realistic wood-look tiles of Coverlam Irati.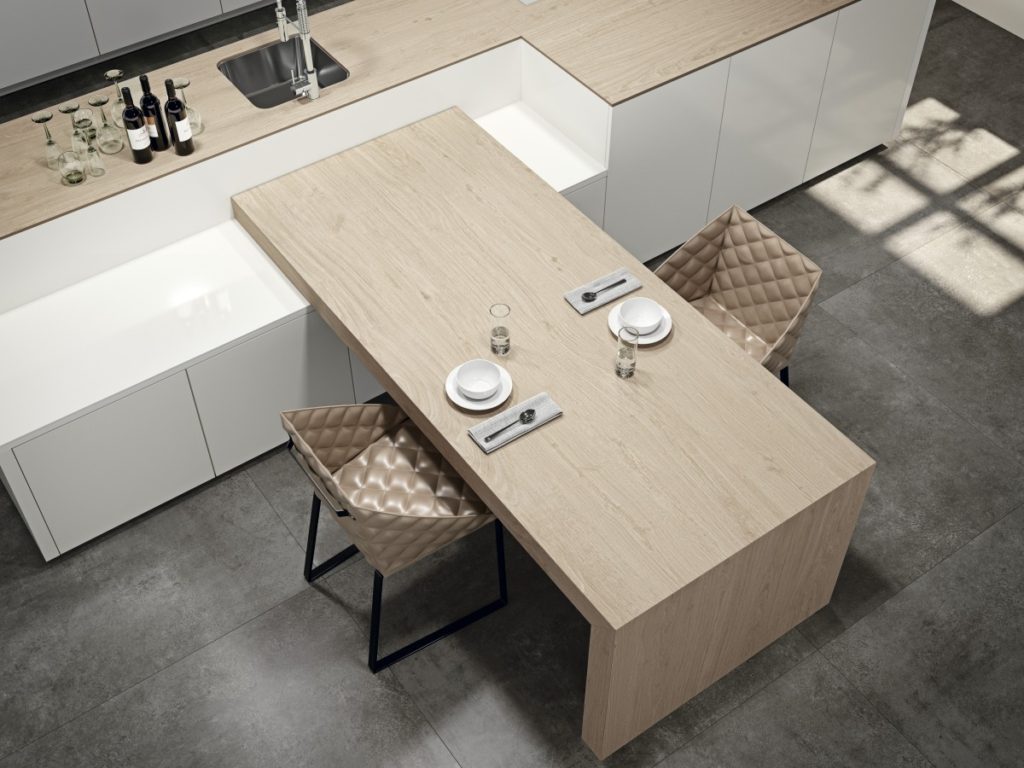 Sublime marbles with marked veining and distinctive features have made the leap into the kitchen and become one of the most cutting-edge trends. Standing out among the different options and compositions available is the symmetry or continuity of veining in the marble materials Coverlam Estatuario and Calacata Book, an impressive design that recreates a mirrored reflection, helping to create highly appealing rooms with a strong visual impact.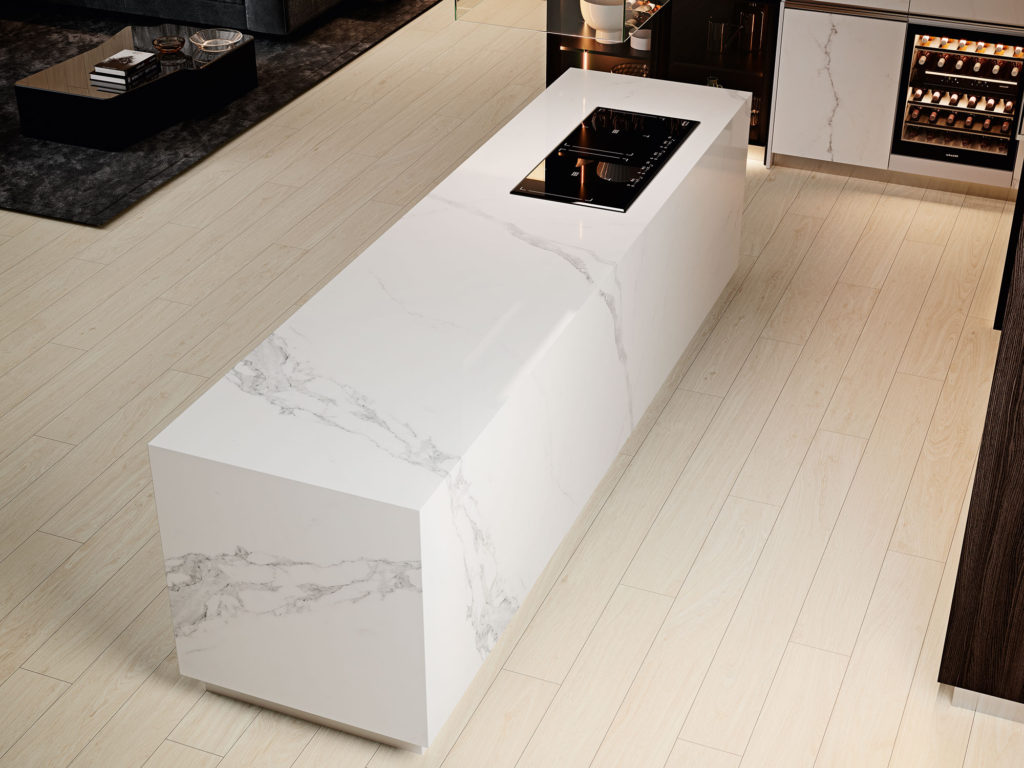 The key is to create effects by combining different kitchen surfaces: countertops, flooring, wall tiles, kitchen furniture and even the sink.
Moving away from traditional kitchen tiling, the secret to a magazine-worthy kitchen is to plan tile installation so as to avoid as far as possible visible joints between pieces. Thanks to the large-format tile collections and the absence of joints, you can achieve a more expansive optical effect. Moreover, this type of larger format allows you to unify and connect different surfaces, playing with the continuity of the veining.
Another good choice when designing a kitchen is to integrate the sink into the countertop. This small detail brings equal parts design and functionality: it reinforces the aesthetic continuity of this surface, and also offers the characteristic benefits of a material that does not scratch or require special care, unlike traditional stainless steel or resin sinks.
By thinking of all these materials as a whole, you can achieve an authentic space in line with your needs and personal style.
What Colours To Choose For The Kitchen
Have you thought yet about what colour you want to stand out in your kitchen? A useful tip is to first assess what the dominant colours are in your home and then adopt a harmonious aesthetic line. Or you could simply consider which colours you find most appealing or best suit your style. For example, if you are inclined to use white or beige tones for countertops and storage spaces, you can opt for wall tiles in stronger shades that provide contrast and depth. Bear in mind that it's better not to overdo it with intense colours; it is a very personal choice based on individual tastes that you should know how to best incorporate.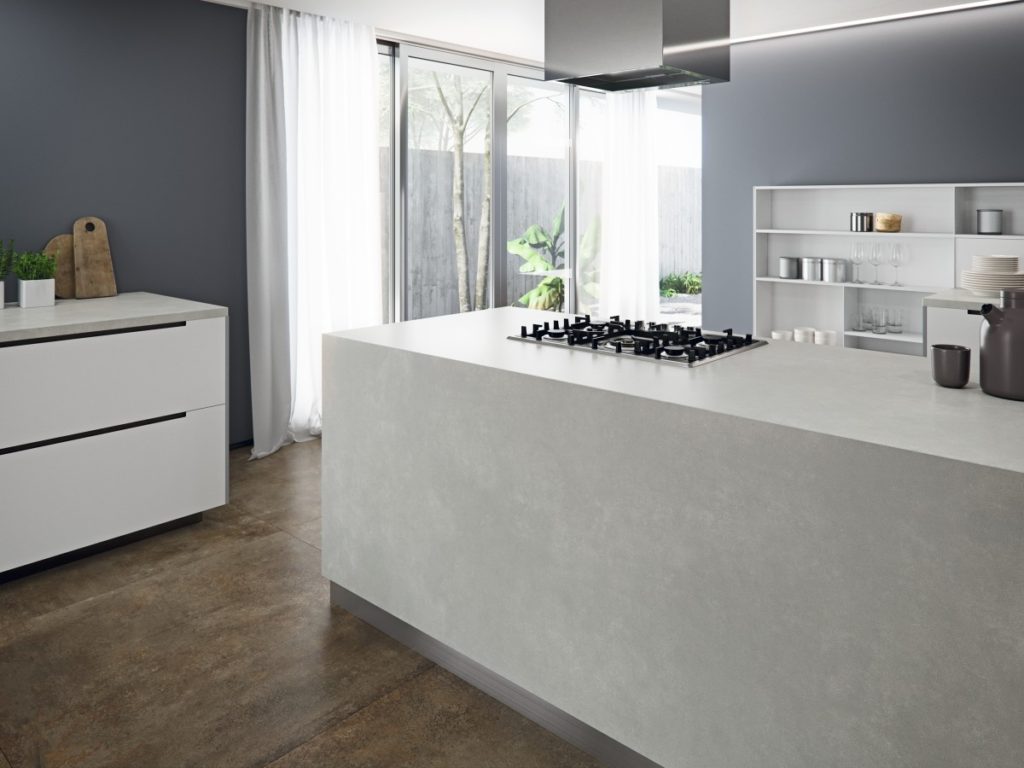 If your colour palette for the kitchen is more neutral and discreet, grey tones and cement-look finishes (an absolute must-have trend in kitchens this year) can be a great choice. In this case, you can add lively touches of colour through details such as plants, pictures and even in the kitchen equipment you use.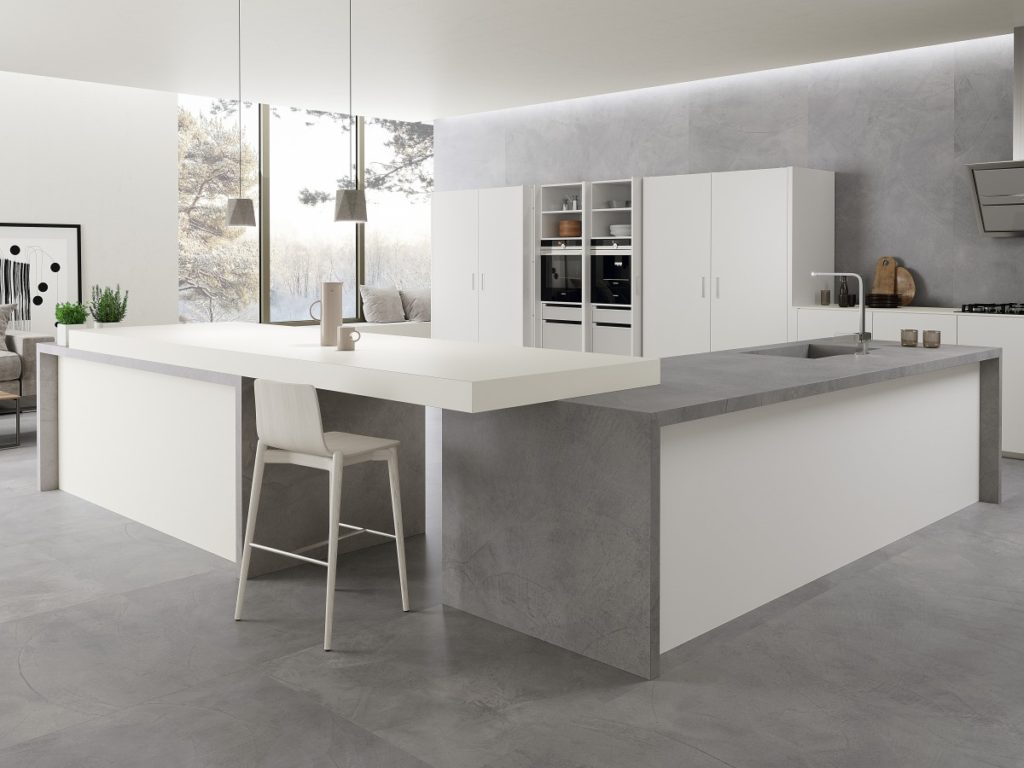 Kitchen trends are a matter of taste, and more and more interior designers and architects are using a mixture of colours, textures and materials to achieve a functional combination with great aesthetic potential.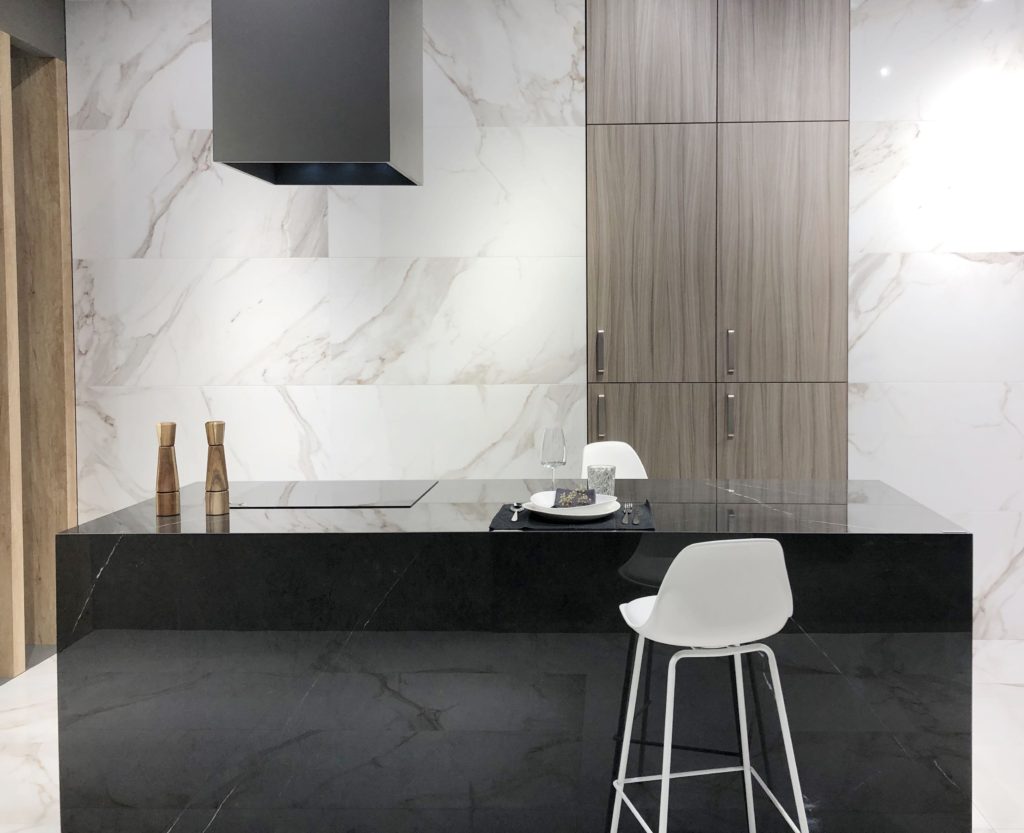 Choose A Professional To Do Your Kitchen Renovation.
Choosing the right professional to carry out your interior design kitchen project is just as important as the choice of lighting, layout, materials and colours. The investment in terms of time, money and, above all, enthusiasm, will pay off if the materials are subsequently installed properly in line with the planned design. There are great professionals with experience of handling and installing large-format porcelain and ceramic tiles. In addition to perfect installation and finishing, they will advise and guide you every step of the way.
We here at the Grespania group can therefore help you to choose experienced professionals, in order to ensure that the entire process of renovating your kitchen is done properly, with no unexpected incidents.

Check out our collections straight away and take the first step to getting the kitchen of your dreams.