If you are thinking of renovating your bathroom soon, don't miss out on the trends in bathrooms tiles coming this autumn
Wall and floor tiles offering different looks, shades, formats and styles. The latest trends in bathroom tiles centre around the concept of variety, with stand-out ideas such as tiles featuring reliefs, natural finishes or elegant marble. Take note of all the looks that are set to succeed next autumn and design your ideal bathroom based around these up-to-the-minute proposals.
Marble Beauty
With no doubt marble has undoubtedly become an iconic interior design trend, and this is reflected in the concept for the most fashionable bathrooms we'll see in the coming years. Its ethereal timeless beauty is a touchstone that has been able to adapt to each time and era, showing that its innate appeal remains undimmed in the world of modern design.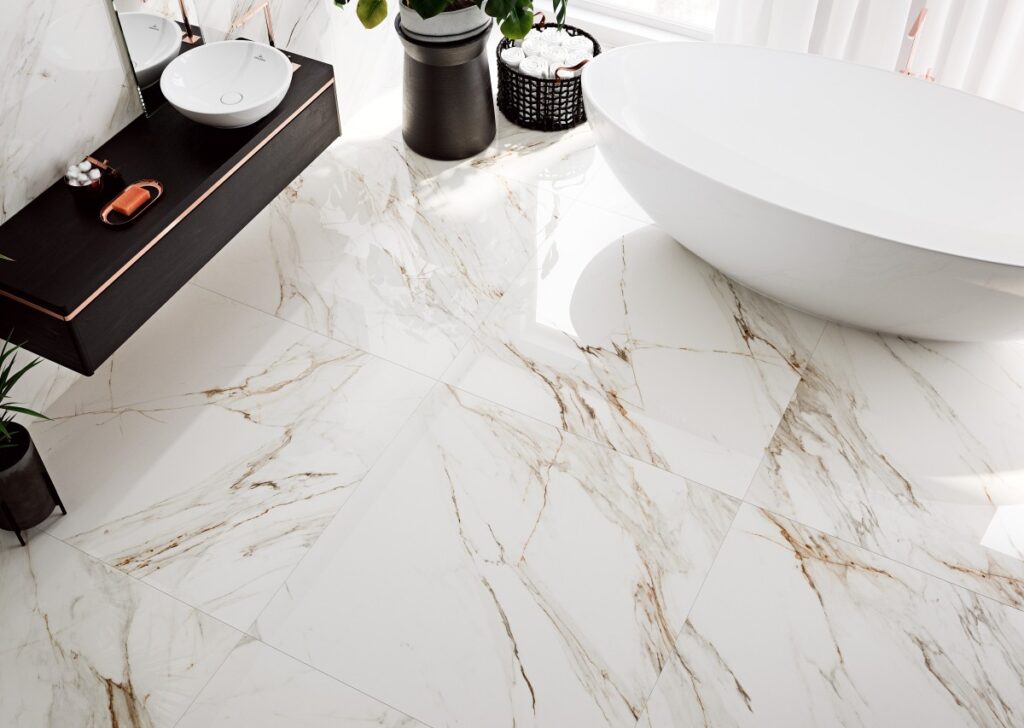 The intricate veining of the marble adds depth and personality to any room, while its wide variety of shades and the play of colours ensures it aligns with the overall look. In short, it offers a supremely unique touch that you can give to your bathroom and private refuge.
The beauty of marble gives your bathroom a very distinguished, elegant touch without falling into classicism. Its adaptability to new design tendencies reinforces its position as one of the most powerful bathroom trends for 2022.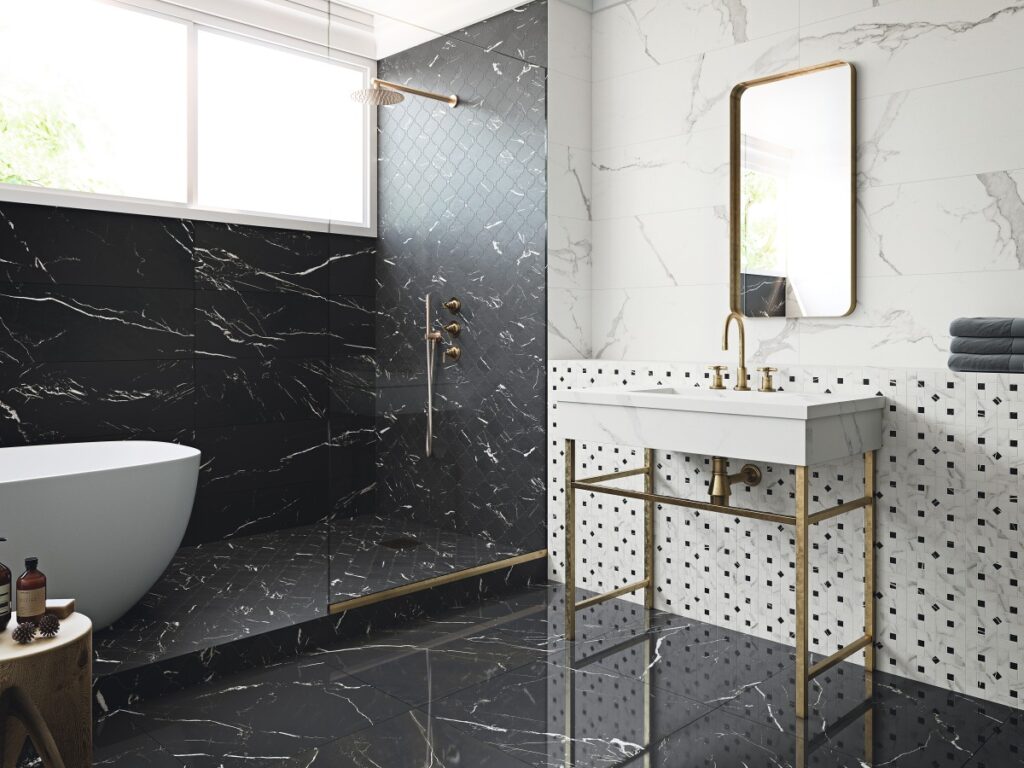 The Naturalness of Stone
Notable among the new bathroom tile trends is the marked presence of natural materials such as stone. The boom that this natural aesthetic has been experiencing in recent years is largely due to the feeling of calm and well-being it brings, but is also thanks to its exceptional colour range, combining neutral tones such as grey or raw shades with imposing graphics or delicate details.
And we cannot overlook the important role played by the stone look as the link between our interior spaces and the exterior of the home, a connection that instantly conveys a sense of serenity. The result could not be any more elegant, making it an excellent option to consider for your bathroom renovation.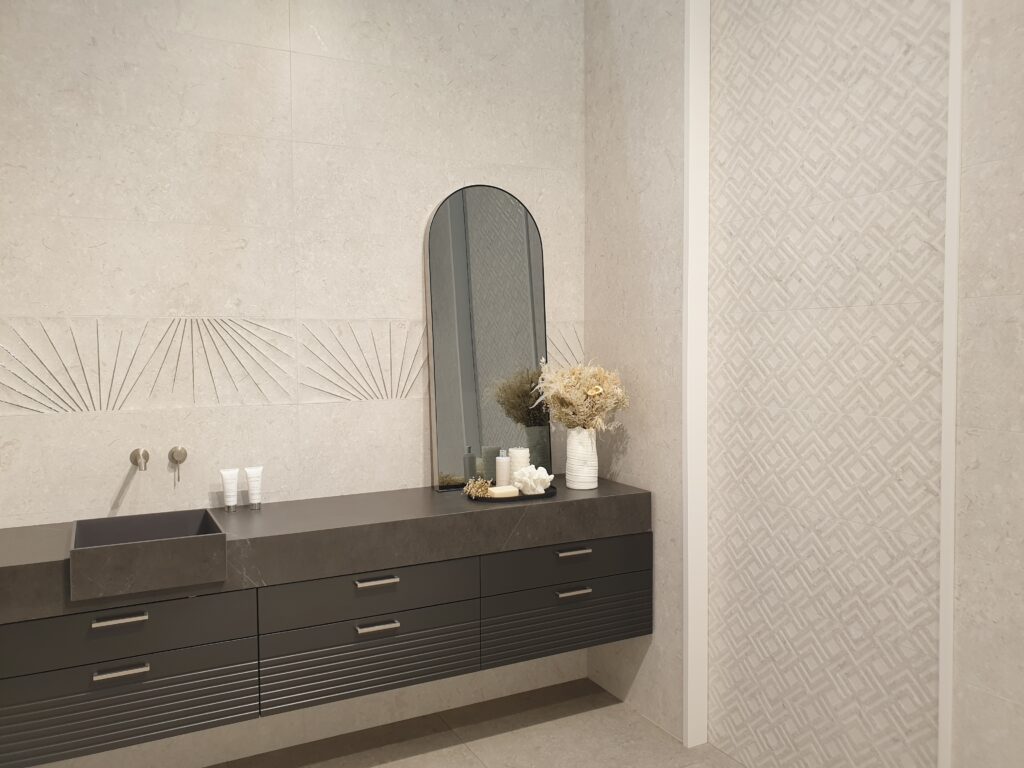 Thanks to its timeless elegant style, you won't regret trying a wall tile based on a natural inspiration such as stone for your bathroom, a trend that never goes out of fashion.
Charming Small Format
When it comes to combinations of tiles for bathrooms, the charm of the small format is attracting attention. With its indubitable decorative style, this ceramic trend has endured over time, proving that its small size can leave an indelible imprint on the world of interior design, especially when it comes to tiling a space like the bathroom. In addition, thanks to its wide range of decorative options, it allows you to experiment with dynamic, striking combinations of colours, designs and finishes, in both wall and floor tiles.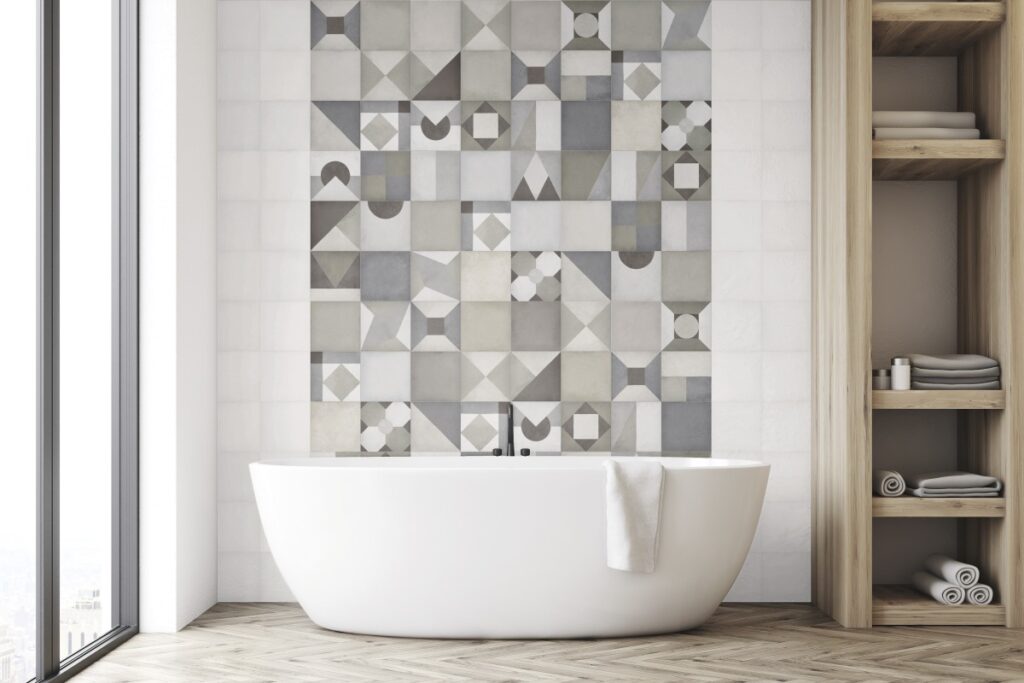 Wall tiles with volume
When it comes to enhancing the visibility of a wall, ceramic wall tiles featuring a relief are an excellent option—decorative and functional at the same time. This trend has also made its way into the bathroom, where its full potential can be explored in transforming a traditional bathroom into a totally groundbreaking space thanks to the numerous options currently on offer: from geometric effects to organic reliefs, the possibilities are endless when it comes to filling these surfaces with volume. Without a doubt, this is one trend in bathroom tiles for 2022 that's here to stay.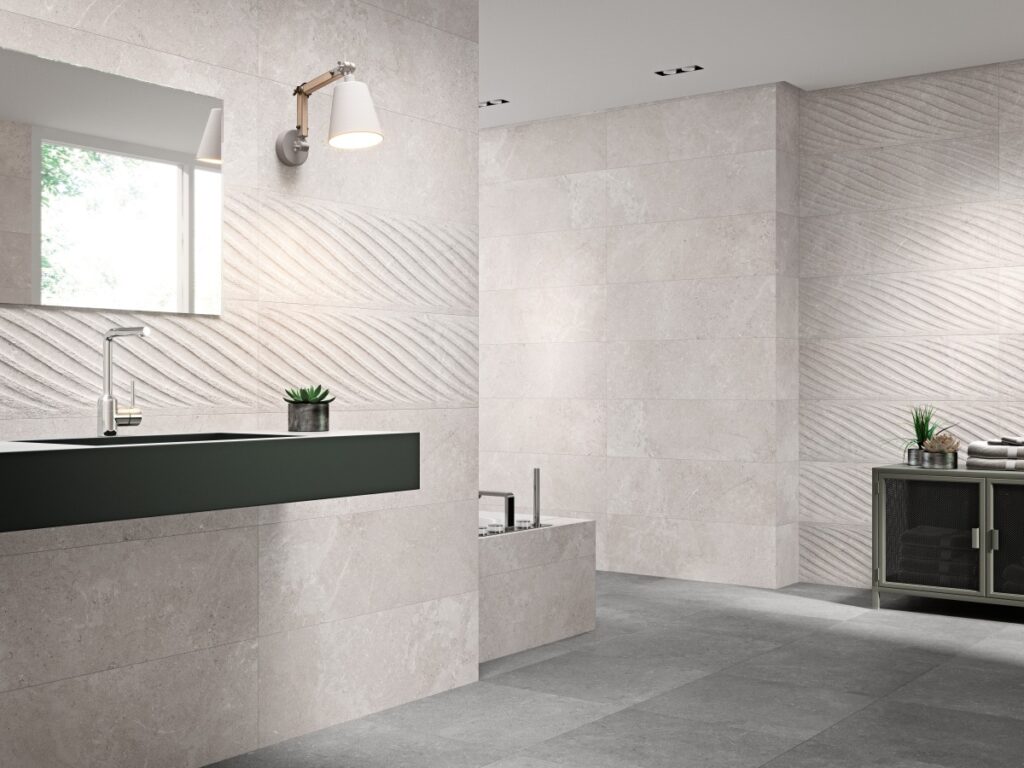 If you want to make your bathroom walls stand out, the answer is to choose tiles with a powerful sense of volume—very on-trend in the most modern bathrooms.
Bonus: Visual Continuity with Large-Format Tiles
We should recall how popular the large-format tiles such as those on offer in the Coverlam catalogue have become for striking designer bathrooms. This materials is one of the most sought after by designers and interior designers for their projects.
The large size of Coverlam products means fewer joints in the surfaces, ensuring visual continuity. From an aesthetic point of view, another advantage is the sense of spatial lightness they create, a highly valued feature when it comes to small bathrooms. This is not to mention their versatility, as with Coverlam Top you can tile the bathroom countertop so that it is completely in tune with the rest of the surfaces.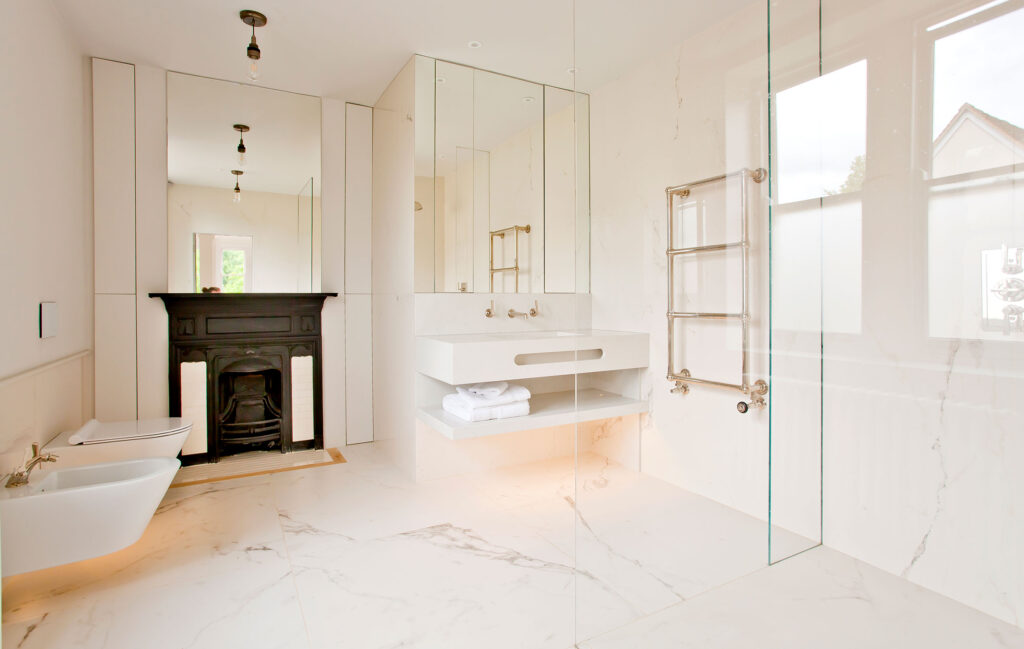 If you want to find out about all our ceramic wall tiles and floor tiles for the bathroom, here don't hesitate to contact us for customized advice.