You can have a luxurious bathroom regardless of your chosen aesthetic; the most important decision you'll have to make is the quality and design of the material you finally select
After these last few months, many of us have realized we need to make big changes in our homes. One of the rooms that is most often the target of renovation projects the bathroom. New habits and the new functionality assigned to these spaces have made us rethink their design, quality and aesthetics.
The latest releases in ceramic wall tiles enhance the versatility of designs, encompassing every kind of style, with Grespania's pure white tiles standing out for their clean lines and high aesthetic value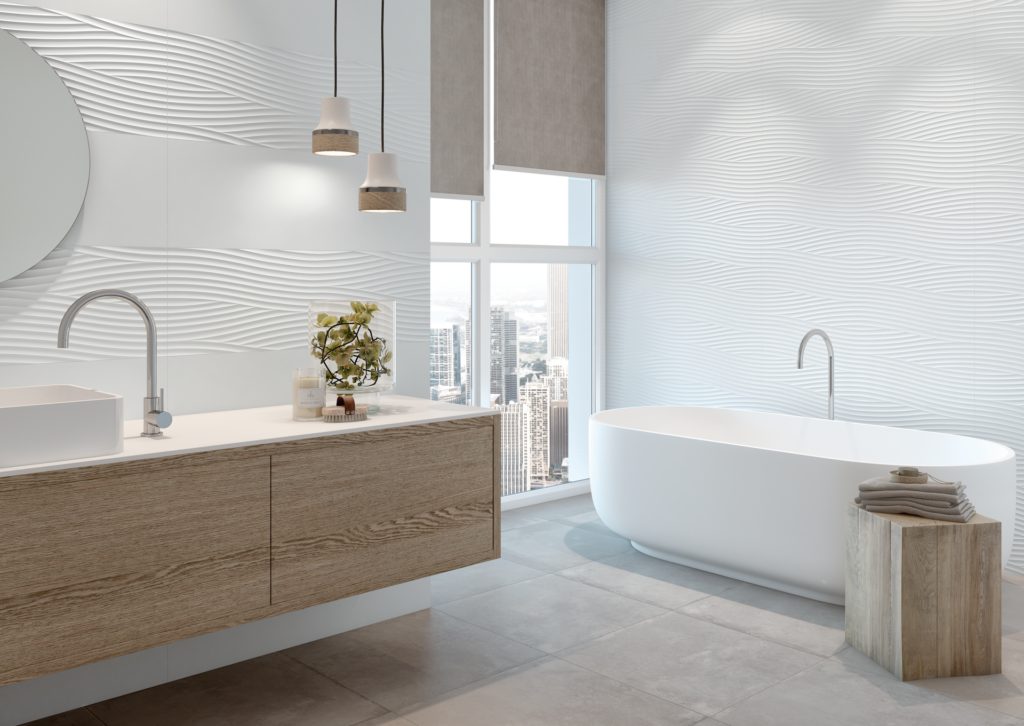 When focusing on the design, it's essential to choose the most suitable building materials, such as porcelain for the floor or white-body ceramic tiles for the walls. These materials help ensure a hygienic, sanitized space without giving up anything in the way of design; after the lockdown we all went through some months ago, these aspects are key and the bathroom will doubtlessly lead the way in this regard.
Porcelain has very low porosity and its resistance to liquids makes it the most hygienic material on the market, offering moisture-resistant, mildew-resistant and antibacterial properties
Once the question of the best material for your new luxury bathroom has been settled, you can turn your full attention to the design and aesthetics. The natural materials and the new trends that inspire the Grespania Group's wide variety of collections make it much easier for you to find the one that best suits your style.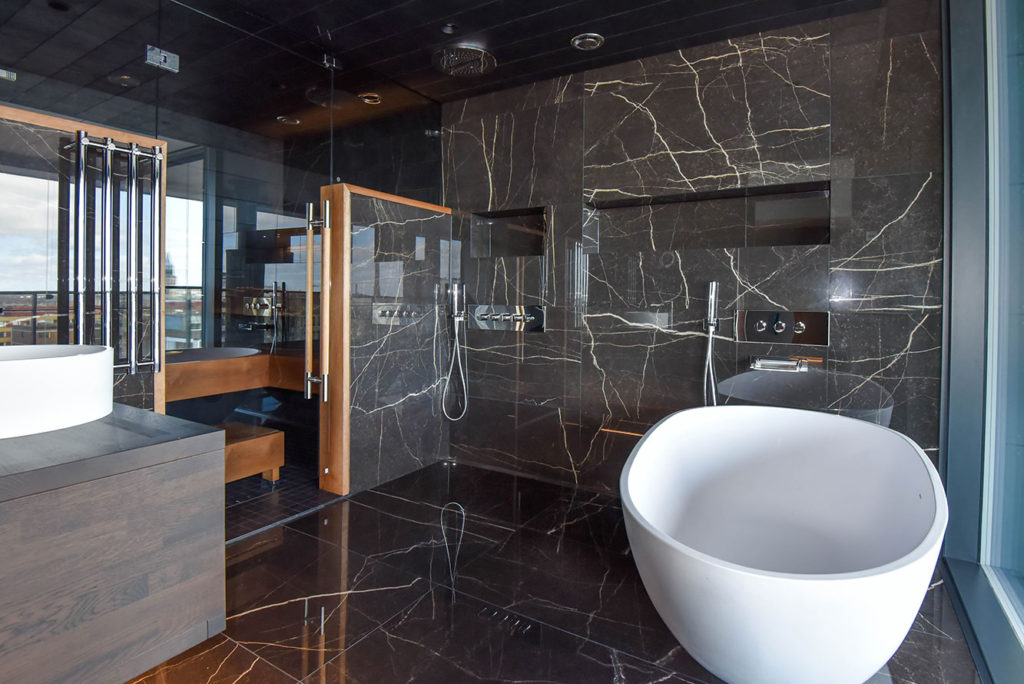 Luxury bathrooms with Clean, Natural Lines
Luxury bathrooms conceptualized as timeless, relaxing spaces are best suited by designs that draw their inspiration from natural stones and woods. The textures and timeless colours achieved by this type of aesthetic create warm spaces that provide luminosity and serenity.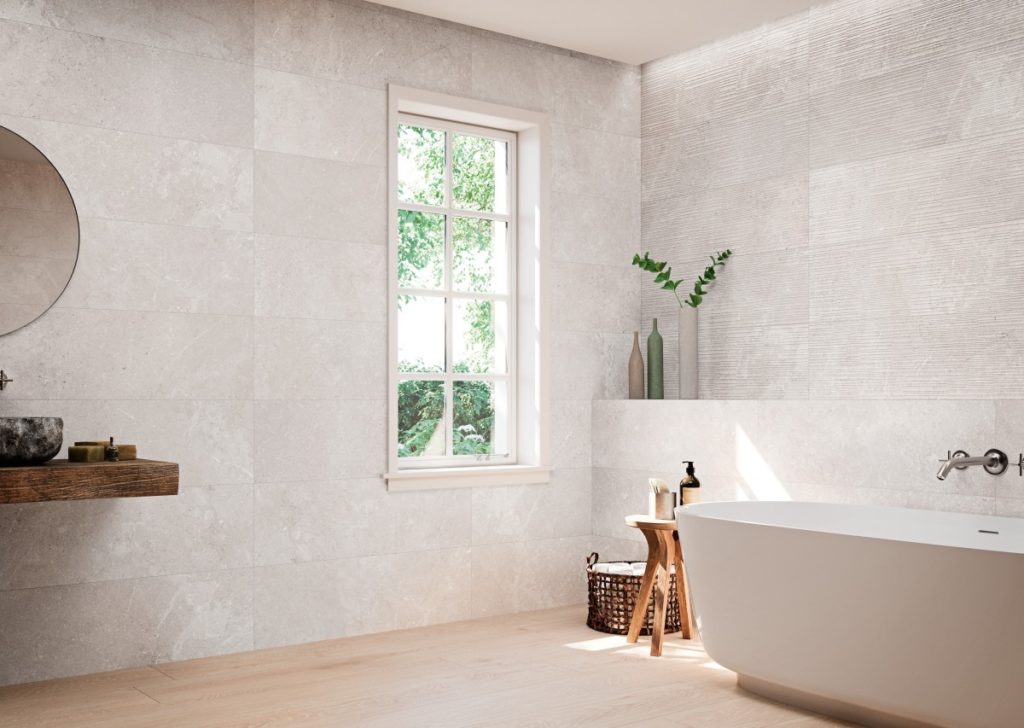 Collections such as Loire, Annapurna, Fusta or Rioja, which also offer the sustainability of the ceramic material itself, enhance the naturalness of the room and harmoniously combine it with caring for our environment and surroundings.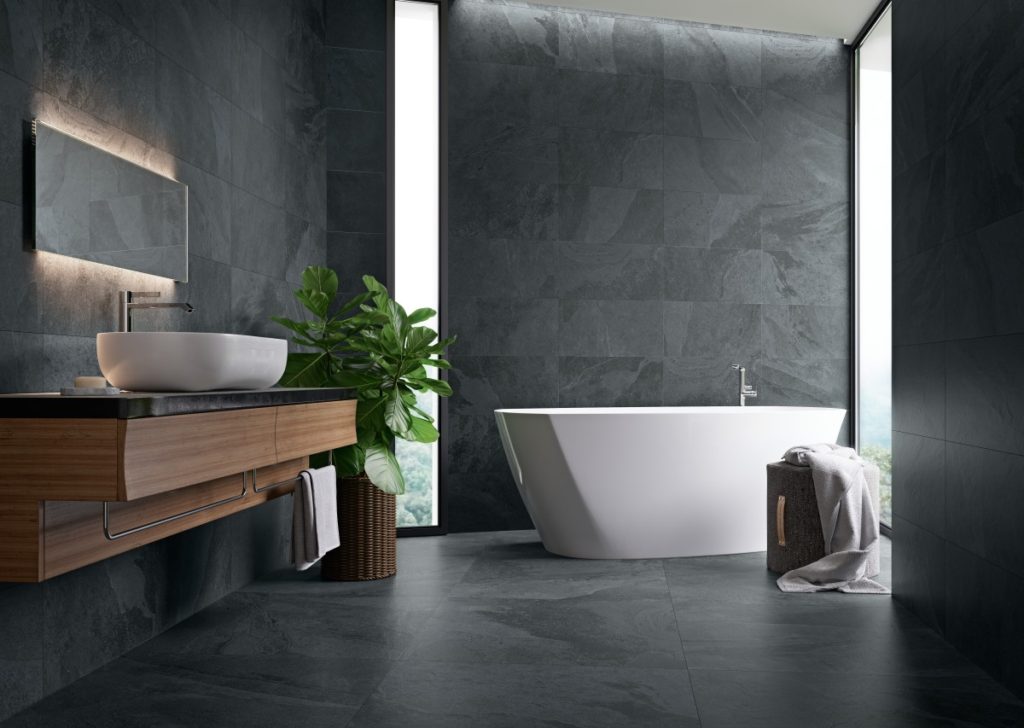 Bathroom furniture and mirrors also provide the perfect complement to take this natural design a step further and lend it a touch of modernity. Using monochrome or wooden furniture, in combination with a straight-lined or even a round mirror—one of this year's major trends—you can achieve a natural-looking bathroom that is also modern and functional.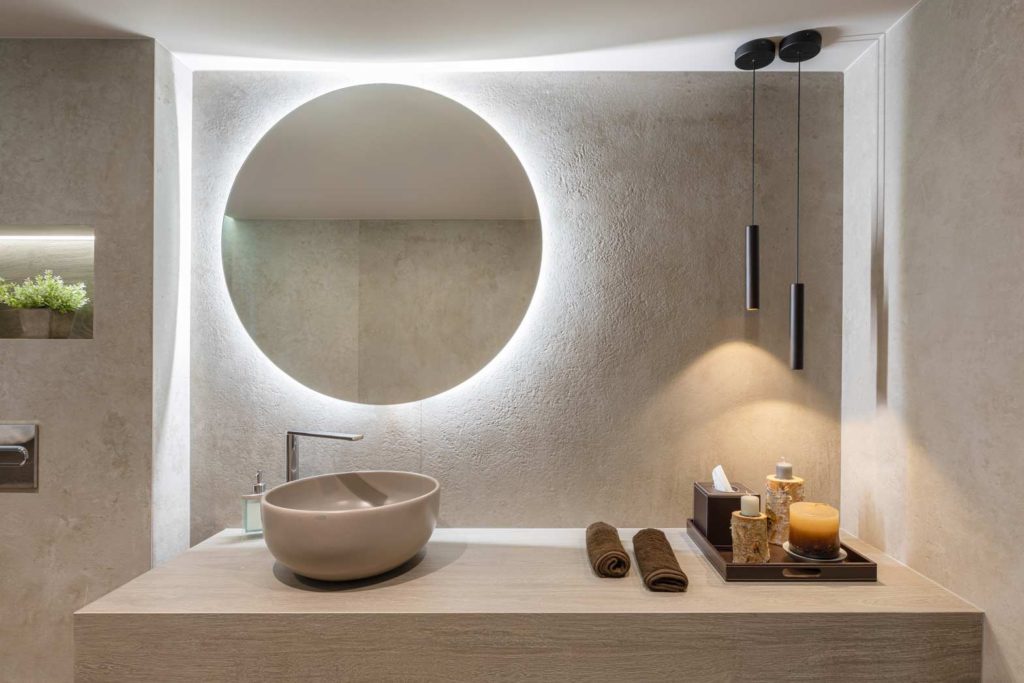 Minimalist and Elegant Luxury Bathrooms
Minimalism and elegance are connected through designs that incorporate the most stylish and sophisticated marble in rooms where furniture and accessories are kept to a minimum. Floors and walls become the real protagonists in these luxurious bathrooms, with the use of black, white or brown marble.
In this case, opting for a large-format porcelain tile like Coverlam ensures that the number of joints is kept to a minimum, enhancing the final design and enriching the grandeur of the marble. Along with Coverlam's antibacterial surface, minimizing the number of joints makes the surface more hygienic by eliminating the spaces where bacteria and mould can grow, thus ensuring a safe, sterile bathroom.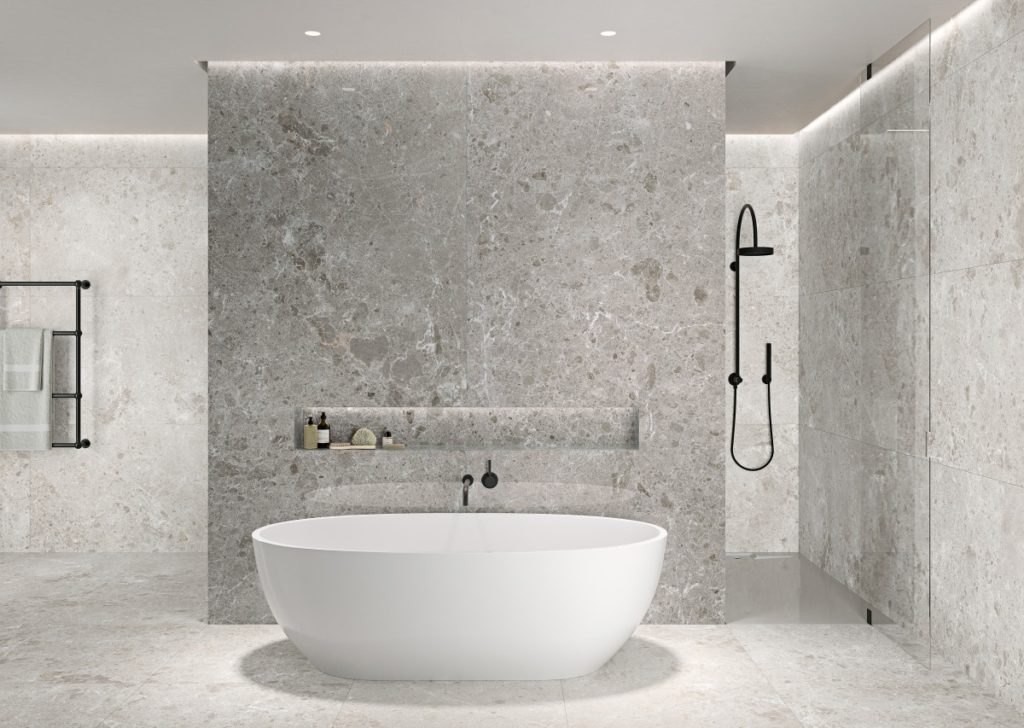 Another option that is gaining ever more acclaim in minimalist luxury bathroom renovation projects is the use of pure white wall tiles. In both matte and gloss finish, this trend is a safe bet for its design and timelessness, with reliefs providing the touch of elegance you're looking for.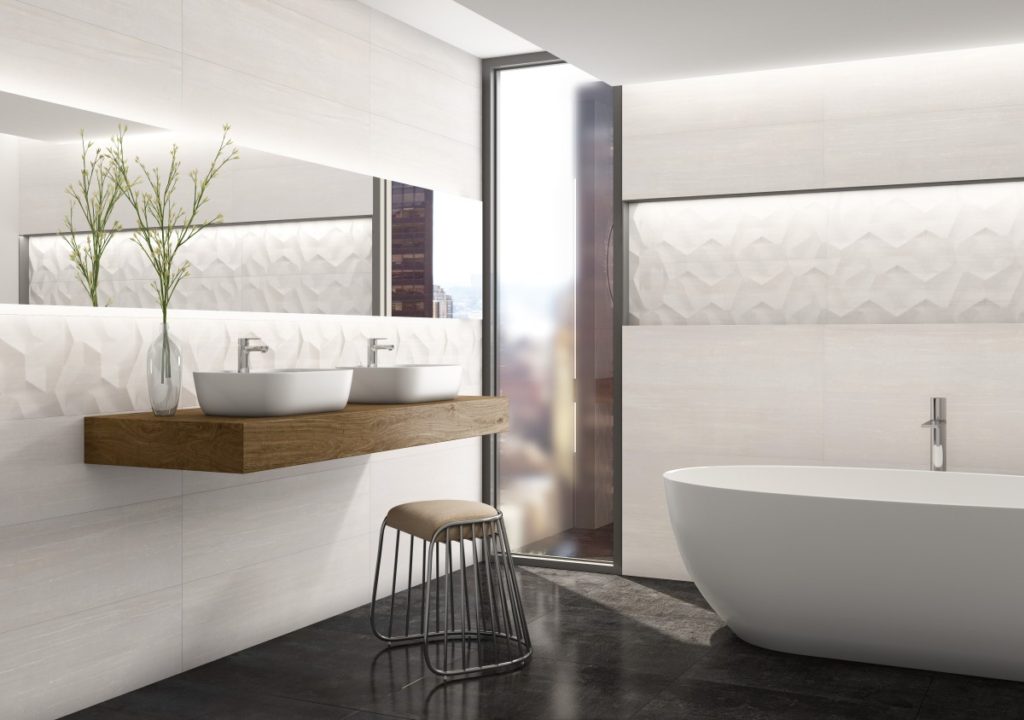 Traditional and Vintage Luxury Bathrooms
A new trend that is becoming established among architects and interior designers is a fresh take on a traditional aesthetic to bring it up to date. Small 20x20, 7,5×30 and 6,5×20cm format ceramic tiles are the star of the new designs for luxury bathrooms, providing a notably vintage look.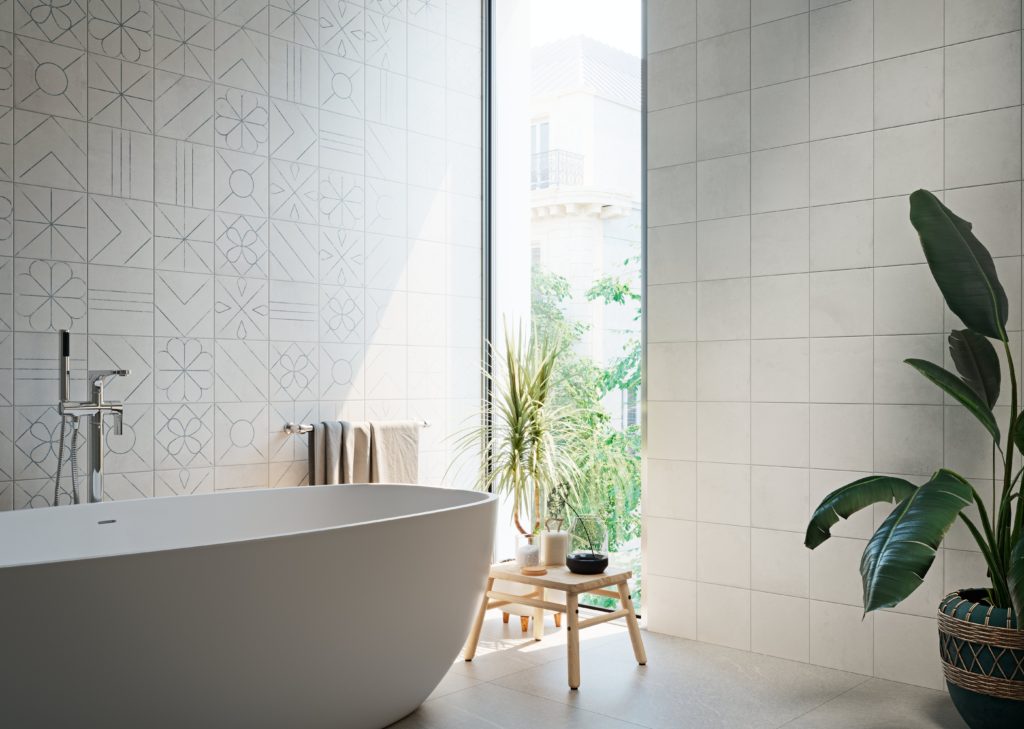 ICON by Grespania offers the imperfect beauty of asymmetric, minimalist geometric patterns, with the surface revealing the characteristic wear of materials shaped by the passing of time. This wide range of products allows you to choose between a number of different designs—various types of hydraulic tile, an updated version of the classic terrazzo, as well as the ever-effective monochrome designs with soft reliefs.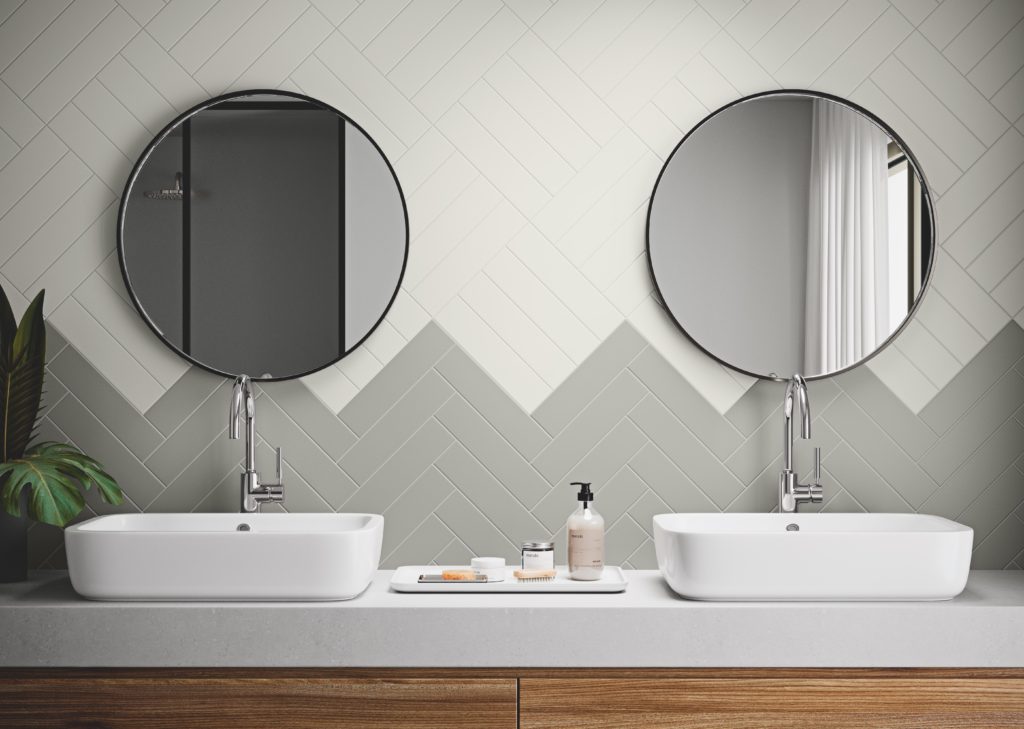 If you want to see more design options for your new luxury bathroom, check out the Grespania and Coverlam collections in search of fresh inspiration.