Everyday life now happens in the kitchen. Flexible and versatile, these rooms are set to undergo the biggest changes and renovations of the year
Kitchen are being reinvented, giving rise to rooms that maximize functionality, taking design to a higher level. With the latest trends in kitchen tiles, these rooms can become genuine gathering places, a wonderful convergence of comfort, well-being and sense of security.
Discover the latest trends in kitchen tiles 2022
The latest trends in kitchen tiles bring us designs and collections with exceptional performance in terms of strength and durability, allowing unified tiling of the entire room, including countertops and furniture. This enables a sense of visual continuity throughout the room, where ultra-thin Coverlam slabs can be used, for example, to integrate all the kitchen furniture and to cover and hide the appliances—an increasingly common décor option. This material also makes it possible to combine different designs, letting you enjoy all the technical advantages offered by ceramic tile and opening up new possibilities for projects thanks to its versatility.
From floors and walls, to countertops, sinks and even the furniture, ceramic tile allows you to follow the trends in integrated kitchens or combine colours, formats and textures in the same space, displaying great aesthetic versatility and unbeatable performance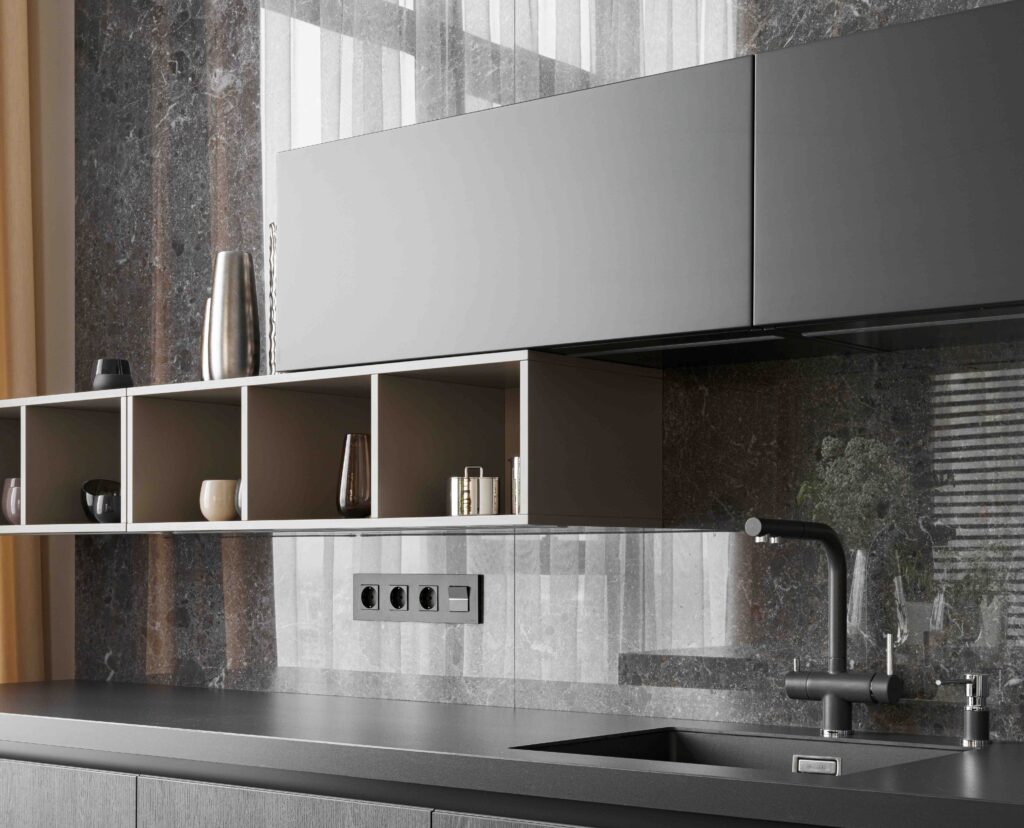 People are also becoming more concerned about caring for the environment and their surroundings, and their preferences reflect this. In this respect, ceramic tile provides a huge added value that is increasingly important in the process of selecting materials: its environmental sustainability. In addition to being manufactured with 100% natural raw materials, making it recyclable and reusable, ceramic provides great strength and durability. These qualities translate into a long useful life and low maintenance, meaning it can stay in your home for longer.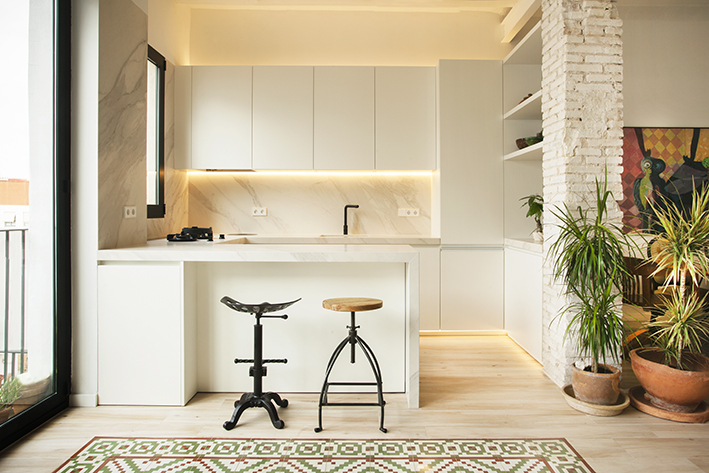 As a pioneering brand in environmental terms, Grespania has made great progress in this area. From the very beginning, it has been committed to developing strategies aimed at minimizing the impact of its production processes on the environment. The installation of a wastewater treatment system, the cogeneration plant, and the zero waste concept are just some of the initiatives with which Grespania is leading the way in environmental sustainability policies.
As well as being very durable and therefore sustainable, ceramic is a natural, ecological material—qualities that are enhanced by Grespania's entirely environmentally-friendly production process
Furthermore, the constant innovation in the ceramic industry brings with it major advances year after year, all of which have a direct impact in the area of renovations and new builds. The latest trend in kitchens seeks to facilitate quick and simple remodelling with virtually no resulting debris. Something that seemed unimaginable only a few years ago is now possible with Coverlam. Thanks to its minimal thickness it can be used to renovate kitchen floors and walls without removing the existing tiles. It can thus be done much more quickly and easily, but without giving up anything in the way of the quality and aesthetics of the project.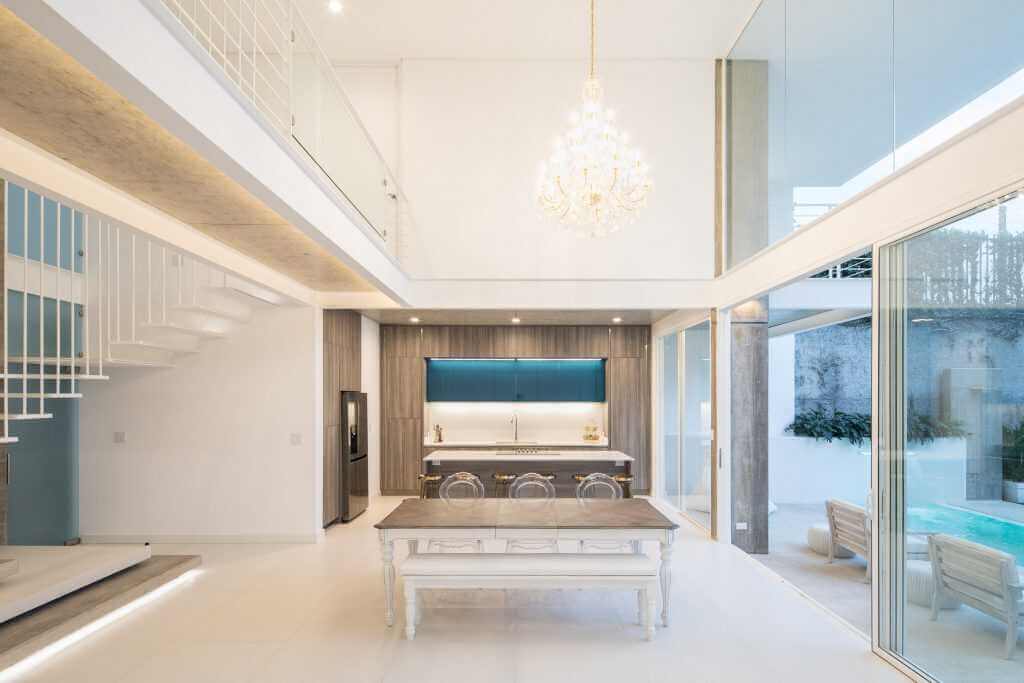 One of the latest trends in kitchen tiles set to come into the spotlight in 2022 is the quest for maximum safety and hygiene in the tiles used to renovate one of the most sensitive spaces of the home. This year we will see how the application of high-tech ceramics to health becomes more common in homes, through innovative options such as Grespania's H&CTiles, an application that endows ceramic material with bactericidal properties and helps eliminate odours.
And what do the latest trends in kitchen tiles tell us about design and aesthetics? There are three keys: neutrality, fusion and natural inspiration.
Kitchen tile trends: Colours, effects and styles
Colour neutrality as superlative décor
The latest trends in kitchen tiles point to neutrals as the colours for 2022, thus avoiding harsh, overly showy tones and looking instead to blacks, greys and whites. The great versatility offered by neutral colours is now accompanied by designs in which chromatic nuances and surface textures make all the difference, creating personalized rooms and spaces where elegance and refinement prevail.
This year, neutral colours are teamed up with one of the main décor trends of the season for wall tiles: geometric reliefs. They give kitchens a touch of personality and depth, perfectly complementing the neutral colours.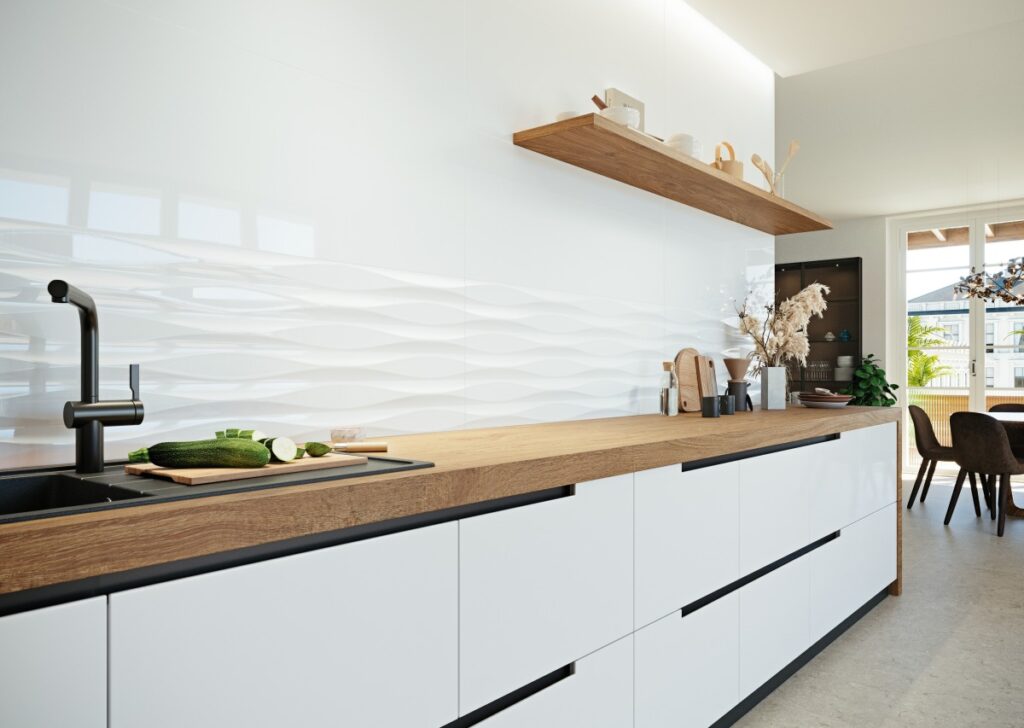 Another neutral colour palette still going strong from last season is earth tones. This year sees the established trend of bringing nature into the home, using these colours to infuse the atmosphere with a sense of tranquillity and enhance its natural exuberance. The highest expression of these colours can be found in extremely realistic collections inspired by stone, wood and marble, major incoming trends in terms of effects and finishes.
Stone and marble take centre stage, along with the captivating metallic effect
Connection with nature is the cornerstone of the latest trends in kitchen tiles; incoming designs help achieve that link through exquisite textures and graphics, where the aesthetic realism and the technical quality of the materials give rise to new multifunctional kitchens that are cosy and calm.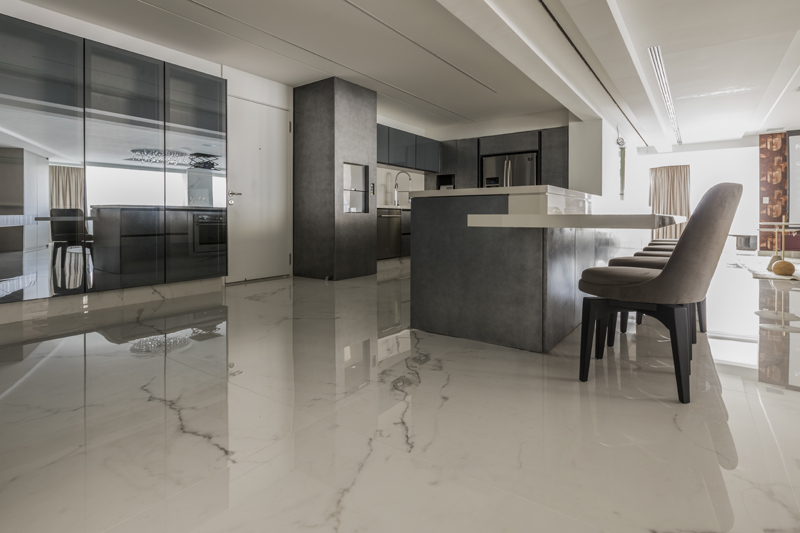 In terms of aesthetics, stone and marble have become firm favourites within this decorative trend. This option can be further enhanced through the combination with other designs, such as wood or monochrome finishes, and formats, where the two extremes predominate—large-format tiles and the recent recasting of the small-format ceramic tile in collections such as ICON by Grespania.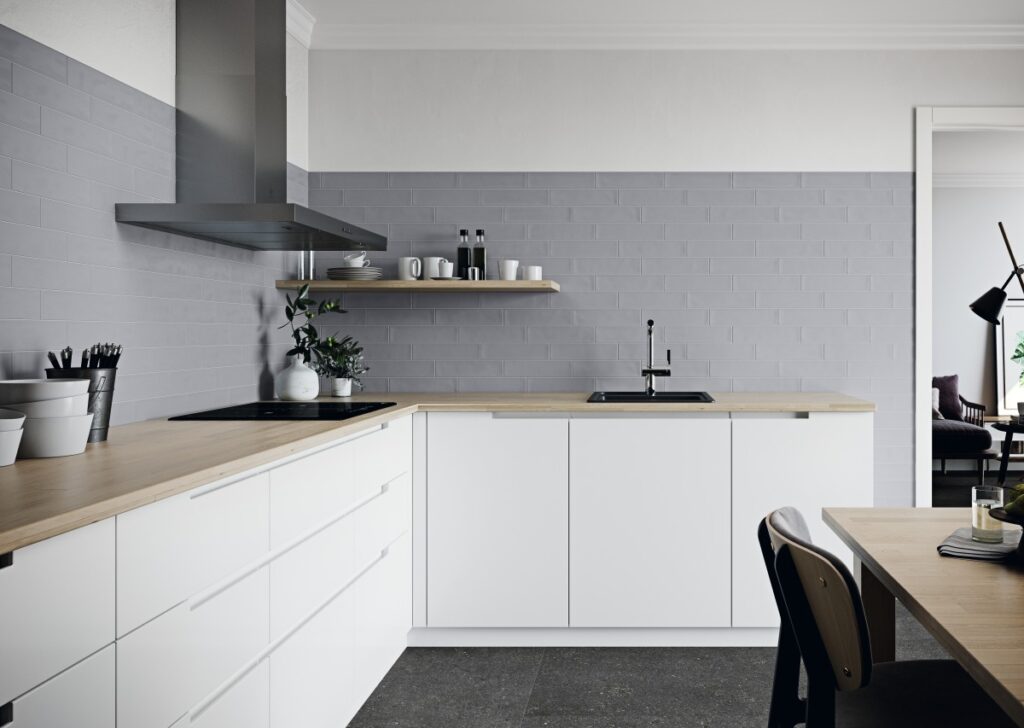 Lastly, the alluring metallic effect is emerging onto the scene this year. This design can be used on floors and walls, creating industrial-looking but eminently elegant spaces. The highest expression of this style in kitchen design trends is its application to countertops and islands, where the juxtaposition of this material with wood-effect collections gives kitchens touches of naturalness and gentle contrast.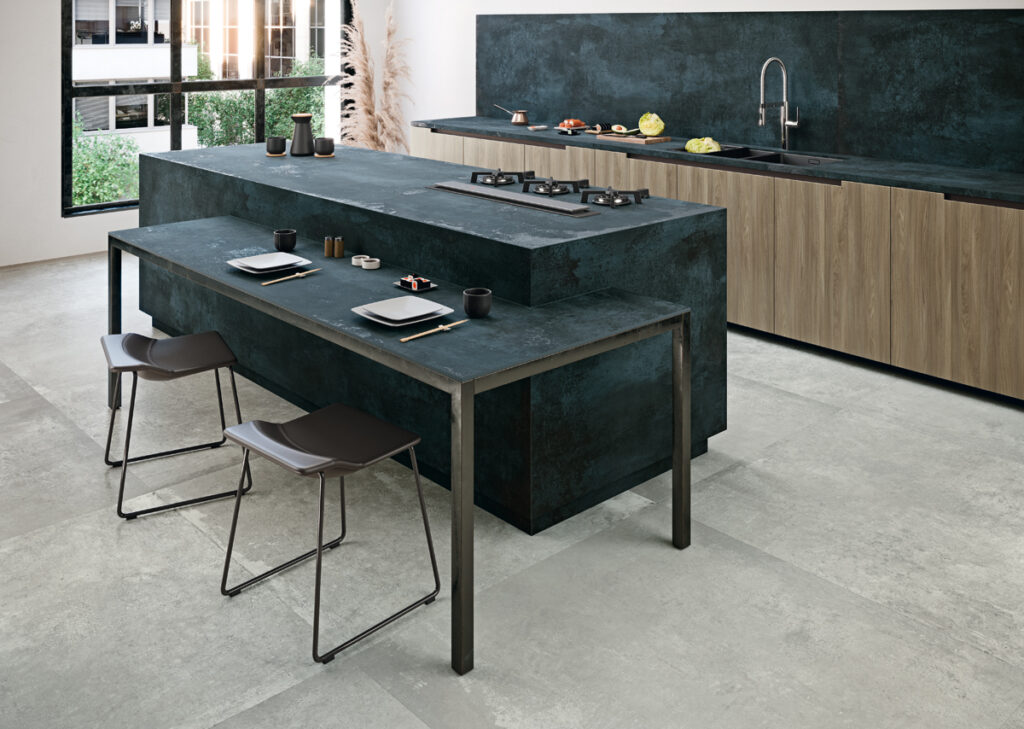 Colour neutrality as superlative décor
The latest trends in kitchen tiles explore the fusion of styles with the specific goal of making kitchens genuine places of well-being that exude design and class. Here, the choice of colours and finishes mentioned above comes into play, with their exquisite combination in floors, walls, countertops and kitchen furniture.
The kitchen designs and materials of 2022 are aimed at creating personalized spaces well suited to the multifunctional use that these rooms have adopted in the home, projecting a modern, natural, harmonious atmosphere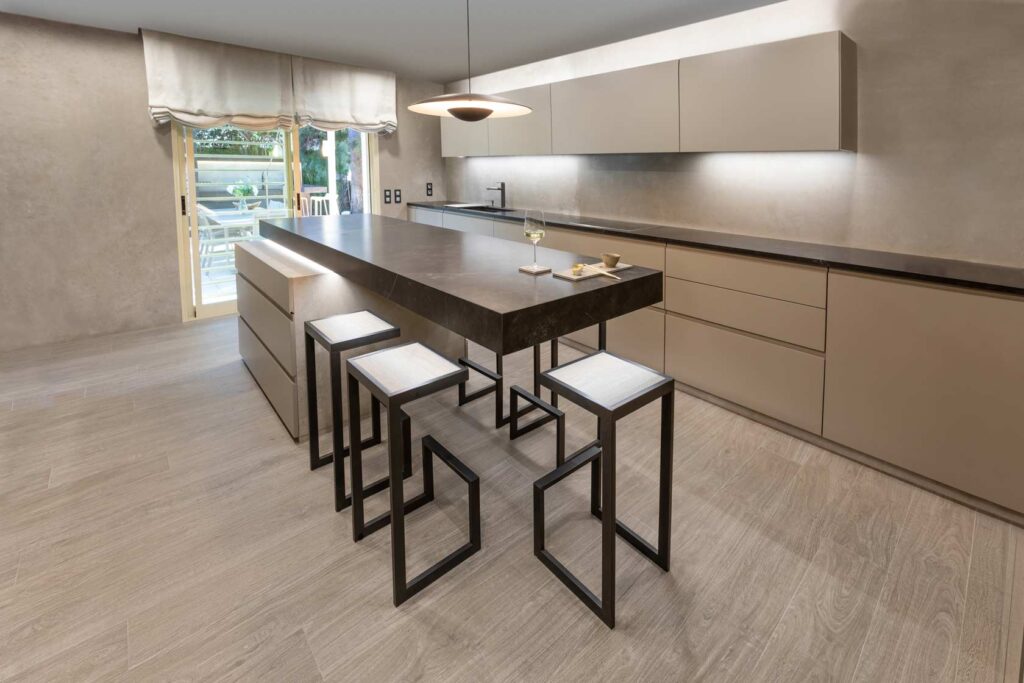 Marble or cement with monochrome surfaces; metallic-effect or stone-inspired collections combined with wood; a mix of different materials and formats... In short, the latest trends in kitchen tiles bring us a wide range of possible combinations, in new collections that enrich the design and meet the needs of the home.
Do you want to find out about our new product offerings for the latest trends in kitchen tiles? Check out the Grespania, Coverlam and Coverlam Top catalogues to discover them all