As the days get longer and warmer, our attention turns to renovations of patios, gardens, private courtyards and swimming pools start to make an appearance. Now's the time to find out about trends for your outdoor spaces.
Take a glance at this season's looks and find a new style for all the alfresco areas of your home.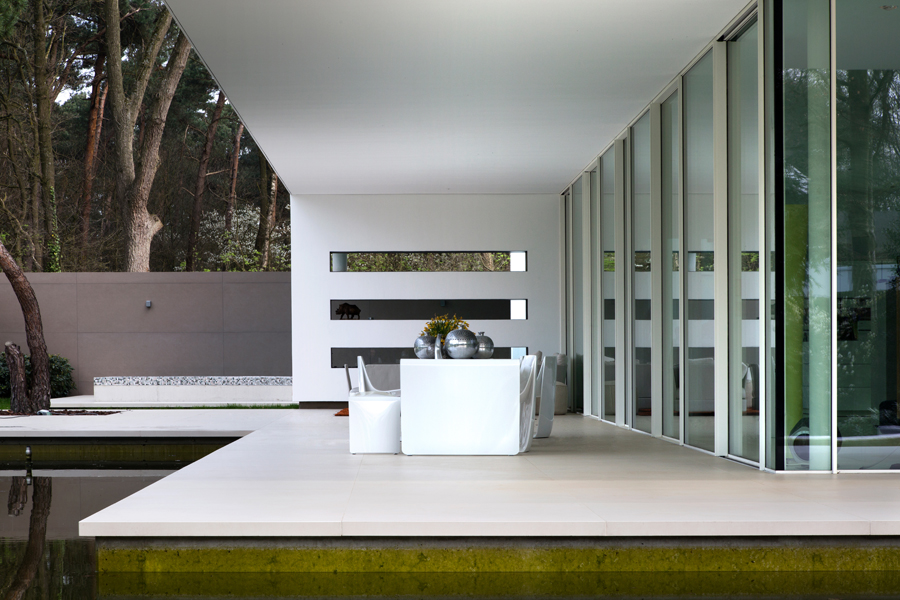 Large-Format Ceramics Go For The Natural Look
Large-format ceramics such as Coverlam, with its timeless appearance, are fully on-trend this season.
The monochrome designs allow you to create contemporary spaces with an enduring aesthetic. Likewise, the designs inspired by materials such as stone or cement and those with a more neutral, simple aesthetic also find a place in the most contemporary projects.
Porcelain stoneware tiles also offer great technical advantages such as durability, low maintenance, high resistance to wear and sun exposure and zero water absorption, all of which are essential features for outdoor spaces.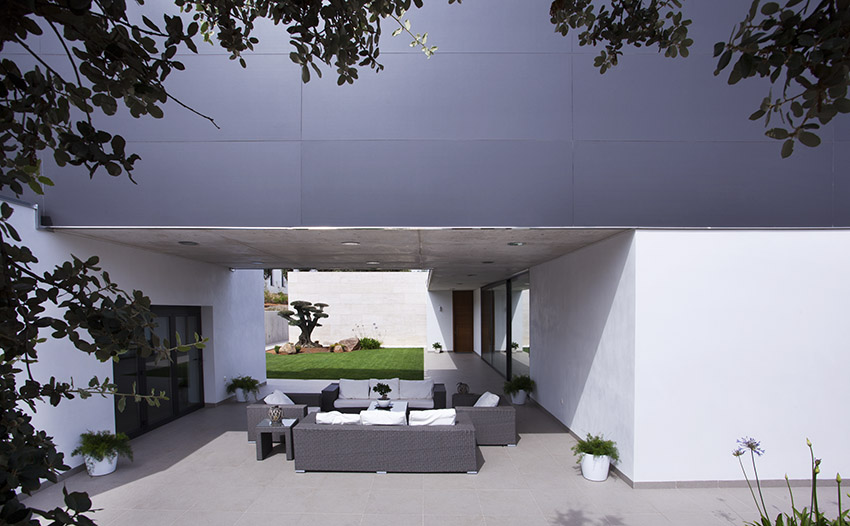 The Importance Of Safety For Swimming Pools And Patios
Preventing falls and accidents in swimming pools or wet areas is of vital importance when thinking about tiling materials.
There is no safer material available on the market than porcelain stoneware when it comes to preventing slipping and sliding. Its anti-slip finish ensures maximum grip on both wet and dusty surfaces.
Porcelain stoneware protects against slips and slides, on both wet and dust- or dirt-covered surfaces, which makes it the ideal material for outdoor uses, ensuring maximum grip.
For optimum results, we recommend the use of special technical pieces to meet the needs of the most demanding projects and to comply with the applicable international safety regulations.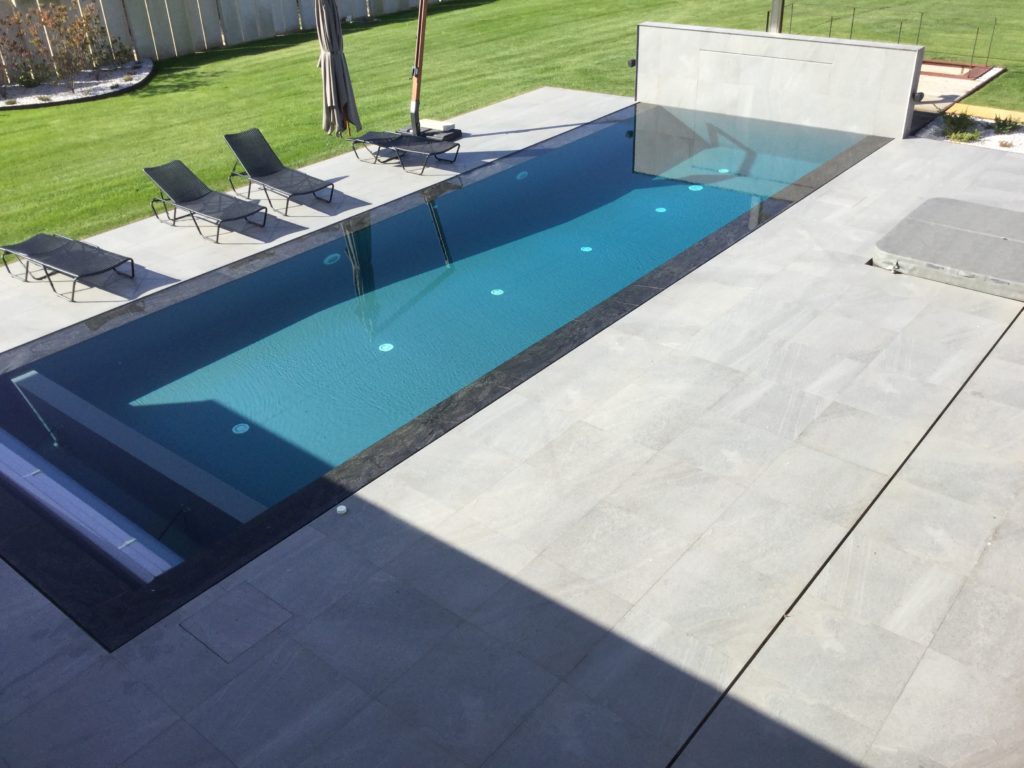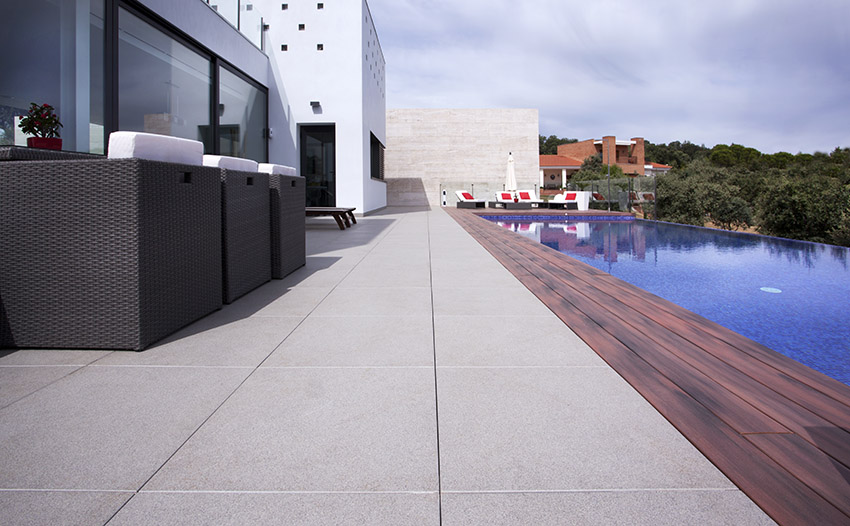 Ensuring a safe pool-surround doesn't mean you have to forego a beautiful aesthetic or tiles that feel pleasant underfoot. Thanks to the latest technological innovations, we can offer flooring tiles for patios and swimming pools that guarantee maximum grip, with modern, realistic designs such as natural woods, perfect for gardens and swimming pools.
Versatility of Porcelain Stoneware in Outdoor Design.
There are wide-ranging possibilities for the use of porcelain stoneware in outdoor flooring. The current trend is to use large-format pieces inside the pool, not just because of their high technical performance but also because of the wide variety of designs and technical pieces available.
Far from being limited to the traditional mosaic pool tiles, swimming pool designs these days are incorporating neutral designs in basic colours, or going for stunning effects inspired by marbles, natural stone or wood.
This material undoubtedly brings great versatility to your projects, enabling complete aesthetic continuity between the pool interior and surround, or creating contrasts and visual effects thanks to the combination of colours, designs and finishes.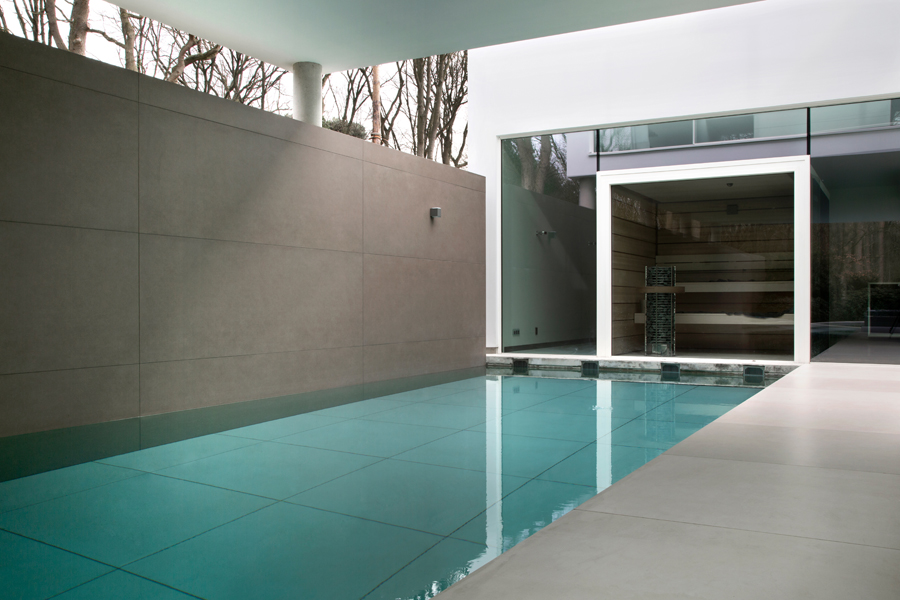 On the other hand, another major trend emerging in ceramics is their use for tiling outdoor furniture, walls and kitchens.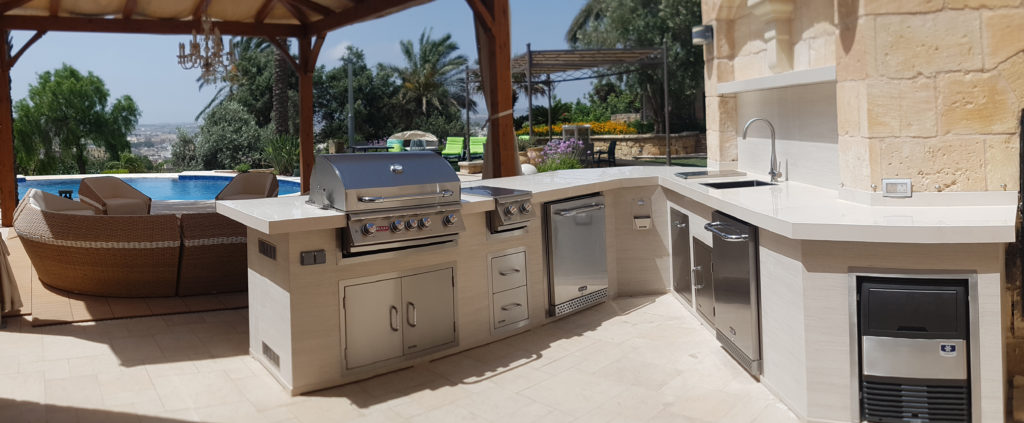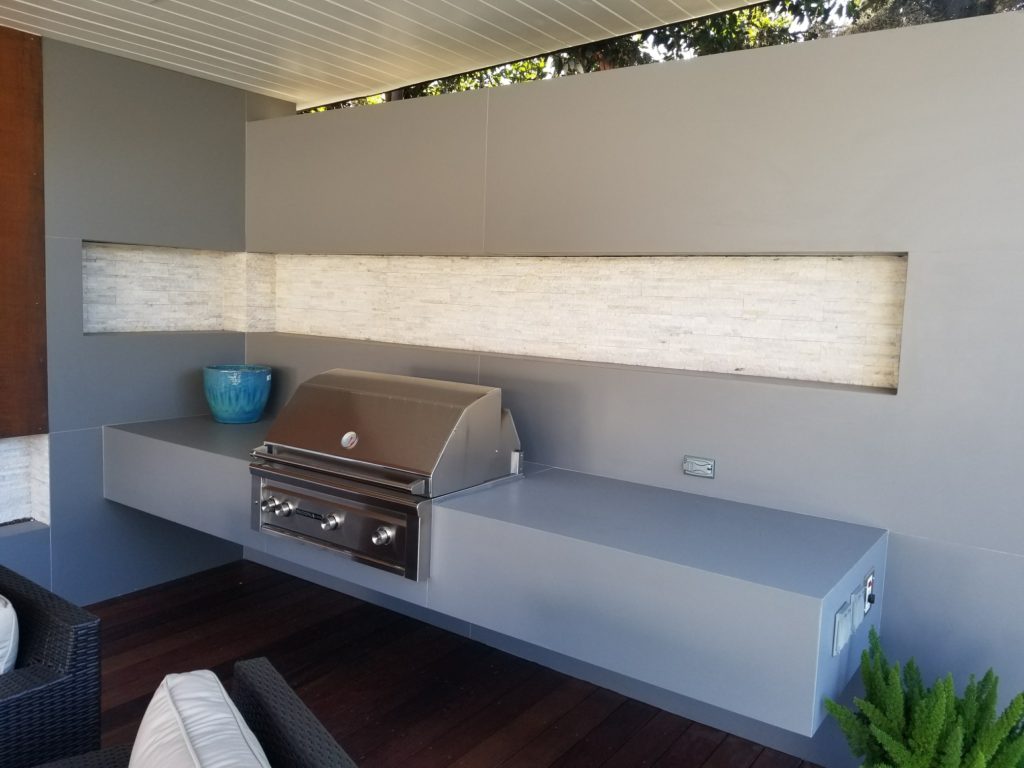 Thanks to its high-level technical performance, porcelain has become a safe bet for outdoor renovations and construction projects. Its durability and fastness means it stands up to the ravages of outdoor use in a way that other natural materials or synthetic resins cannot.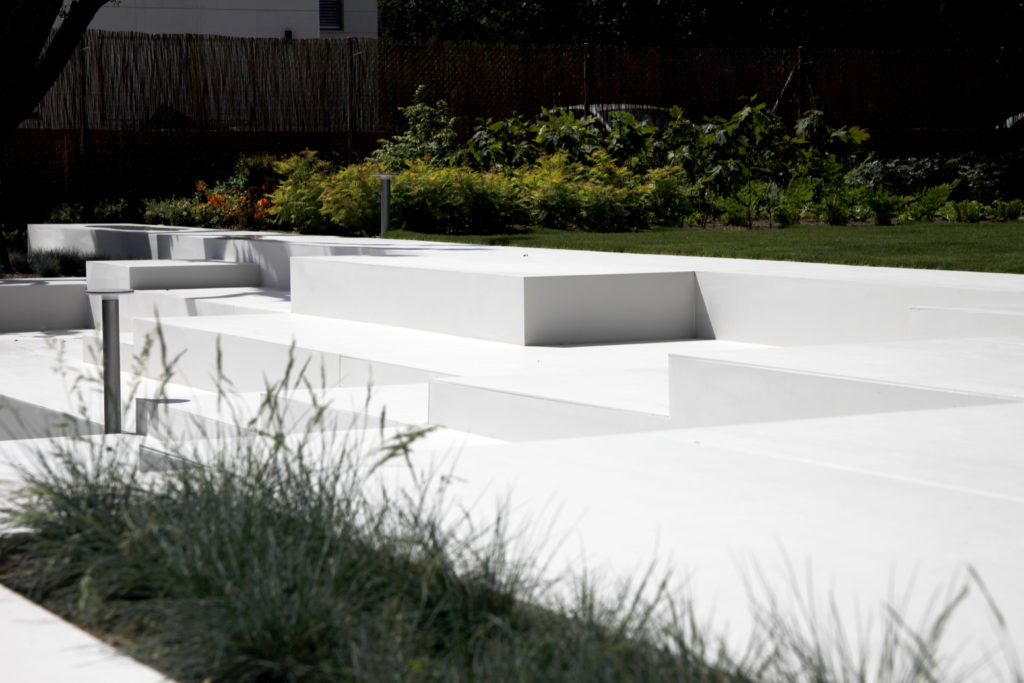 Wide Entrances And Paths To The Garden And Pool.
Another trend at the moment is the creation of small spaces, paths and space dividers in gardens. The 20mm-thick anti-slip pieces can be used to shape entrances and paths in swimming pool, garden or outdoor spa areas, both in private projects and in hotels and residential areas.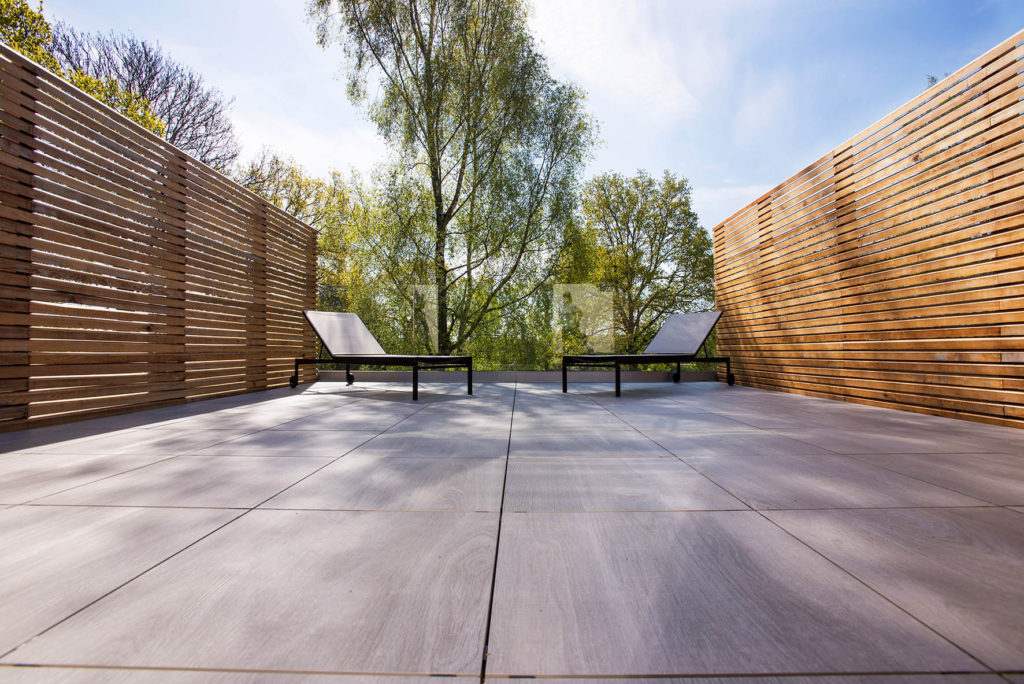 This thicker format is a multi-purpose, tough, durable solution.
The 20mm-thick porcelain tile different can be used in different types of installation—whether dry-laying, on gravel or on grass—without the need for tile adhesives or any other such materials; the tile remains held in place by its weight.
Its great versatility makes the 20mm format perfect for decorating patios and porches. It enables a wide variety of linear designs, whether by joining the pieces together or leaving a space between them, laying them on gravel, soil or grass, creating a feeling of spaciousness.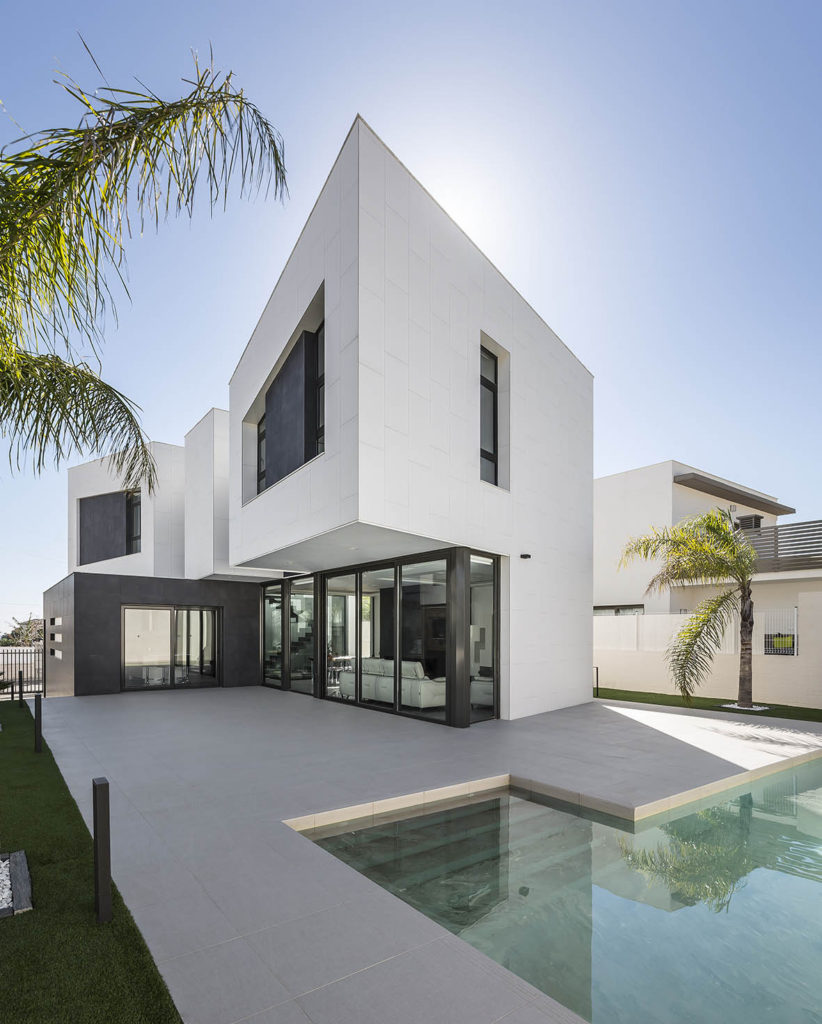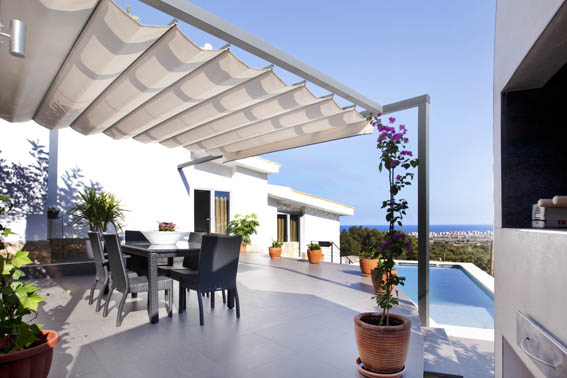 Check out the Grespania Group catalogue to discover the wide variety of designs available for your patio, garden and pool area. Visit the Grespania and Coverlamwebsites to find the inspiration for your next project.