With the newly opened spring time, it's time to start planning some changes in your home to welcome in the new season. The weather is getting better, the days are getting longer and the atmosphere is becoming more cheerful. It's time to transform your home in line with home decor trends for spring 2020.
Whether you choose to do so by making small changes to certain accessories, or by carrying out a more extensive reform that includes putting down porcelain flooring,you can add a new twist to your home with the right use of spring-like features. Discover with us the keys to bringing the latest decor trends for this spring into your home.
Colourful Furniture, the Star in Spring Decor
If you're thinking of updating some of your furniture, now is the perfect time to choose pieces in more cheerful, spring-like tones.
Lively colours, such as blue or green, will add a fresh touch and transform your living room.
Changing the colour of your sofa—either by buying a new one or by reupholstering it—or the chairs of your dining room table, will create a vibrant, lively atmosphere. In addition, if you go for a porcelain floor in light shades, the contrast will illuminate your living room and fill it with colour.
If you want a more affordable way of incorporating these hues, you can add small touches of spring to rooms through the use of brightly-coloured ornamental accessories such as cushions or vases.
Flowers and Plants; the Must Have of Spring Decor
When we think of spring, beautiful plants and flowers automatically come to mind as emblematic of this season.
This type of accessory doesn't require a huge outlay, and you can play around with placement in different spaces.
You can use flowers as centrepiece for your table, as a small detail of spring decoration; on a white marble-look porcelain table the result is wonderful. Or you can dot two or three plants around the room. You can even include several in rooms such as bathrooms without any fear of going over the top. You can never have too many plants in spring!
Use Wood in Light Shades
The versatility of wood-look designs is universally accepted in the world of interior design. In previous posts, we told you about how to use this material to lend warmth to your home. This time, we focus on using it to incorporate the brightness of spring into the decor of any room. The key is in the colour: you have to use wood in lighter shades.
A porcelain floor tile with a design inspired by larch, maple, beech, cedar or ash wood will give you a tone that fits perfectly in the fresh-looking spaces typical of spring.
As you can see, there are widely-differing, versatile possibilities, enabling you to choose from a wide range of options.
Outdoor Flooring and Patio Furniture
With the coming of spring, patios and outdoor spaces become the star of the home. One of the first steps to fully enjoying this area of the house is to use a safe, resistant material for its flooring.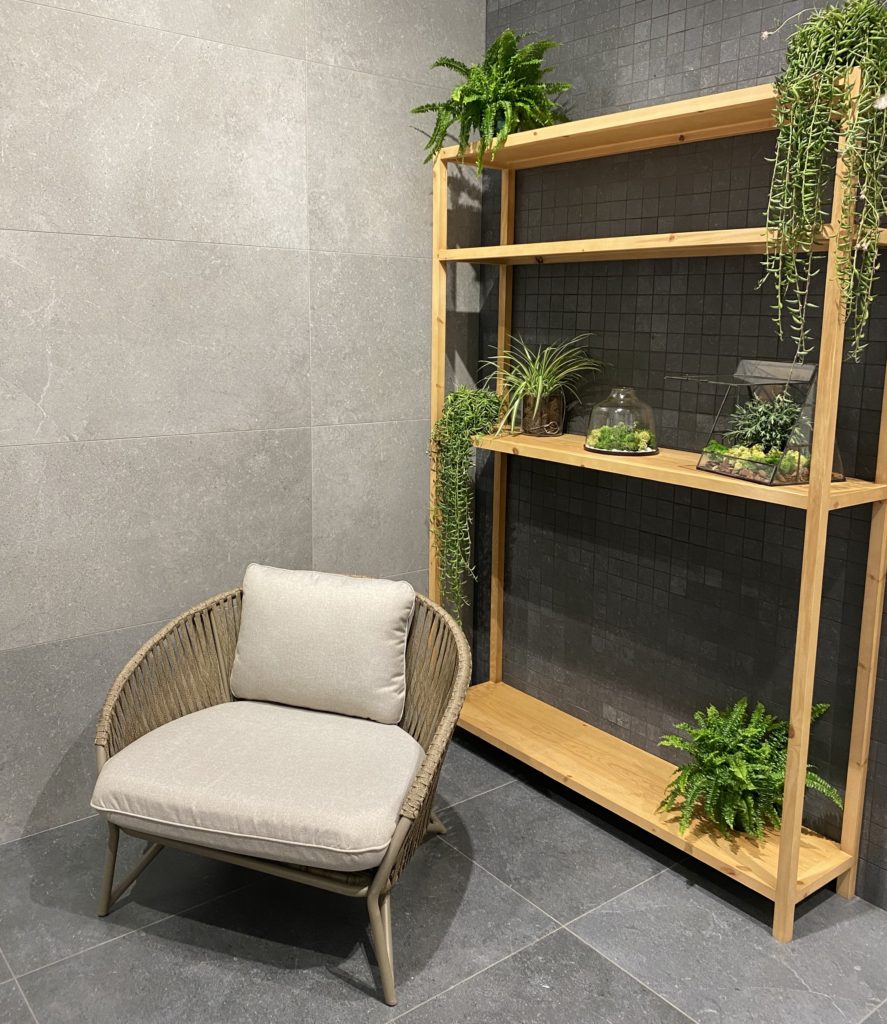 You don't have to give up on the idea of wood in these outdoor spaces if you opt for porcelain, a material that combines strength, durability and safety—thanks to its non-slip properties—with the naturalness and texture of wood. With that in mind, there are as many designs and colours as there are preferences, without having to stick to actual wood. Cement and stone designs have also been gaining ground in recent seasons.
The 20mm-thick tiles can be used to create paths or mark out different areas, while offering advantages in terms of installation and resistance.
Get your patio ready in time to enjoy the first rays of spring sunshine.
Although renovating the flooring gives you a permanent change, you can use outdoor furniture to vary the look more often, choosing whether to get on board with the trends that emerge every year or to buy more timeless, enduring styles, letting you decorate your patio over several seasons.
The key is to choose outdoor furniture that combines design, comfort and strength. This lets you create a modern, comfortable spot while ensuring it stays in perfect condition under the sun or if it rains.
Check out the Grespania and Coverlam catalogues to discover the latest trends in ceramic flooring and wall tiles for the upcoming spring-summer season.