Ceramic floor tiles are the best option when it's time to choose new construction materials. If you've already decided to go for this material for your upcoming design project or renovation, we provide you with this simple guide to help you choose the most suitable tile
People typically prefer to do their minor and major renovations towards the end of the year: with summer over, it's the ideal time to change up the look of your home, and what better way than by changing the flooring? When taking this step, ceramic floor tiles are the most suitable option, as they guarantee a robust material while providing a wide variety of modern designs to choose from.
How to choose ceramic floor tiles
Types of ceramic floor tiles
The ceramic industry has made major advances in recent years, both technically and aesthetically. Thanks to the massive evolution of the material itself and the constant innovation in the Design Departments, you can get optimal quality in various different construction options:
Ceramic Stoneware
Until a few years ago, red-body ceramic floor tiles were the most commonly used in homes. The main difference is in the clays and sands used to produce these tiles, yielding a clay-coloured base on which the glaze is then applied. These days, this type of material is taking a back seat to white-body and porcelain tiles; this is primarily due to the notable technical improvements in the latter, in terms of strength and durability, as well as the infinite aesthetic possibilities they offer.
Porcelain
The best all-rounder for tiling floors, both indoors and outdoors, porcelain is one of the most resistant and durable of the different types of ceramic floor tiles. Due to its manufacturing process, it has a very high impact and wear resistance, high breaking strength, and low water absorption values, as well as a high resistance to stains and chemicals, which also makes it the safest and most hygienic material on the market.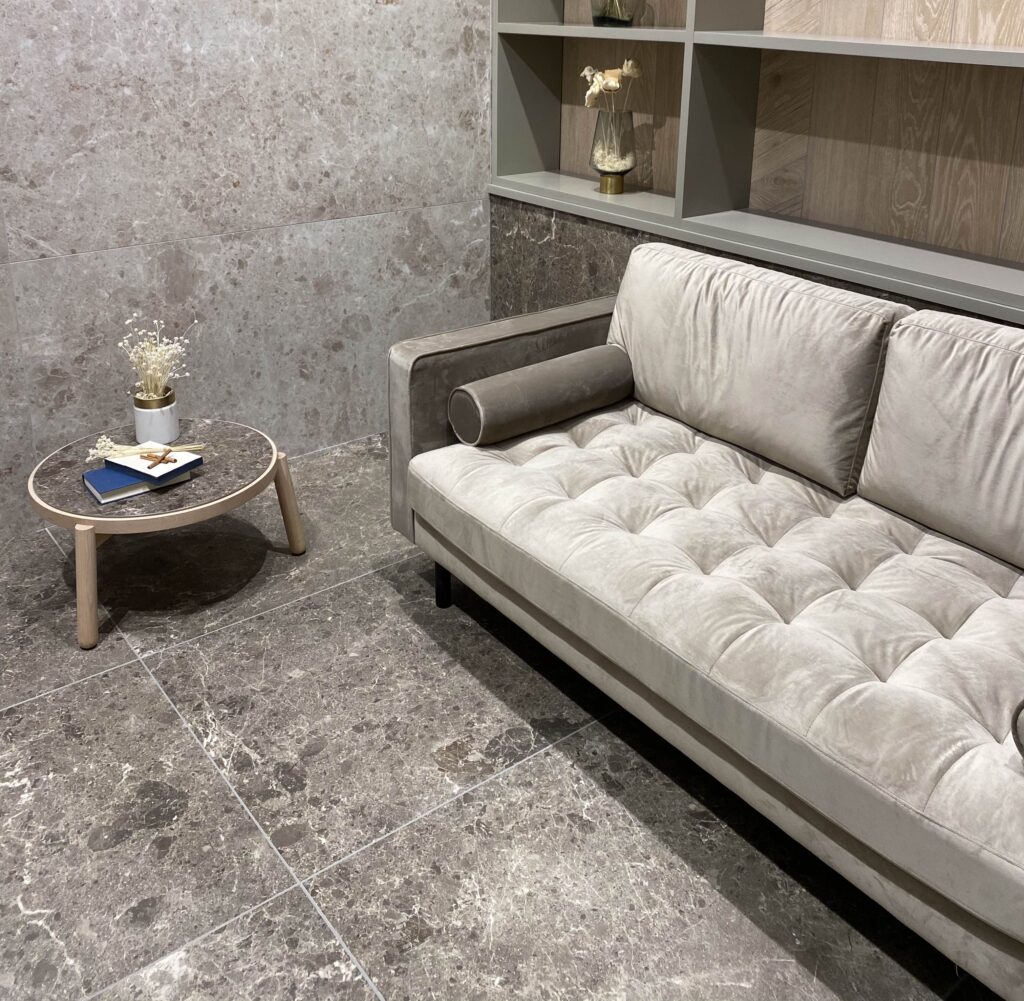 Technical through-body porcelain
This is the most resistant type of ceramic floor tile, offering superior mechanical properties to those of other materials. The main feature of technical through-body porcelain is that it is not glazed; in addition, it is coloured all the way through its body and is fully vitrified, so that any abrasion to its surface would reveal an identical one underneath.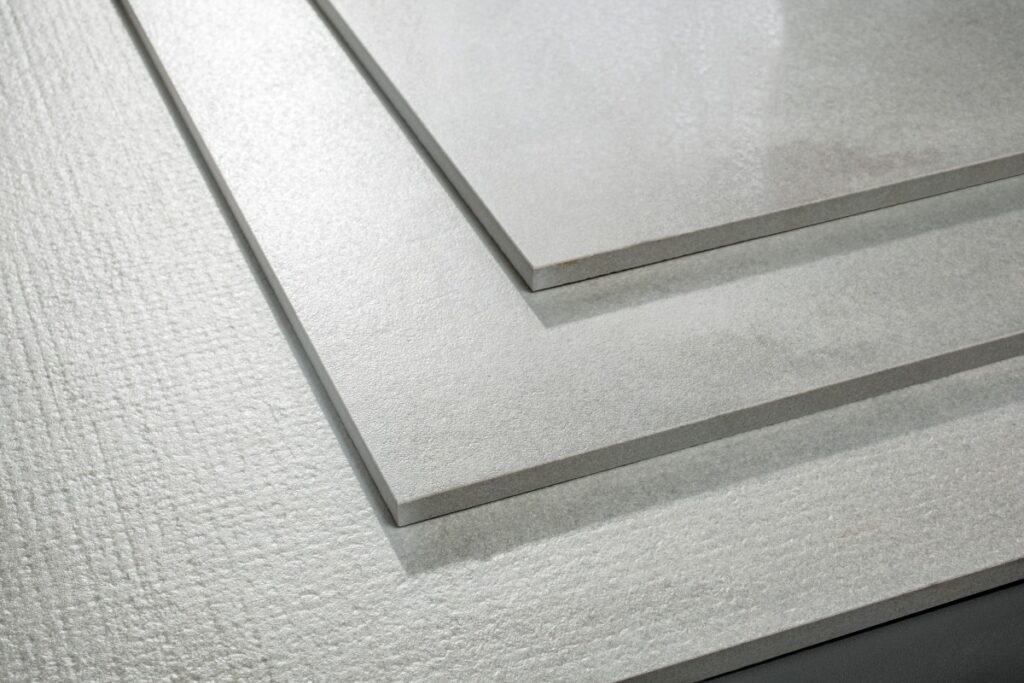 For both indoor and outdoor use and for areas with high foot traffic, technical through-body porcelain offers unbeatable performance and durability. Thanks to the different surface finishes available, you can choose your flooring according to the needs of each space while ensuring visual continuity between indoors and outdoors.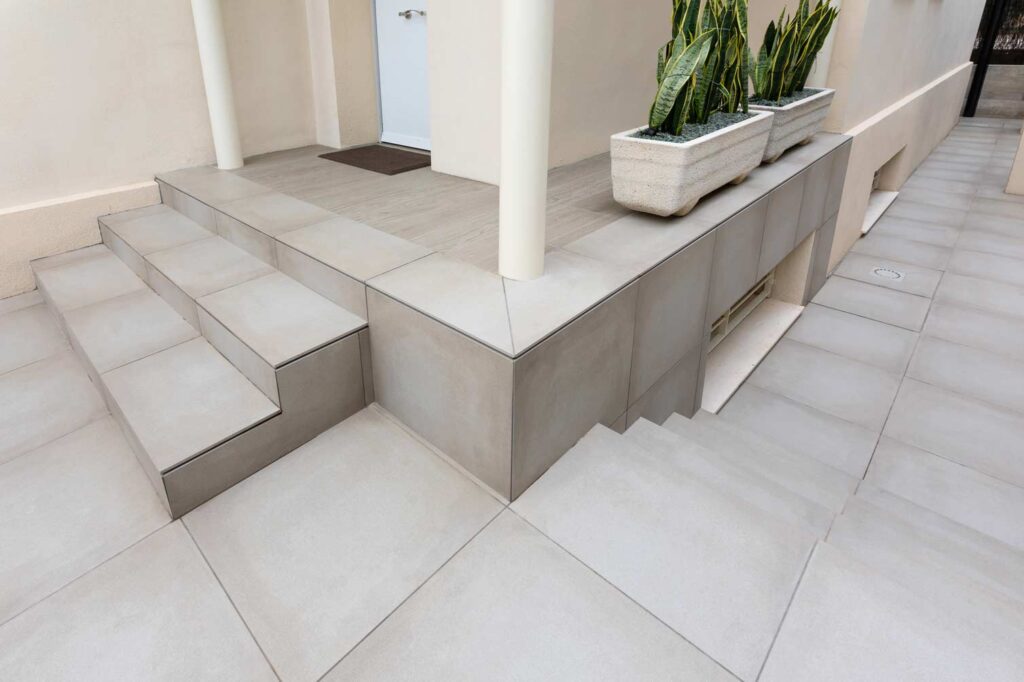 Slip resistance levels for ceramic floor tiles
One of the most important aspects to analyse when choosing ceramic floor tiles is the anti-slip finish they offer, which is fundamental in terms of safety. In this regard, the needs are not the same for outdoor flooring as for indoor flooring.
C1: this is the smoothest surface finish; it is particularly suitable for non-wet indoor areas that do not need a non-slip finish.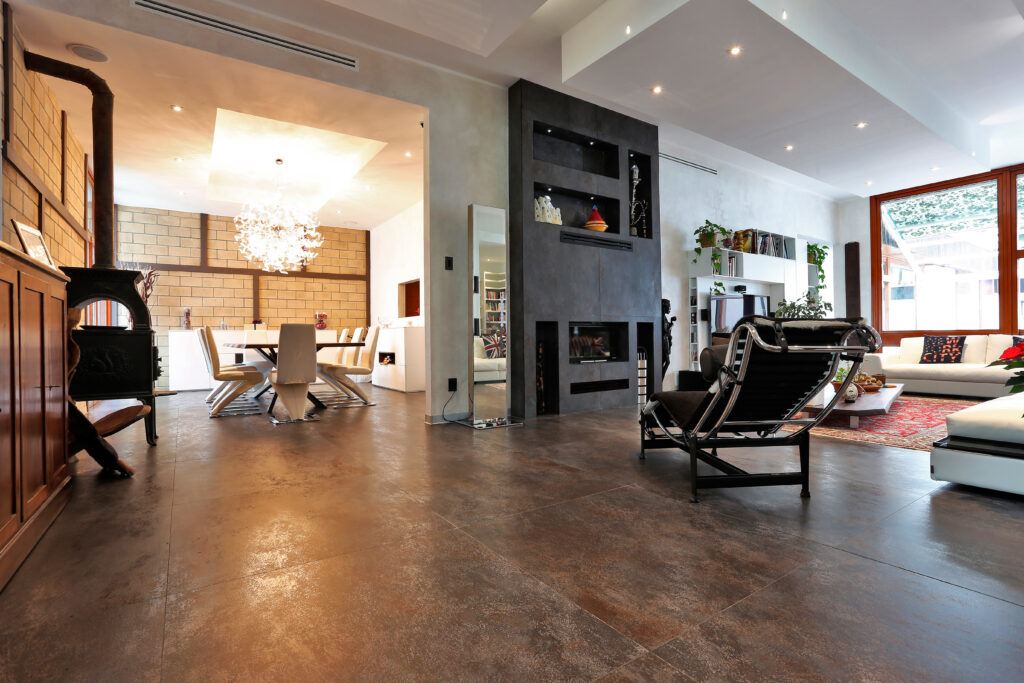 C2: surface finish with medium slip resistance. It is recommended for indoor wet areas (such as bathrooms) and outdoor spaces, although in the latter case a C3 finish may be needed depending on the intensity of use of the area.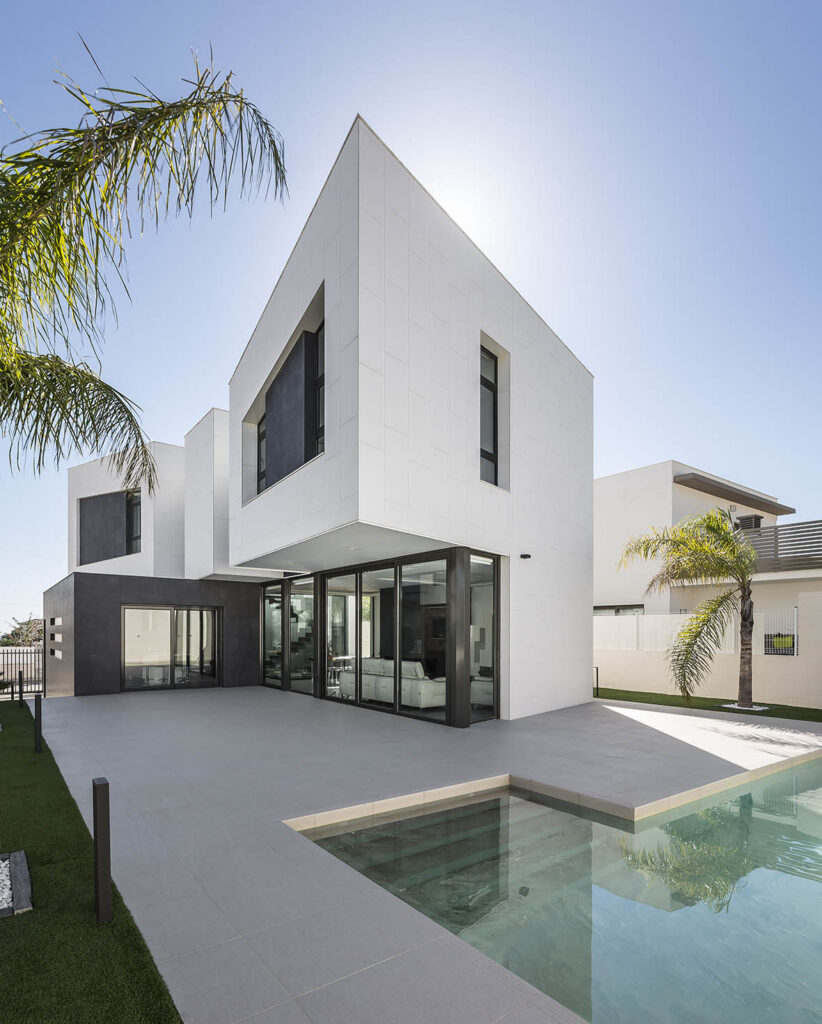 C3: the highest level of slip resistance; it successfully prevents possible slips or falls on wet floors, and is the perfect choice for outdoor areas such as patios, gardens and swimming pools.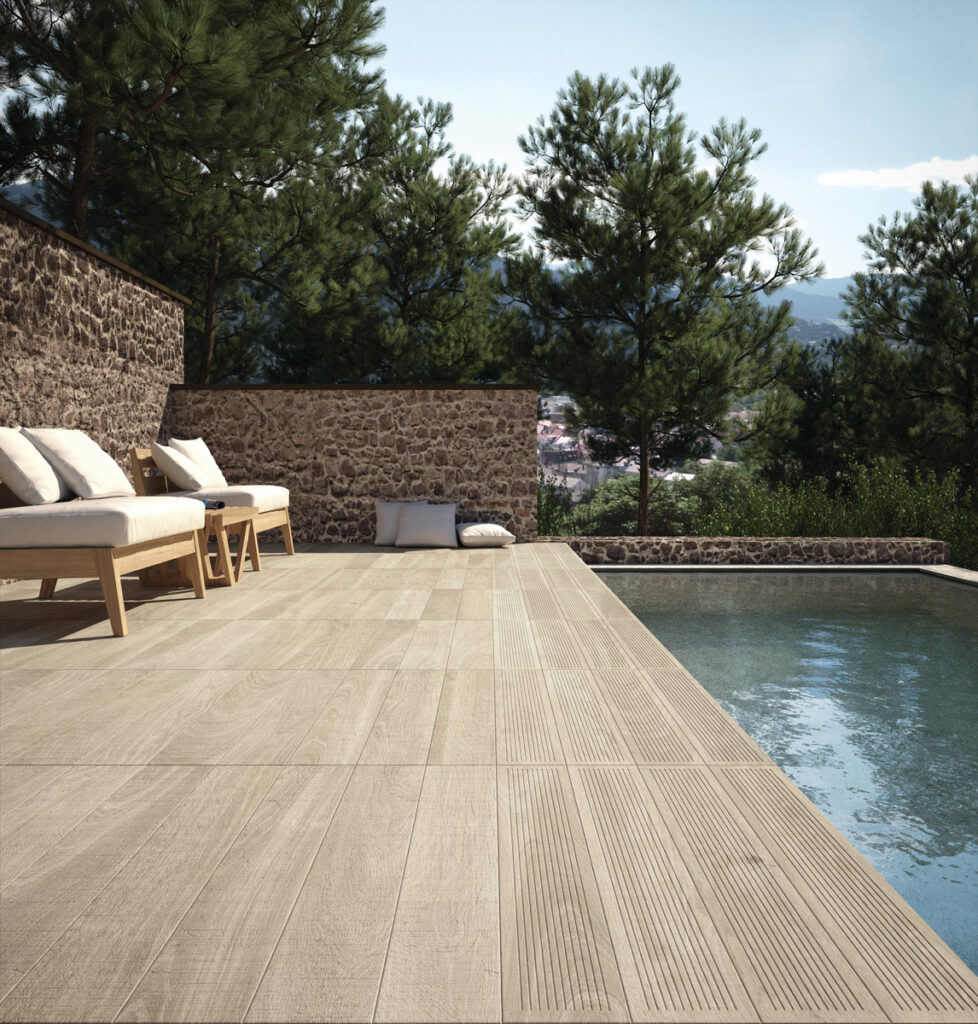 These days, thanks to the incredible technological advances made in ceramic innovation and the new studies of glazes carried out in recent years, all these finishes are smoother to the touch, making them significantly easier to clean and maintain.
Formats
An ever-greater variety of formats is available for ceramic floor tiles. Décor trends are going to extremes, with the large and small formats preferred by architects and interior designers.
Large formats
In recent years, the large-format ceramic floor tile collections—120cm and up—have become established as a favourite design option. Their imposing presence, with maximally enhanced graphics and a minimum number of joints, raises rooms to the next aesthetic level. This is the best option for projects that seek to create spaces with continuity and visual uniformity.
Coverlam stands out as one of the most popular large formats; the grandeur of its pieces, the thinness of its slabs and its ease of handling have made it a must-have in the world of architecture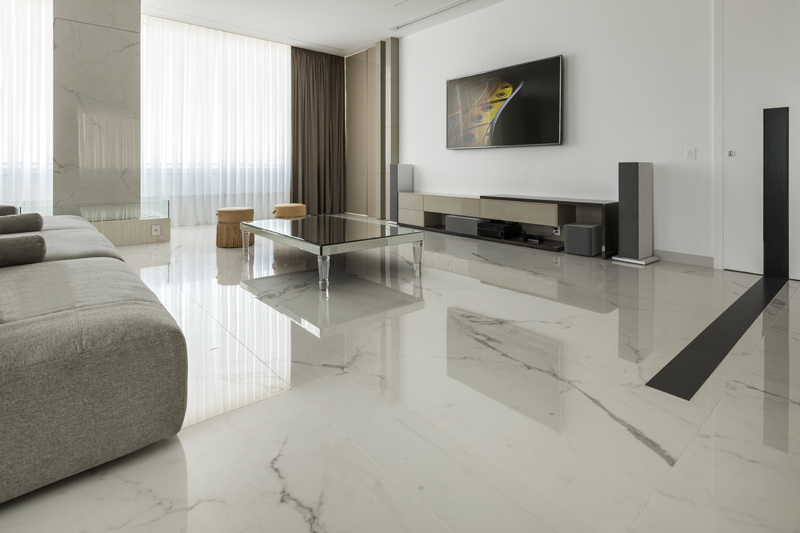 Among the large formats, Coverlam is one of the go-to options for carrying out minor and major renovations without the need for demolition work. The thinness of the slabs and ease of handling, along with the fact that virtually no debris is created, means considerably shorter project completion times and lower costs.
Medium
The classic format for ceramic floor tiles. Although this type of format is no longer a preferred option for home décor, it is still a safe bet, and commonly used in renovations and restorations.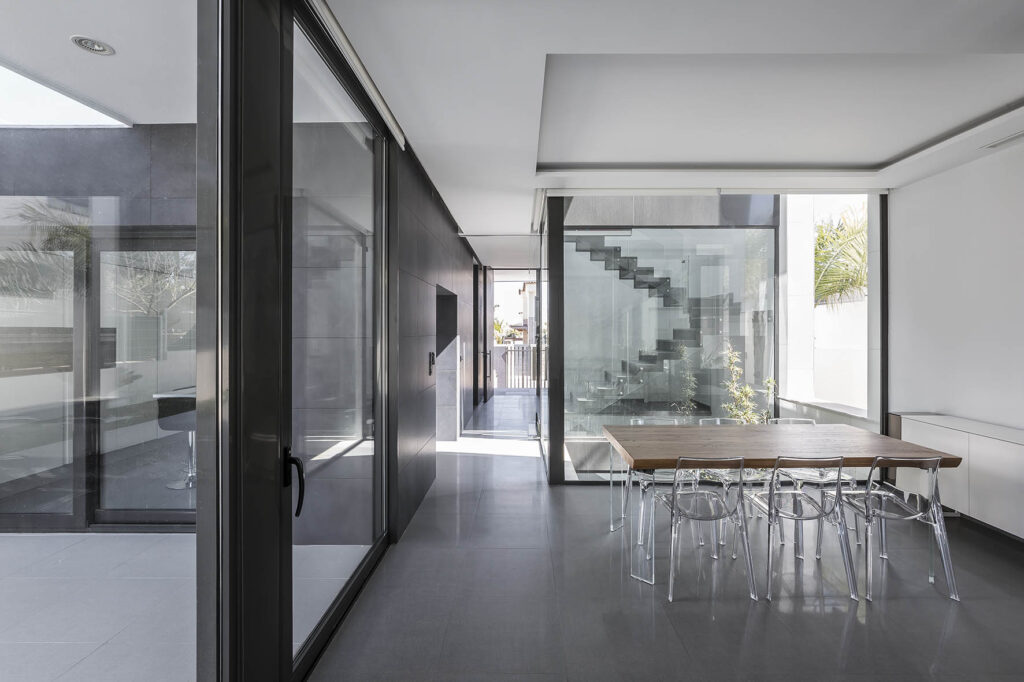 Small
A return to the traditional has been a feature of recent seasons, which is where we see the resurgence of the small format as a promising choice for ceramic floor tiles. Notable among them is the 20x20cm, which is the perfect format for combining different materials and creating one-off, customized environments.
ICON by Grespania reflects the modernization of the traditional small format; a collection in which the essence and charm of the traditional is perfectly combined with the technical features offered by porcelain tiles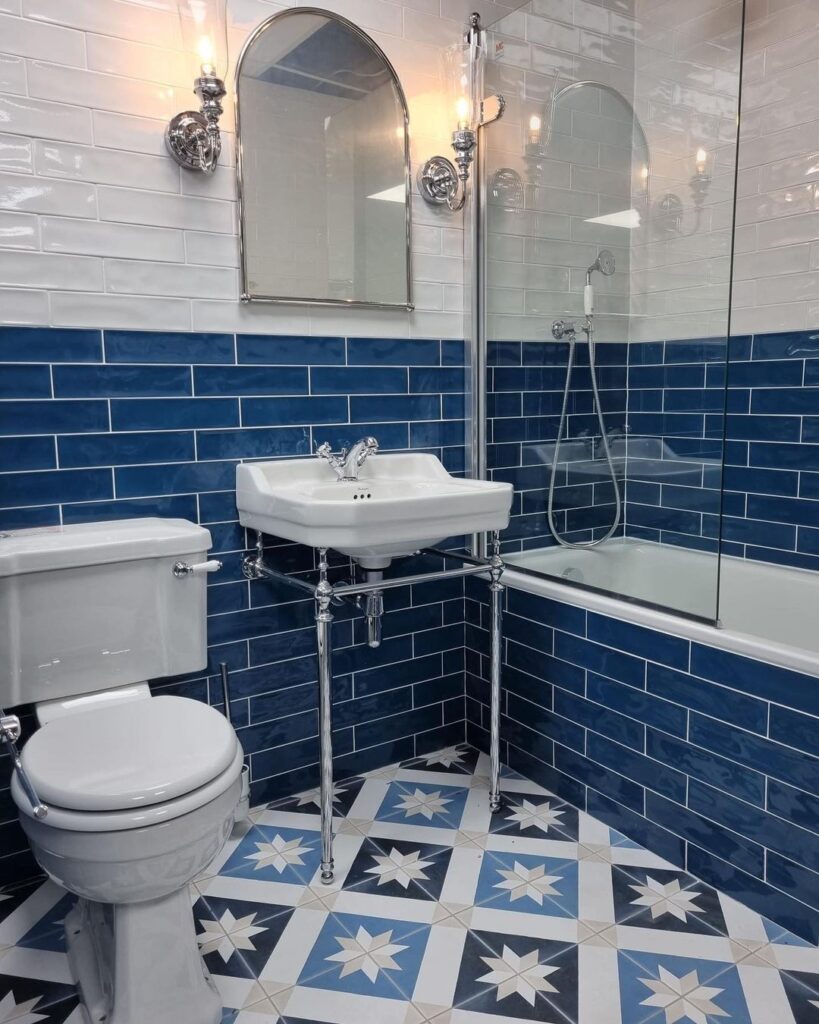 Ceramic floor tiles effects
Looking exclusively at the design of ceramic floor tiles, we find endless decorative possibilities. In turn, the technical properties of the material provide us with all kinds of options at an aesthetic level, with the only limits being our own imagination. Notable among these designs are:
Wood-look
Thanks to the increasingly realistic designs of the collections of ceramic floor tiles, wood-look porcelain tiles are a first choice for renovation projects. The technical properties offered by this material—which are just not an option in its natural version—and the ecological benefit of choosing it, have made wood-look porcelain the number one option.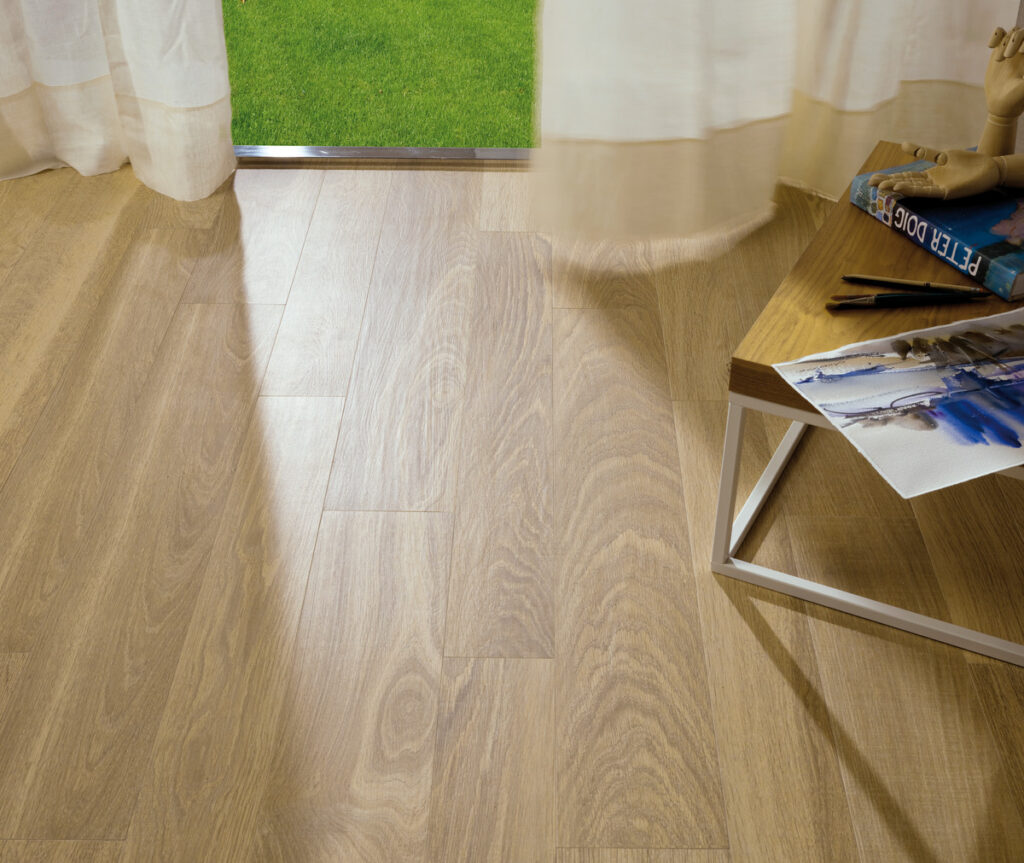 Cement Effect
The popularity of the industrial and avant-garde style in interior design projects has led to an upsurge in this type of design. Being able to have the technical properties of porcelain with a cement-look design make it the ideal option for ceramic floor tiles in projects with a marked contemporary style.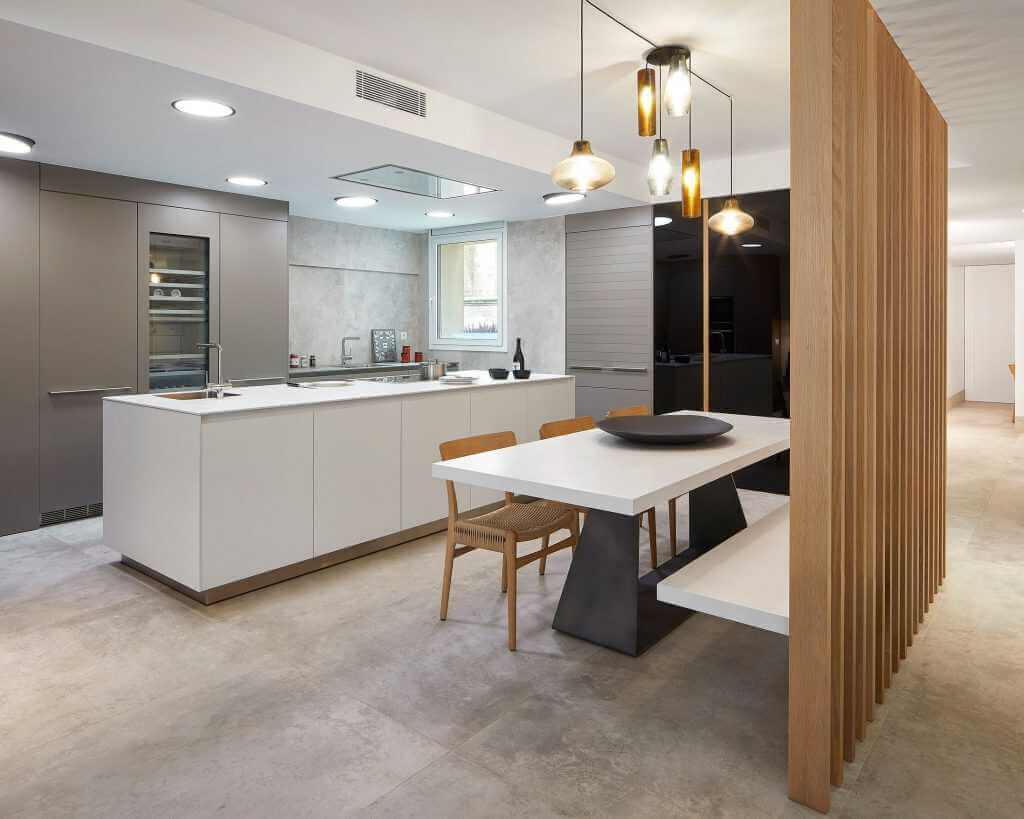 Another big advantage of cement-effect porcelain tiles is their low environmental impact, unlike real cement, which is one of the most polluting materials. Moreover, cement-effect tiles provide better thermal performance if you want to install underfloor or central heating, and they remain unchanged over time (whereas with cement, cracks end up appearing).
Stone Effect
Incredibly natural and detail-rich designs characterize the collections of stone-effect ceramic flooring. Incredibly versatile, the variety of collections, textures and colours available ensures an amazing end result for all types of spaces and styles.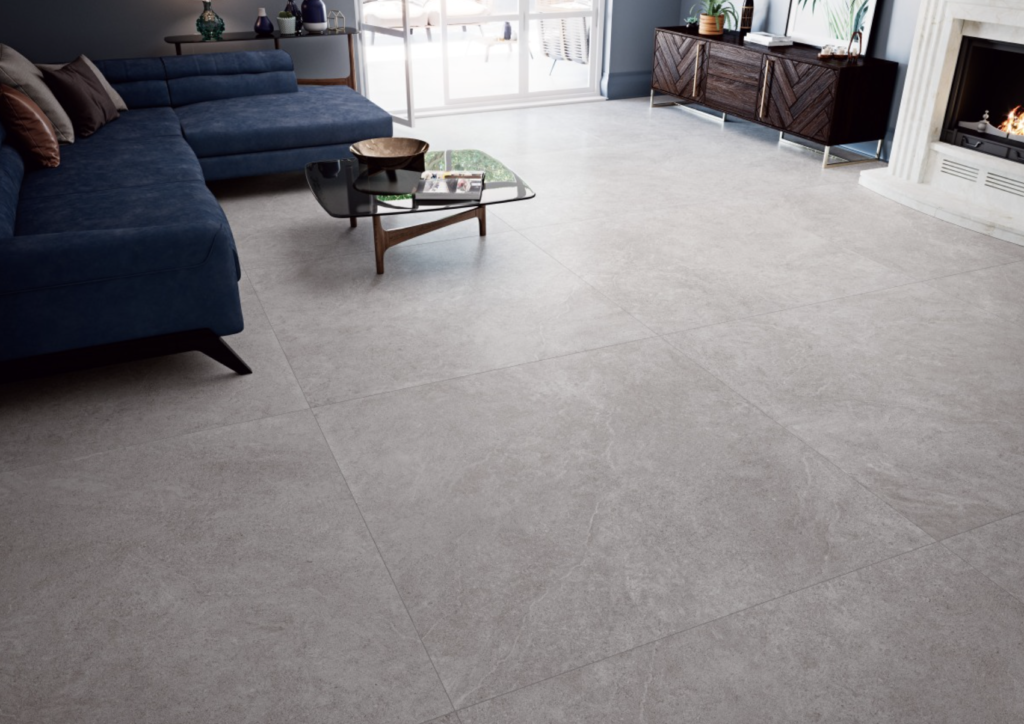 With extremely realistic designs thanks to new printing techniques, opting for stone-effect porcelain not only allows you to enjoy this much-sought-after aesthetic, but also ensures you are using most eco-friendly alternative possible, since its manufacture does not involve any quarrying.
Marble Effect
One of the great décor classics that reinvents itself year after year. Ceramic technology opens up the possibility of all kinds of designs: from those that can be found in nature, to those that evolve out of experimentation with materials, giving rise to unique collections of marble-effect ceramic floor tiles..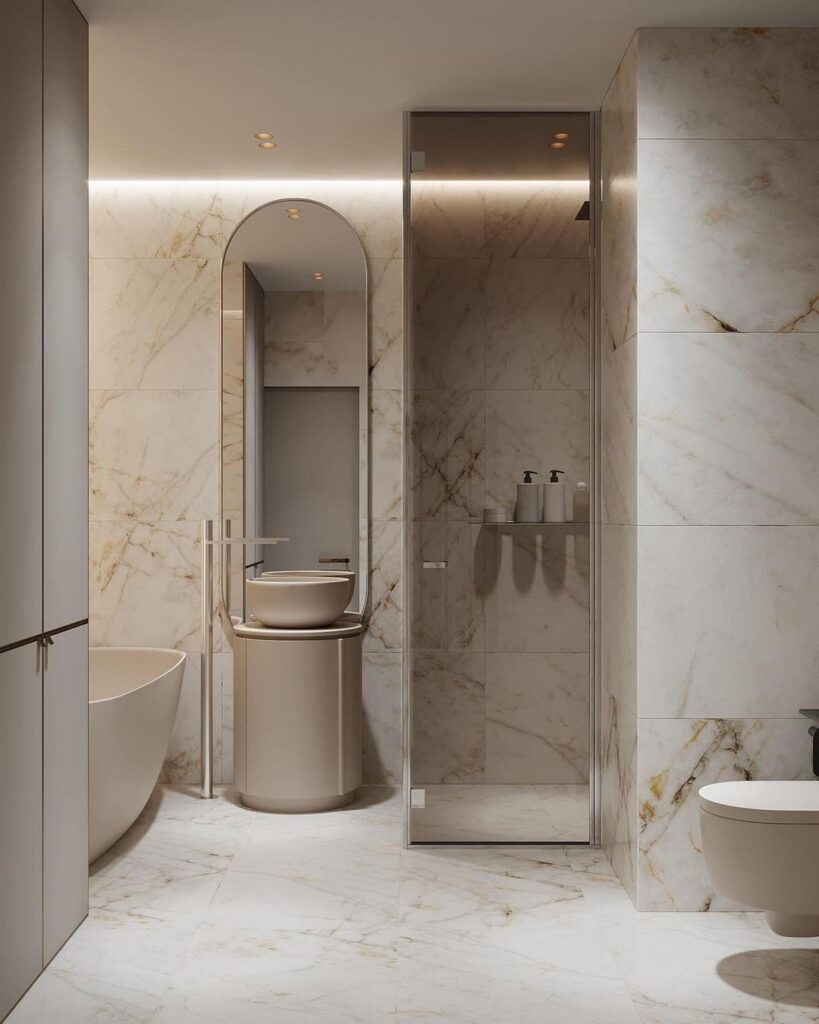 Unlike its natural version, marble-effect porcelain does not need any type of maintenance; its surface is non-porous and does not stain, ensuring the design stays just like new.
Ceramic floor tiles for Indoors and Outdoors
Indoors
Indoor ceramic floor tiles provide us with a wide range of decorative possibilities. Always opting for the best materials, the modern designs, formats and finishes allow us to create spaces in any kind of style while fulfilling all the necessary technical requirements.
From minimalist or industrial living rooms and bedrooms, through incredibly elegant or natural bathrooms, to highly functional, aesthetically exceptional kitchens, there are no limits when it comes to ceramic floor tiles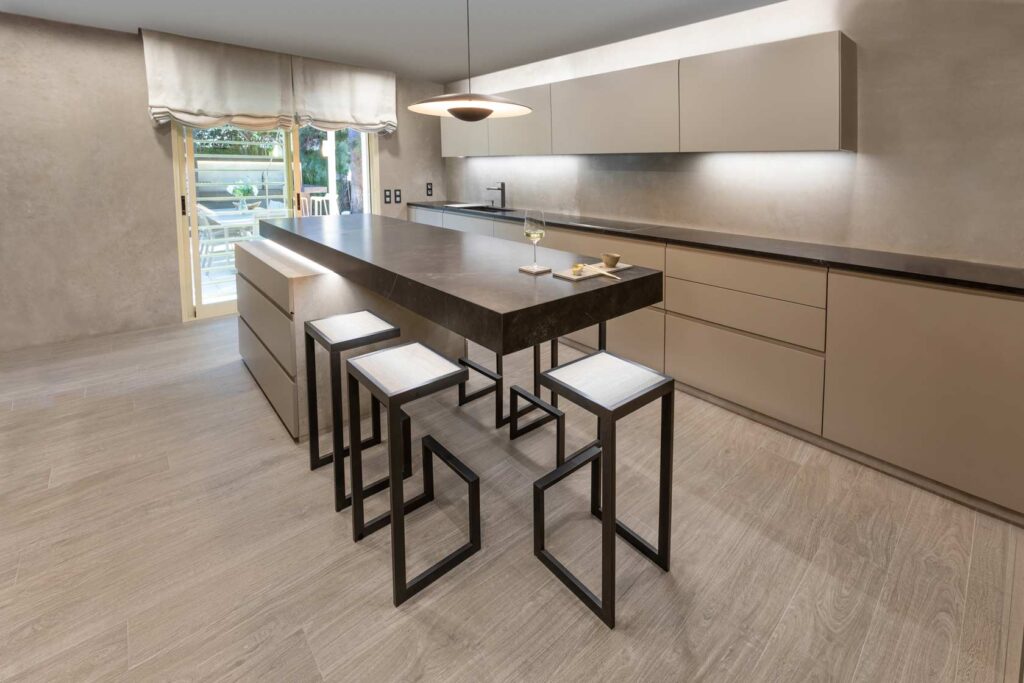 Given the wide variety of designs offered by porcelain tiles, we tend to focus on the search for those extra qualities that provide greater comfort and safety. One of the great innovations to have emerged in recent years is the provision of an added bonus in terms of hygiene, making porcelain the most complete, safest material on the market.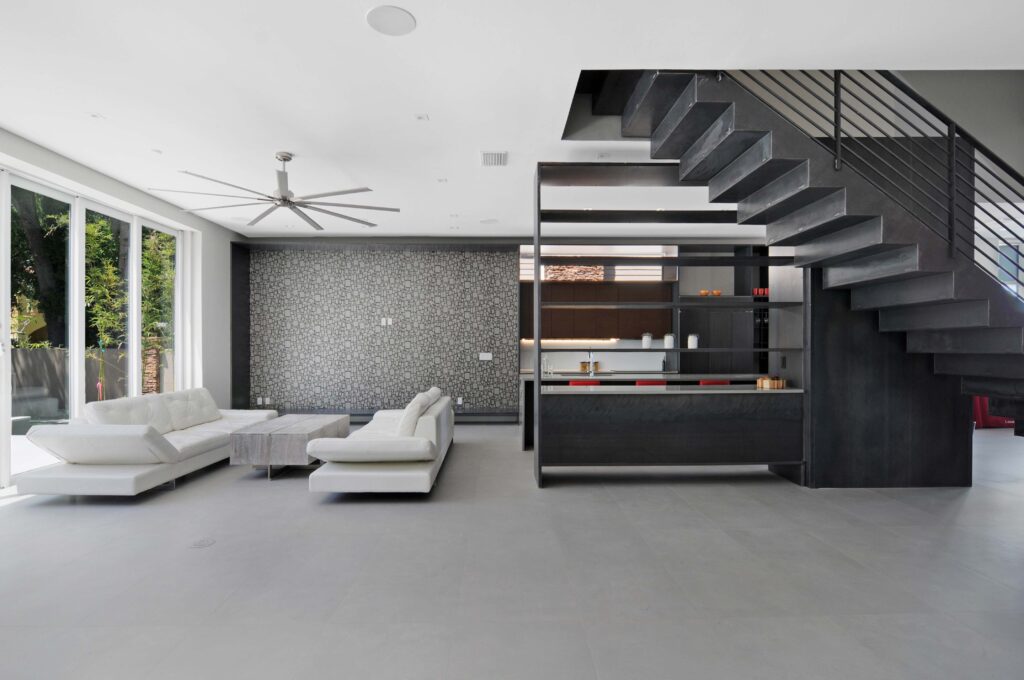 One of the most interesting options in interiors is to opt for ceramic flooring with H&CTiles. This innovative technology means that by tiling walls and floors with tiles treated with H&CTiles, we can create more hygienic, bacteria-free spaces in sensitive areas such as the kitchen or bathrooms.
Grespania's H&CTiles has become a point of reference for the ceramic sector, with the application of this technology enabling us to provide ceramic floor tiles with bactericidal and odour-eliminating properties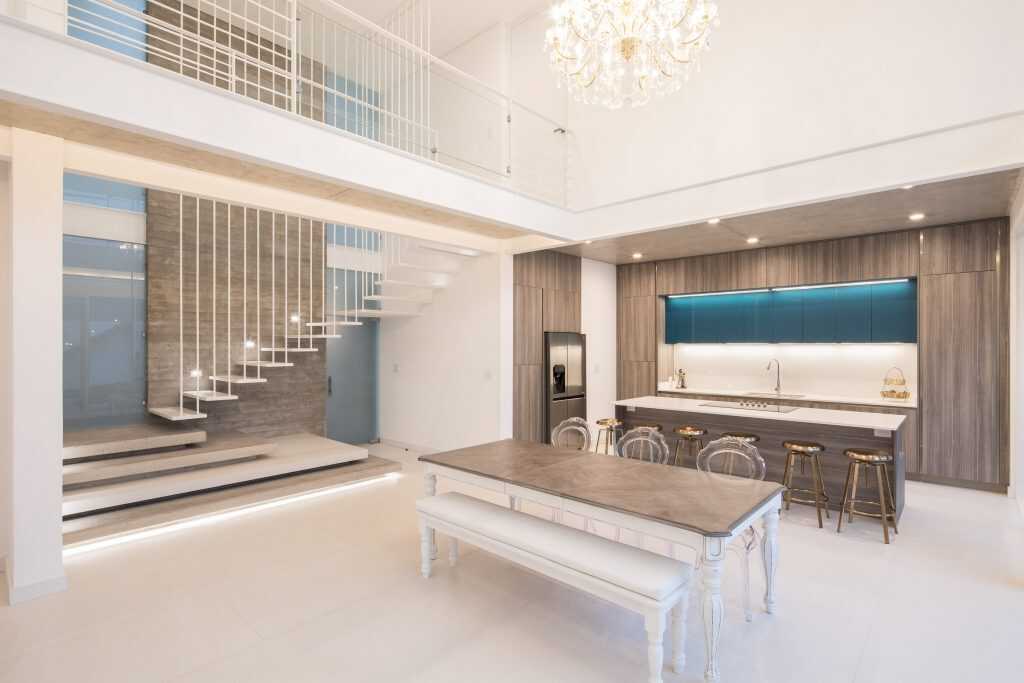 Outdoors
As for outdoor ceramic floor tiles, as well as having a slip resistant surface, they must offer robust, durable flooring that can withstand changes in the weather and be exposed to the elements without losing any of the technical and aesthetic qualities.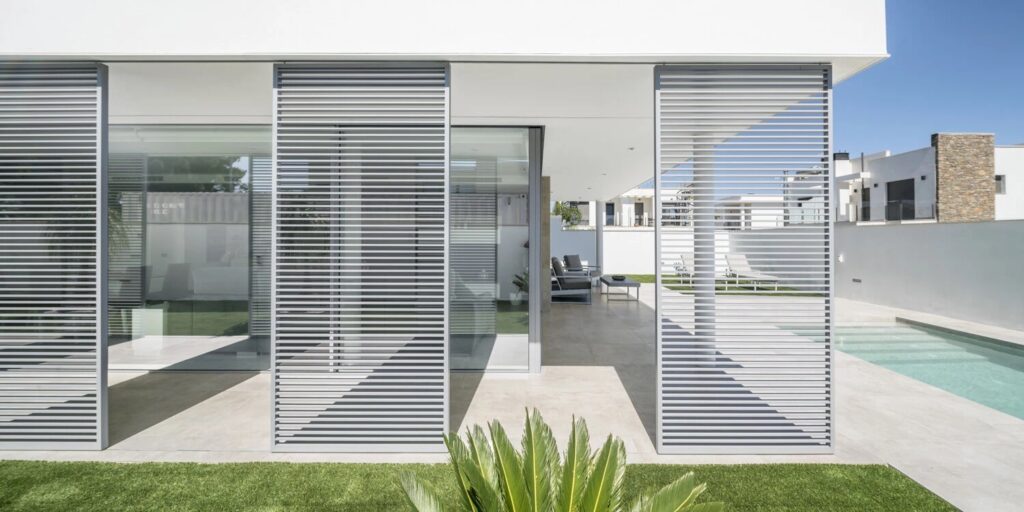 Currently, the best alternative for paving terraces, gardens and patios is the 20mm-thick ceramic floor tiles, as they have been specifically designed for outdoor use
Ultra-resistant, durable and with natural finishes, 20mm-thick porcelain tiles have become established as the first choice for projects that include ceramic flooring for terraces, gardens or patios. Their exceptional technical features include the fact that they are easy to clean and resistant to stains, abrasion, frost and breaks, as well as being easy to install on grass, gravel or as raised flooring.
These 20mm-thick ceramic floor tiles can be installed in several different ways, most notably in raised access flooring, which offers the aesthetic benefit of being able to hide fixtures under the floor as well as facilitating drainage outdoors
Another interesting option for outdoor areas is technical through-body porcelain, one of the most robust materials on the market. Since it does not have a glaze but is coloured all the way through, its design and technical properties remain unchanged with the passing of time, exposure to the weather, or the wear and tear suffered by outdoor ceramic floor tiles.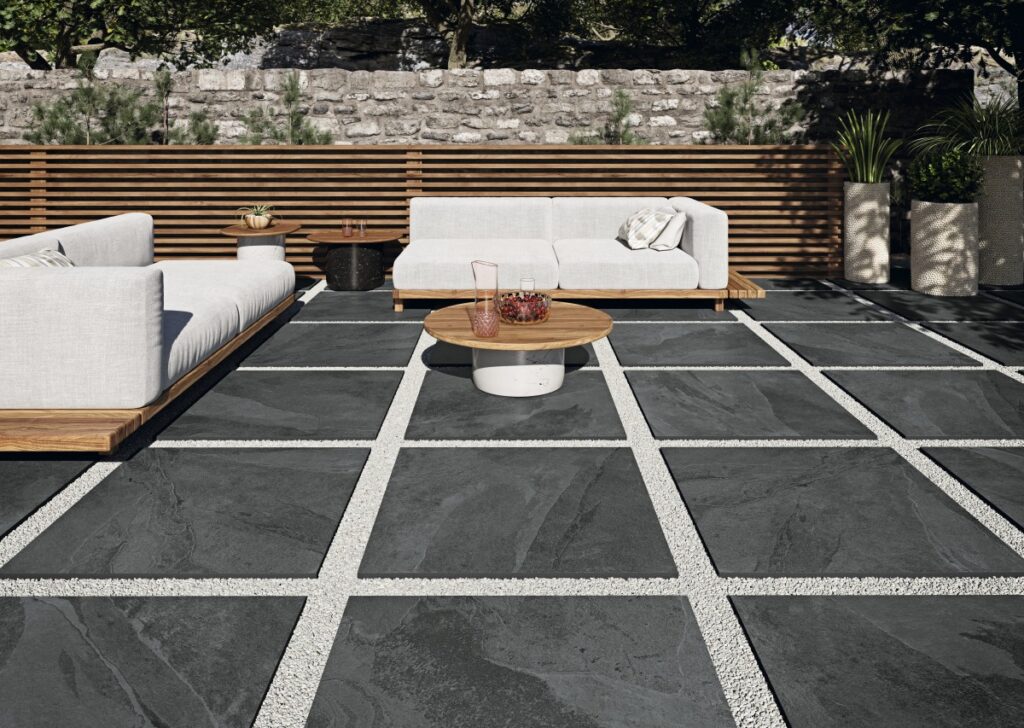 Click here to make sure you don't miss the complete catalogue of designs available in Grespania and Coverlam for your ceramic floor tiles